The Society of the Path of Benevolence
International Martial Arts Federation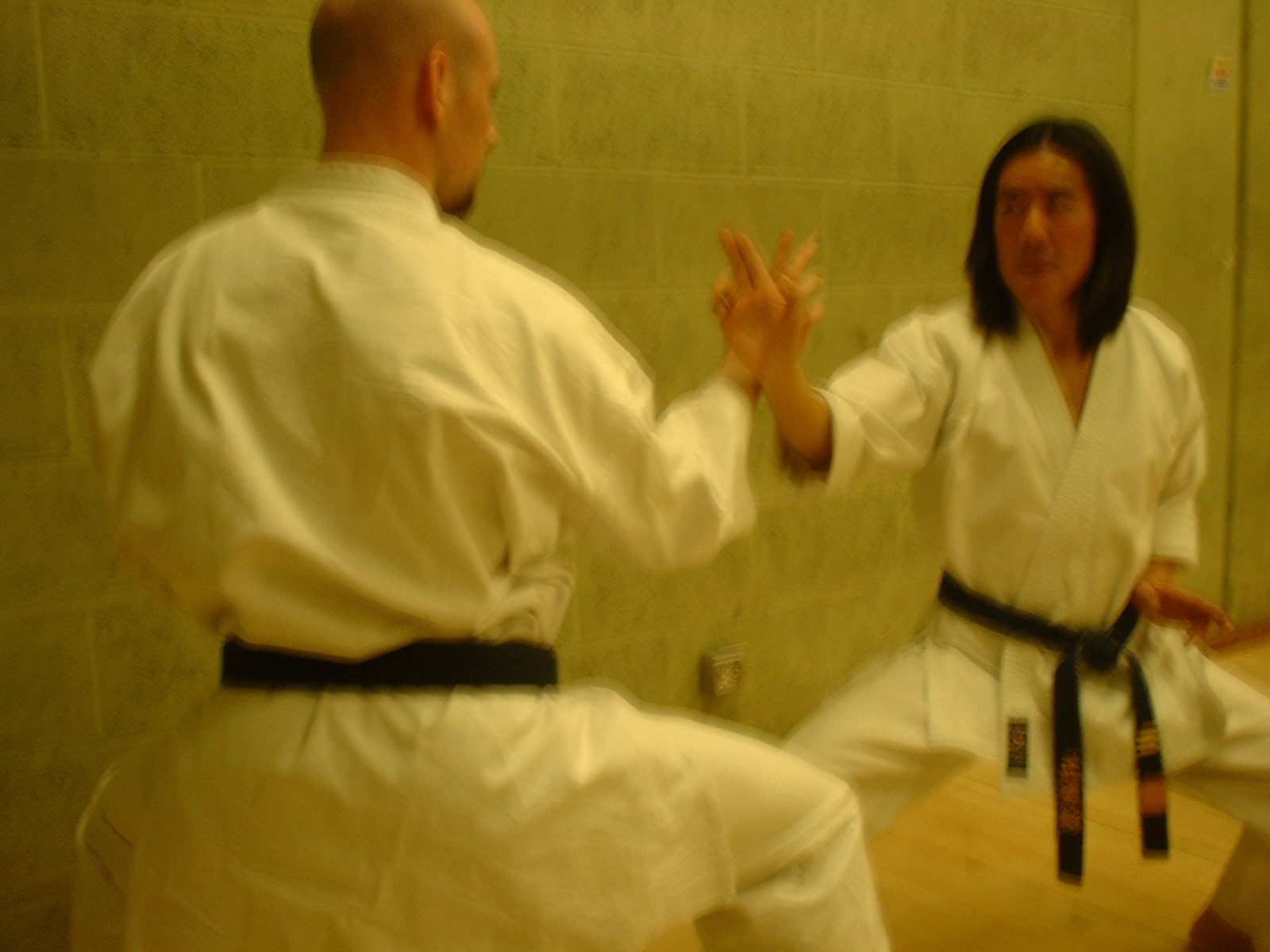 The Jindokai is a martial arts society headed by Prof. Dr Stephen Chan OBE (pictured above going through Go Ten Te drills with Andy Roosen, Jindokai South Pacific). Chan hanshi is a highly decorated martial artist, having been awarded several senior grades and titles by Shian Toma, Seiki Toma, and Roy Hobbs. He trained also with Kozo Mita in Tokyo, Seikichi Odo in Okinawa, Boulahfa Mimoun and Kinei Nakasone in Salamanca, Spain, and many other masters around the world.
Chan hanshi began his martial arts training in his family's adopted homeland, New Zealand. A martial tradition ran through the family, reaching back to the high Tang dynasty. His grandmother was a trained swordswoman who participated in the bloody warlord and brigands era of early 20th century China.
His first formal teacher was Karl Sargent, the winner of several championships in the Pacific and Asia. He became Karl's deputy instructor at his headquarters dojo. Hanshi moved to London in the 1970s, where he stayed until 1980 when he left for Africa, and returned in the late 1980s. He trained or taught at the legendary dojo in Marshall Street, the Cut, the Budokwai, the Tokei, Earlham Street, Philbeach Gardens and Judd Street.
From 1980, he lived and travelled throughout Africa for several years and established a huge public service project of teaching karate to all, including young people from impoverished areas. This project continues today. He has trained eight times in Okinawa and other parts of East Asia (Tokyo, Beijing, Hong Kong, Kaohsiung and Tainan in Taiwan). He helped Roy Hobbs establish the Worldwide Dentokan and worked with him for 30 years.
In 2012, Chan hanshi established his own Jindokai organisation with dojos and 1000 students in several countries. 'Jin' is a Confucian value to do with 'benevolence', and expresses Stephen's commitment to the martial arts as a form of outreach and sharing. It is the Confucian equivalent of Aristotle's idea of happiness being the performance of public good. In both traditions, the educated person has an obligation to be benevolent. Through 'Jin', Stephen seeks to combine the impulses of both his academic and martial lives. The Jindokai is a consultative organisation in which all instructors have a voice without pompous hierarchies. Stephen has fought all his life in many countries for transparent constitutional rule. He seeks that also in his martial life.
For more information on Chan Hanshi, follow this link: www.stephen-chan.com