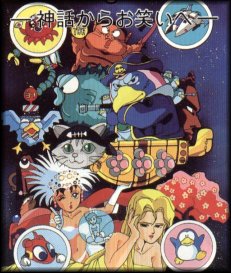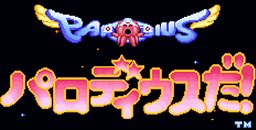 Parodius 'Non Sense Fantasy' - Artwork from Saturn
Deluxe Pack (Japanese) and intro (top left/right of page)
CHARACTERS: The original Parodius game (Da!) has four charaters to choose from: Vic Viper, Octopus, Twinbee, and Pentarou. The second one (Gokujyo) has those four (Octopus is called Takosuke), as well as Hikaru, Mambo, Michael, and Koitsu. Also in Gokujyo the second player has the counter parts Lord British, Beriaru, Winbee, Oranachon, Akane, Samba, Gabriel, and Aitsu. For those that have played the Super-Fam version, Upa, Kid Dracula, and Goemon
are NOT in this version. Each character has it's own unique set of upgrades. My personal favorite is probably Twinbee in the first game, and Mambo in the second.

GAMEPLAY: If you've ever played a Gradius game, you should know what to expect. It's a horizontal shooter, with a Gradius-style powerup system. If you don't know what that's like (I really pity you), it goes as follows: You have a meter at the bottom of the screen, representing the different upgrades your ship can get, such as speedup, missles, laser, etc. A notable feature of Gradius games is the "option", which is a little ball that shoots an extra line of fire, and hangs just off your ship. You can get up four of them. Anyways, as you collect powerups, the various upgrades are selected, and you choose (or the computer does -- more on that later) when you want which upgrade.
When you die, you loose your upgrades, however if you have at least one powerup in reserve, you start on the first level (speedup) after you revive. In addition to the standard powerup system, Parodius games add bell power, taken from the Twinbee games. Depending on the color of the bell you pick up (if you shoot it, it changes color), you get anything from points, to a superbomb-type thing, to temporary invincibility (you grow all large and pixely). The stages and enemies themselves are, in a nutshell, wacko.. You fight everything from penguins to maoi heads (another Gradius fallback) with sunglasses. There's trees that chase you, huge Konami signs that fall on you, and even falling huge black explanation points. The bosses are even odder, ranging from an Eagle complete with a US flag, a mermaid who attacks you with musical notes, a pinball machine (a big homage to Gradius 2/Vulcan Venture here.. Mike), and an oriental lady (Geisha girl?) on a flying carpet.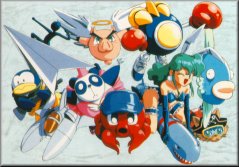 (Above) Some of the unlikely characters from
Parodius 2 for your delectation, click to enlarge!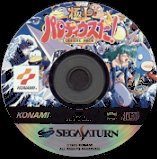 Ever fancy the chance to pit a bubble-blowing penguin against a 50-foot dancing woman in a bikini, or a cute bunny-girl on a rocket against a giant panda in a pink tutu? Well you can if you play Konami's barking-mad but highly enjoyable Parodius series..
Parodius Deluxe Pack (simply called Parodius in Europe), released in Japan in 1994 for PSX and 1995 for Saturn, contains arcade-perfect (as far as I know) versions of Paroidus Da! (aka Parodius 1) and Gokujyo Parodius (aka Parodius 2). Having only played the Saturn version, I will base my review on that, but I know there are a couple differences between it, as well as some differences from the Snes versions of the games.

HISTORY: A bit of information on the games. Parodius was named thus because it is a PAROdy of GraDIUS. The very first Parodius game, I believe, appeared on the MSX. The first game in the normal series, Da!, appeared in the arcades in 1990, and was soon after ported to Game Boy, Famicom, PC Engine, Super Famicom, and X68000, and of course the Deluxe Pack later. The second one, Gokujyo, appeared in the arcade in 1994, and was only ported to Super Famicom before the Deluxe Pack.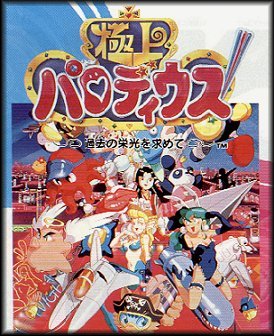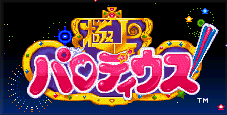 Gokujyo Parodius 'Fantastic Journey' - intro and
artwork from import Saturn Deluxe Pack version.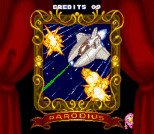 OPTIONS: You get a bit of choice besides character in
the game as well. You can select level 1-9 difficulty, and whether to loop the game or not (ie, go back to the beginning when you are done). Most importantly, you can choose what type of powerup power you want: Auto, where the game automatically chooses when to powerup, Semi-Auto (only in Gokujyo), where it's chosen also, but you can choose early if you wish, and Manual where you have to choose it yourself always. Also in Gokujyo, if you choose Auto, you are automatically revived on screen when you die, rather than going back to the checkpoint.

DIFFICULTY: One thing I love about these games, is that they are not overly hard. While they aren't a cakewalk, they can be won without too much difficulty or practice, which is perfect for me cause I suck at shooters... There's never an over abundance of projectiles on the screen, and there's never any place like you feel you need to be lucky to get past it. The bosses are usually fairly easy, and in tradition of Gradius games, the final bosses are incredably easy. In these games, they don't even shoot at you, at all..