REFLEX ( The Skiff )
( ISAF One Metre Class )

The Reflex is built by John Gibson, a man of many talents!
Contact him with your orders or for further details.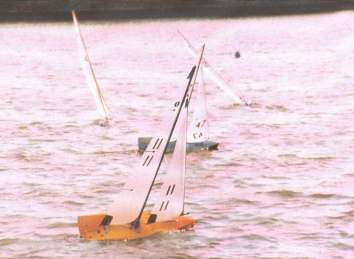 REFLEX is a high performance radio race yacht to the ISAF One Metre Class. For those who are unfamiliar with the sport, Radio Yacht Racing is a very serious, extremely competitive, but very friendly sport. Radio Race Yachts are not models of larger manned yachts. They are quite simply very small, unmanned racing yachts. They are at the leading edge of all Yacht Design.
Radio Yacht Racing is administered by The Model Yachting Association( MYA ), which is recognised by the Radio Sailing Division of ISAF.
There are about fifty clubs actively sailing in the UK. A very full schedule of Club, District, Open, National, and International events is available throughout the season ( including Open Winter Series in several Districts). All racing is run under the standard ISAF Racing Rules of Sailing (RRS ) as amended by the Rules for Radio Sailing ( which you'll find in the RRS rulebook ).
One metres are the most popular class of Radio Race Yachts. For more information on Radio Race Yachts in general, either ring me on the no. above, or contact ( for Club list, fixture list etc. ):
The MYA Info. Officer - Mike Hounsell on 01275 858528

REFLEX is a high performance Skiff and is a new design, but has already shown great potential and is now being sailed by some very good radio Sailors. It is the result of two years intensive research, design and design development. It is moulded to a very high specification in Glassfibre ( One Metre rules preclude the use of carbon etc. in the hull ), with a removeable Carbon/Epoxy fin and rudder. It uses standard two channel Radio Gear, rechargeable batteries and has three completely independant rigs of different sizes for different weather conditions. It will also be available built in Vacuum formed high impact material, in early 1999. For now, only glassfibre versions are available.


REFLEX can be supplied in any of the stages shown below on the price list, but if you have no experience of Radio Race Yachts, you may find it quite difficult to put the rigs together and fit the radio gear satisfactorily. We therefore recommend a fully completed boat for newcomers to the sport, and the price for a 'Ready To Sail' REFLEX is as reasonable as we can make it, without sacrificing its performance or quality ( You can pay much more than this for other competitive One Metres, and a new singlehander dinghy would cost around £ 3000 ! ) REFLEX is easy to sail, and starting to race is also surprisingly easy if you already sail bigger boats or dinghies. One of the nice aspects of this sport is the friendly and helpful nature of fellow competitors. There is almost certainly a local club within easy reach of most people.

A fully completed boat package comprises of :

(1) Boat with all radio installed

(2) Fin/lead bulb

(3) Rig Bag with 3 'Drop in' Rigs

(4) Transmitter ( + Spare battery pack for boat )

From boot of car to sailing takes only about two minutes - slide the fin in, tighten the fin nut on deck, drop in a pre-adjusted, pre-trimmed rig, turn on transmitter and boat and you're there, ready to race !
Retail Price
| | |
| --- | --- |
| Boat complete to deck level ( inc Fin and Rudder) | £550 |
| 3 Rig Kits + Rig Bag | £220 |
| fitting | £155 |
| Radio Gear ( inc. rechargeable Batteries and charger ) | £250 |
| fitting | £75 |
| Boat fully completed ( Ready to race ) | £1245 |