Isle of Avalon
Welcome to the town of Glastonbury. Home of many things Arthurian, Celtic and 'New Age'. And me. Philippa Chapman.
Biography (brief!)
I was born a number of years ago (alright, 40...eeek!), on 10th May in Bristol, just 30 miles north of here, some years after another famous son, one Cary Grant, who went to America and made something of a name for himself. Moved to Llandaff, Cardiff, South Wales at a very young age. Grew up with a Welsh accent, surrounded and pervaded by Welsh hoel and the Celtic spirit. Moved to Bath (Georgian architecture and Roman baths), met and married David in 1981. His work brought us south to the area around Wells and shortly thereafter, we were blessed with Rachel (1985) and James (1988). You will find out more about my obsessions on the following pages, but here in the mean-time, are some pictures of the family.

Want to hear me speak and/or sing? Click below to find out how:

Xena clone extraordinaire
and semi-pro mezzo
The young up-and-coming football and sport fanatic and the very musical young lady. James and Rachel.
And the man who changed my life about twenty years ago...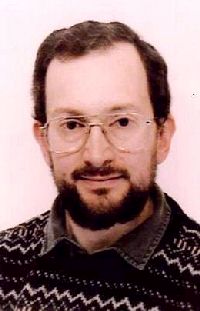 ... David
the wannabe nerd who did most of the HMTL layout stuff (with HoT MetaL Light 3 and gvim), image processing and sound sampling, and has kept this area a Java free zone. These pages are best viewed with Netscape, simply because it's not Micro$soft, but they look OK in IE 5 and, though it pains me to admit it, IE 5 is better than Netscape 4 for offline browsing. Anyway, why not strike a blow against the hegemony of Micro$oft and start using Netscape now if you're not already. To download, click the Netscape Icon below.