It actually started in Bristol. One of the dealers commented on my likeness to Xena. I had already had 'You look a bit like Terri Farrell' once or twice and thought no more of it. All four of us, David, Rachel, James and I went to Crete. One day we took the lonnnng drive up - and up, and up...to the Lassithi plateau and the legendary birthplace of Zeus. This is located in a refreshingly cool cave. The old Greek guide gave us the tour in wonderfully fractured English. At the end he asked if I was Xena. I'm afraid he had to ask twice for me to catch his drift. I admitted that I was not in fact Lucy Lawless. But I looked upwards and said to the sky, "Okay. I give in!" It was Fate, and you don't cross those ladies in a hurry.
The following September I persuaded my dear friend Penny to be Gabrielle, the costumes got a public airing in Glasgow at a Highlander convention and we did a choreographed routine to the first minute and a half of the Xena theme tune. We were absolutely thrilled to walk away with first prize for 'Best Costume based on a Television series'. So here we are.
My costume is a swimsuit with added leatherette and metal bits, constructed by me. The sword is wooden and made by Gordon Flint-Johnson. He also put on the base colours, which I decorated and varnished later. The Chakram is literally a plastic frisbee, covered with papier mache. I haven't tried throwing it yet! Penny's costume was adapted and decorated mostly by her and her sister Mandy. The staff Penny found herself in a wood, at just the right length, then customised it.
Xena and Gabby go to Bonnie Scotland!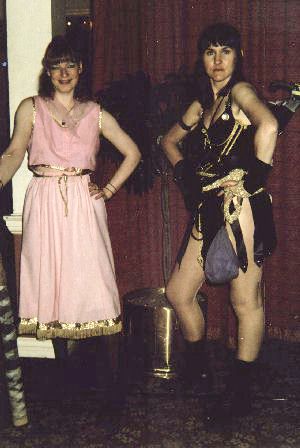 Xena and Gabby kidnap 'Duncan' and whisk him off to Ancient Greece!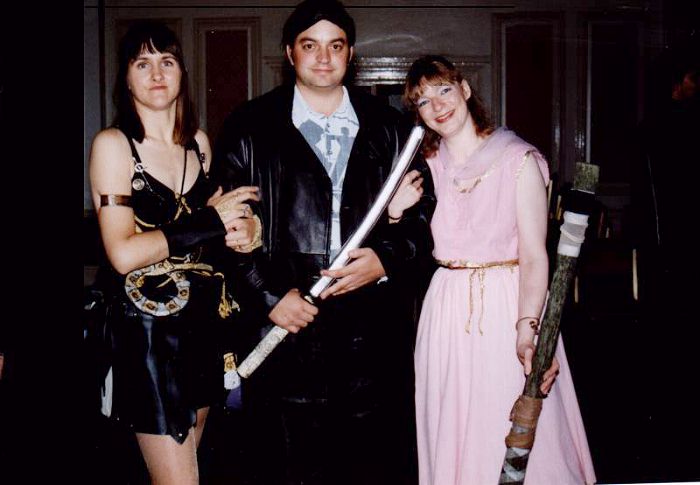 And finally...
For a Xena clone, we have this splendid virtual Chakram. It exists purely in cyberspace as a 3-D solid model, lovingly assembled by the local wannabe nerd. The metalwork he did at school (more years ago than he'd like to admit to) lacked finesse, but this digital metalwork is, though he says so himself, a fine piece of craftsmanship. Credit also belongs to the writers of the modelling packageMoray and the ray-tracing package Povray, without whose efforts this sort of frivolity would not be possible.