"Hail! This part of the Lair of Darkness contains all the war songs you need, either to cleave a path of carnage through your foes or to help you reflect upon your victories and remember your fallen. Some of the rousing hymns I recommend are those penned by Nifelheim, Impaled Nazarene and Dismal Euphony."
All the above are free
"The above are the magical artifacts you need to interpret the hymns. If you do not already possess them, then order your mouse to click on the relevent icon to acquire the artifact you need."

---
Music Files
Abigor: A Breath From Worlds Beyond - mp3 - 1,652KB
At The Gates - Under a Serpant Sun - 4590KB
Bewitched - Dressed in Blood - real audio file - 233KB
Sacrifice - real audio file - 237KB
Borknagar - Oceans Rise - mp3 - 567KB
Cradle of Filth - Beneath the Howling Stars - mp3
Children of Bodom - Deadnight Warrior - real audio file - 991KB
Dawn of Relic - The Last Dance of Sarnath - VQF file - 2324KB
Diabolical Masquerade - Astray within the Coffinwood - mp3 file - 480KB
Dismal Euphony - Mistress of Tears - mp3 file - 658KB
Alvedans - mp3 file -459KB
All Little Devils - mp3 - 3884KB
Emperor - Night of the Graveless Souls - mp3 - 3060K
Inno A Satana - mp3 - 4498KB
Enthroned - Ha Shaitan - mp3 file - 1089KB
Impaled Nazarene: We are Satan's Generation - a real audio track - 588KB
Nifelheim -The Final Slaughter - real audio file -737KB
The Devastation - mp3 file - 217KB
Satanic Mass - mp3 file - 236KB
Peccatum: The Change - mp3 file - 580KB
The sand was made of mountains - 577KB
Vader - Sothis - mp3 - 3002KB
---
Videos
At The Gates - Blinded by Fear - a real audio file - 1579KB
Cradle of Filth - From the Cradle to the Enslaved - real audio - 6810KB
Dark Funeral - Secrets of the Black Arts -ASF file - 5750KB
Dimmu Borgir - Mourning Palace - ASF file - 6623KB
Immortal - Blashyrkh (Mighty Ravendark) - a real audio file - 2626KB
Immortal - Grim and Frostbitten Kingdoms - 1648KB
---
Programs
Tad Williams screensaver - zip file - 724KB
Fear Factory Startup / shut down screens - exe file - 138KB

---
Return to the Great Hall: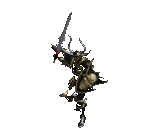 Too long since you've bloodied the tip of your sword? Your arrow points haven't been stained by the slime of enemy guts in a while? Come to the Lair of Darkness, chapterhouse for Legio Mortis, and discover the thrill of unfettered and unrepentent combat.

- Legio Mortis Recruitmenet poster