JAYNE
KX.l.
GENUINE SCHOOL UNIFORM - FIRST PULLING ASIDE HER REGULATION SCHOOL KNICKERS, WITHIN THE FIRST FOUR SHOTS HAS REMOVED HER KNICKERS COMPLETELY. WIDELY OPEN FROM FRONT/REAR/UNDERNEATH IN FULL CONTINENTAL STYLE.
KX.2. SCHOOL UNIFORM AND LONG WHITE SOCKS / AFTER A SOUND SPANKING JAYNE PULLS DOWN HER SCHOOL KNICKERS FOR VIEWS OF HER HOT LITTLE BOTTOM. THEN UNDRESSES TO BLOUSE & SOCKS FOR A FURTHER FOURTEEN FULLY-CONTINENTAL & HELD-OPEN PICTURES.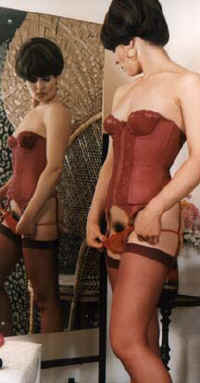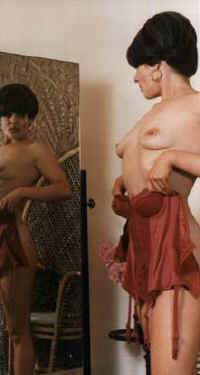 KX.3.
SUPERB IN HER SKIN-TIGHT RIDING OUTFIT & BOOTS JAYNE TAKES ONLY THREE SHOTS TO HAVE HER BREECHES DOWN & FROM THEN ON ITS WIDE, WIDE OPEN ALL THE WAY WITH BREECHES OFF & BOOTS ON AGAIN. SUPER-CONTINENTAL.
KX.4. THIGH-LENGTH BOOTS AND BULLWHIP. CONTINENTAL EXPOSURE BEYOND BELIEF.
KX.5. RELAXING SMOKING and WEARING ONLY A WHITE STRING VEST AND LAYING BACK TO SHOW OFF HER NAUGHTY BITS (Continental & Wide-open).
KX.6. JAYNE VERY DOMINANT IN REVEALING LEATHER HARNESS & WHIP - ALTHOUGH ONLY TWO STARS IN THE 'CONTINENTAL' SCALE THIS IS A SUPERBLY EXCITING SET AND NOT TO BE MISSED.
KX.7. ANOTHER SET OF THE LOVELY JAYNE BEING SUPERBLY DOMINANT IN THIGH LENGTH BLACK BOOTS, STUDDED G-STRING AND STUDDED LEATHER MASK. IN THE MIRROR TO DOUBLE YOUR VIEWING. ONE OF JAYNE'S BEST SETS.

KX.8. JAYNE - NUDE IN RIDING BOOTS FOR A REALLY GLAMOROUS SEMI-CONTINENTAL DISPLAY OF FULL-FRONTAL NUDITY.
KX.9. JAYNE STRIPS OUT OF HER SKIN-TIGHT RIDING OUTFIT FOR A FULLY CONTINENTAL EXHIBITION OF HERSELF NICELY OPEN.
Kx.10 LAYING BACK ON THE STUDIO BED FOR AN EXTREME, TOTAL, WIDE-OPEN DISPLAY OF CONTINENTAL 'VIEWING' DIRECTLY INTO THE CAMERA. INCREDIBLE STUFF.
KX.ll. DETERMINED TO PRODUCE THE CONTINENTAL SCHOOL SET OF ALL TIME, JAYNE SITS/ STANDS/BENDS OVER etc KNICKERLESS IN THE EXTREME FOR PICTURES THAT WILL SIMPLY KNOCK YOUR EYES OUT.
148/B "FRENCH MAID". Superbly sexy Jayne as a Naughty French Maid - naughty is right when she loses her Dress AND her Knickers for some very revealing pictures indeed.
148/D "BARE LESSONS". The ULTIMATE in 'School Uniform Undressing' - Jayne goes all the way from School Blouse, Tie, Knicks, Skirt etc to TOTALLY NUDE front and rear stretched out on the padded bench for the best viewing positions.
1481E "BABY-OIL RUBBER". Naked except for her tight Black Rubber Briefs, Jayne proceeds to lavishly Oil and Cream the whole of her young bare body - pulling open/down the rubber pants so as not miss ANYTHING.
148/F "SEXY CORSETRY". In front of the mirror (to double your fun) Jayne shows off her tight Red Basque with matching Stockings and Briefs, for a couple of pictures and then, being unbelievably kind to you, removes first her Knickers - then her Stockings - then her Basque - unbelievably revealing.
148/J "NAUGHTY NURSE". Jayne looks gorgeous anyway in her sexy new blue Nurses Uniform and Black Stockings - but when she puts on her Red Rubber Gloves and starts to undress, the incredible things she does with her Stethoscope will surprise and delight you. AND there's more - A GREAT DEAL MORE.
14811 "SCHOOL TREAT". A treat indeed as our lovely Jayne proves herself - as always - Captain of Games. Dominantly in her Head Girl Uniform, School Skirt, Blouse, Tie, Stockings, Suspenders, White School Knicks, Cane and Cigarette. Teasing and Tormenting you with 'views' of those intimate parts you'd love to be made to worship - if only she'd let you.
148/M "DYNASTY - NUDE". Looking her most beautiful - in classic reclining poses - NAKED except for Black Stockings rolled down to above her knees - our lovely Jayne shows that she can outdo the 'Dynasty crowd' with no trouble at all. If you know what's good you CANNOT miss this.

Photo sets contain 14 different poses.
One set £10
Two sets £18
Three sets £26
Four sets £34
Pamela M Young P.O.BOX 1479 Bristol BS99 3PX England