TANYA
132/Q "RUBBER LADY". Gorgeous Tanya amazingly clad in tight Black Rubber Gloves, Black Rubber Peephole Bra, Black Rubber Skirt, Black Rubber Stockings (wot no Knickers?). No Knickers - and you will SEE VERY CLEARLY why as she pulls the tight Rubber Skirt up to her waist etc for your 'viewing' delight.
132/R "OIL & RUBBER". Can you imagine anything more incredibly SEXY than lovely Tanya, 'dressed' only in Black Rubber Stockings, oiling and creaming the whole of her gorgeously naked body, revealing EVERYTHING - AND THEN pulling a See-Through Plastic Apron tightly against her gleamingly oily naked breasts and body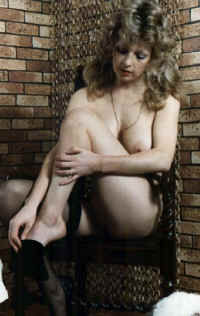 DX.5. FULL FRONTAL NUDES WITH SPANISH SHAWL & MIRROR TO DOUBLE YOUR VIEWING PLEASURE.
DX.6. ONLY 'IN' KNICKERS - ALL PULLING THEM DOWN FOR FULL FRONTAL AND LOVELY BARE BOTTOM DISPLAYS TO CAMERA AND IN MIRROR.
DX.7. VERY NAUGHTY SCHOOL UNIFORM - REMOVING HER SCHOOL KNICKERS TO SHOW OFF ALL HER NAUGHTY BITS, FRONT AND REAR.
DX.8. "ALL BLACK PLASTIC MAC & CRUTCH" - STOCKINGS, SUSPENDERS, BARE BOTTOMS AND FULL FRONTALS. VERY EXCITING INDEED.
DX.9. TANYA OILING HER NAKED BODY & BLACK RUBBER STOCKINGS / PLASTIC APRON / LOTS OF LOVELY 'PUSSY'.
DX.10. THOSE GORGEOUS BIG BARE BREASTS IN ROPE BONDAGE/LEATHER HARNESS/STEEL CHAINS. WONDERFUL.
DX.11 - Tanya undressing out of her swimming costume, with beach balls
D X.12 - Tanya gorgeously & revealingly nude from her swimming costume.
132/E "BREASTS". Just for starters lovely young Tanya in a tight black Body hugger to show off her big bare beautiful breasts - and then her Black See-through Negligee which does nothing to hide the 'view'.
132/F "BABY-OIL". Fantastic views (and in the mirror too) of Tanya's glorious Oil-covered Bare Breasts and Body as she pours and massages - massages and pours - for strong men only this one.
132/G "ACADEMY AWARD". Can you imagine those Magnificent Breasts confined under a regulation School Uniform - and then revealed in all their NAKED GLORY ? And that's only PART of a 'School Strip' to make strong men weep with envy.
132/H "EXPOSED". "You want to get some exciting photos of my breasts?" said our naughty Tanya. "Then get a load of this".
132/J "MIND YOUR EYES". And then she went on - until finally I simply had to have her struggling to encase "them" oh so tightly, in a white T-shirt to save your eyesight.
132/K "GAME TIME". Just to keep her occupied I let our lovely Tanya play with the tight Studded Leather Breast Harness. Then she swapped that for some lovely Red Ropes. Then she swapped that for some Heavy Steel Chains. Is there no limit?
132/L "WHO DARES WINS". Starting off totally NUDE our glorious young Tanya fits her lovely bare body into my latest, and most revealing. Studded Leather 'Para-Harness', and then proceeds to do 'exciting things' with the Mexican Bullwhip.
132/M "OUTSTANDING STUDENT". Enjoying herself immensely - and making sure the mirror shows just as much (or more) than the delightfully revealing full on 'views' - Tanya undresses, on the couch, COMPLETELY out of her School Uniform to reveal the whole of her delicious young body (down to her ankle socks).
132/N "NUDE". Entirely NAKED except for her matching Red Stockings, Suspenders and Lace Gloves (NO Knicks), Tanya presents - directly and in the mirror - the most delightfully-revealing 'views' of the whole of her beautiful bare body etc etc etc.
132/0 "NUDER". Now naked except for her Red Stockings (rolled down to above her lovely knees) Tanya lays back to make quite sure that - in the mirror and straight on - you see EVERYTHING in the finest detail.
132/P "NUDIST". Totally NAKED, stretched out on the couch, our lovely Tanya goes "all the way" for you to enjoy the clearest 'views' of the WHOLE of her lovely nude body from every angle.
DX.2. ALL FULL-FRONTAL 'NUDES' AND BARE BOTTOMS AND BARE BREASTS - WOW.
DX.3. TOTALLY AND GLORIOUSLY NUDE (BACK - FRONT AND etc) WITH INFLATABLE AIR BED.
DX.4. BEAUTIFUL FULL FRONTAL NUDES AND SOME SEXY KNICKERS PLUS BEAUTIFUL BARE BOUNCING BREASTS.
Photo sets contain 14 different poses.
One set £10
Two sets £18
Three sets £26
Four sets £34
Pamela M Young P.O.BOX 1479 Bristol BS99 3PX England