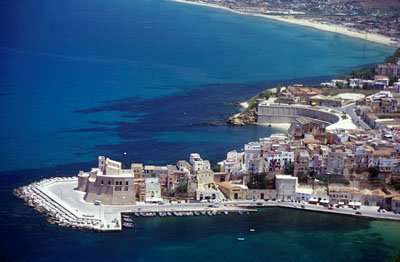 Castellammare's origins are Elymian - it was once the harbour for Segesta. Today it is that very rare beast - a genuine fishing port. There are few concessions to tourism - apart from the row of pleasant bars along the harbour edge, where it is very easy to spend happy hours just idly staring at the gentle bustle and admiring the splendid setting of the town. There is a castle for those with the energy to explore - but basically this is a place for sitting.
Acoording to Gavin Maxwell (The Ten Pains of Death) - who lived here for a while in the 1950s - then 80% of the male population had served prison sentences, and a third had committed murder: I suspect that this is where the absurd dialogue in Godfather II originates: Michael Corleone (walking through Forza d' Agrò masquerading as Corleone) :"But where are the men?" Answer " All dead from vendetta". Hard to believe now - it seems such a quiet, peaceful place.
In 2007 I spent a week here with my son, in a rented apartment. All my earlier impressions were confirmed: a quiet, unpretentious place, cheap and excellent fresh food from the market, fabulous fish restaurants selling the current local catch of the day (we favoured La Cambusa), and an excellent base from which to reach Palermo (park at the airport and get the train in), Segesta, Selinunte, Erice and Trapani.
Click here to see the most recent pictures of Castelammare del Golfo on Flickr