'Baby Come Home' Vinyl 7" Ltd Ed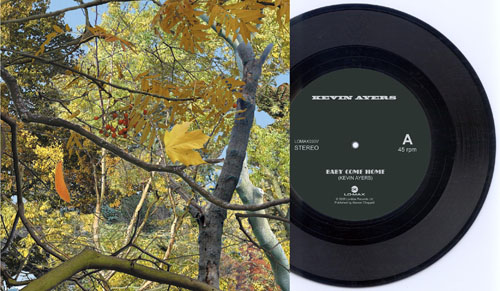 Kevin Ayers, the founder of British psychedelia realeses a wonderful single, "Baby Come Home" on 15 September. His first 45rpm in 16 years. It is taken from his acclaimed new album, The Unfairground. Ayers duets on the track with folk legend Bridget St. John. The song is backed with the track "Walk On Water". The single is availble as a numbered 7" 45rpm vinyl and is limited to only 1000 copies. It is pressed on heavy vinyl with a hard card art cover and sounds absolutely amazing. For those without a record deck it will be available as a digital download. You can pre-order the limited edition 7" via Lomax Records
Tim Shepard filmed and edited a cool super 8mm video for this song. SEE VIDEO HERE
KEVIN AYERS "WHAT MORE CAN I SAY…"
Reel Recordings RR009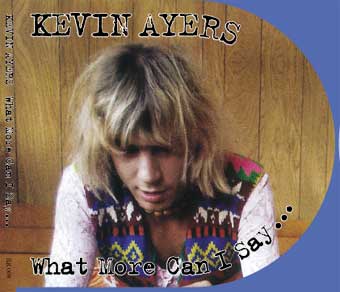 Mike King's splendid Reel Recordings brushes the dust off a recently discovered collection of demo recordings and out-takes from the early 70's with notes by Gerry Fitzgerald, fellow camper in the late Lady June's Maida Vale Supper Rooms. Some gentle noodlings with David Bedford, Mike Oldfield,Archie Leggett and Robert Wyatt. Of special note is ta fourteen minute private demonstration for 1974's Doctor Dream suite - Kevin as we know him but rarely hear him.
Track listings
1. Unfinished
2. This Song Isn't Called Anything
3. Crystal Clear
4. Crying
5. Clarence In Oysterland
6. Dreaming Doctor
7. What More Can Anyone Say?

Order direct from Reel Recordings.
KEVIN AYERS "SONGS FOR INSANE TIMES"
An Anthology 1969 - 1980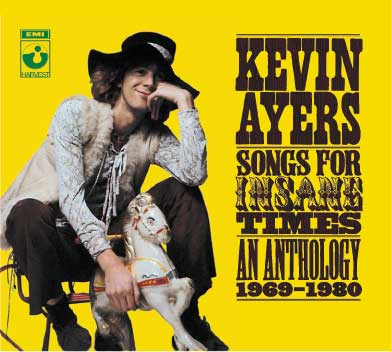 This Anthology covers Ayers musical career from 1969 to 1980, a time he recorded a number of albums for the legendary Harvest Record label, as well as further recordings made for Island during the 70's before returning to Harvest.
Of special interest here, CD4 was recorded at The Queen Elizabeth Hall, London on 25th May 1973. This is the first time this recording has been released on any format

CD One:
1. Town Feeling 4:51
2. Song for Insane Times 4:02
3. Girl on a Swing 2:51
4. The Lady Rachel 5:18
5. Stop This Train (Again Doing it) 6:05
6. Eleanor's Cake (Which Ate Her) 2:35
Taken from the album "Joy of a Toy"- Released as Harvest SHVL 763 in December 1969
7. Religious Experience (Singing a Song in the Morning) 4:33
Featuring Syd Barrett – Recorded at Abbey Road studios on 28th November 1969
8. Soon Soon Soon 3:35
Recorded at Abbey Road studios in September 1969
9. Rheinhardt and Geraldine / Colores Para Delores 5:40
10. May I? 4:03
11. Clarence in Wonderland 2:04
12. The Oyster and the Flying Fish 2:37
13. Shooting at the Moon 5:47
Taken from the album "Shooting at the Moon" - Released as Harvest SHSP 4005 in October 1970
14. Butterfly Dance 3:46
A-side of single - Released as Harvest HAR 5027 in October 1970
15. Gemini Child 3:18
Recorded at Abbey Road studios in June 1970
16. Stars 3:30
B-side of single - Released as Harvest HAR 5042 in August 1971
17. There is Loving / Among Us / There is Loving 7:20
Taken from the album "Whatevershebringswesing" - Released as Harvest SHVL 800 in January 1972
Total time: 71:55

CD Two:
1. Stranger in Blue Suede Shoes (first mix) 3:19
2. Song from the Bottom of a Well 4:34
3. Oh My 3:00
4. Margaret 3:18
5. Whatevershebringswesing 8:11
Taken from the album "Whatevershebringswesing" - Released as Harvest SHVL 800 in January 1972
6. Decadence 8:04
7. Oh! Wot a Dream 2:48
8. Don't Let it Get You Down 3:58
9. Interview 4:44
Taken from the album "Bananamour" - Released as Harvest SHVL 807 in May 1973
10. Caribbean Moon 3:01
A-side of single - Released as Harvest HAR 5071 in April 1973
11. The Up Song 3:19
A-side of single - Released as Island WIP 6194 in 1974
12. The Confessions of Doctor Dream: Irreversible Neural Damage 5:57
13. It Begins with a Blessing / Once I Awakened / But it Ends with a Curse 8:14
14. See You Later 4:39
15. Ballbearing Blues 0:55
Taken from the album "The Confessions of Dr. Dream and Other Stories"
Released as Island ILPS 9263 in 1974
Total time: 68:01

CD Three:
1. After the Show 2:39
2. Thank You Very Much 3:03
A & B side of single - Released as Island WIP 6201 in 1974
3. Observations 4:26
4. Toujours la Voyage 7:59
5. Diminished But Not Finished 1:58
6. Farewell Again (Another Dawn) 3:16
Taken from the album "Sweet Deceiver" - Released as Island ILPS 9322 in 1975
7. Yes I Do 3:08
8. Love's Gonna Turn You Round 4:52
9. Ballad of Mr. Snake 2:02
10. Blue 6:26
Taken from the album "Yes We Have No Mananas" - Released as Harvest SHSP 4057 in August 1976
11. Ballad of a Salesman Who Sold Himself 4:32
12. A View from the Mountain 6:14
13. Beware of the Dog II 5:59
14. Hat Song 1:17
Taken from the album "Rainbow Takeaway" - Released as Harvest SHSP 4085 in April 1978
15. Money, Money, Money 3:12
16. Super Salesman 5:03
17. Where Do the Stars End? 3:04
Taken from the album "That's What You Get, Babe" - Released as Harvest SHSP 4106 in March 1980
Total time: 69:10

CD 4
'After The Show - Live at the Queen Elizabeth Hall 1973'
1. Banana Introduction (3.08)
2. Stranger In Blue Suede Shoes (3.57)
3. Interview (7.50)
4. Whatershebringswesing (7.23)
5. Oh! Wot A Dream (3.47)
6. Shouting In A Bucket Blues (5.16)
7. Caribbean Moon (3.34)
8. Don't Let It Get You Down (4.46)
9. We Did It Again (11.23)
10. Why Are We Sleeping? (16.05)
11. After The Show (3.30)

Recorded at The Queen Elizabeth Hall, London on 25 May 1973
Engineered by John Leckie.
Mixed by Paschal Byrne at The Audio Archiving Company from the original 8-track master tape.
Mastered by Peter Mew at Abbey Road Studios.


RELEASED SEPTEMBER 8th 2008, should be widely available from usual outlets