Glen of Rothes Trout Fishery (Classified as a Scottish Tourist Board "Visitor Attraction")
Glen of Rothes has 6 acres of water, set in magnificent Highland scenery in the Northeast of Scotland, and provides excellent Stillwater bank fishing for Rainbow trout, as well as for Browns, Steelheads, Blue rainbows and Brook trout. The Lochs are mainly fly-only, but there is also a smaller dedicated bait loch as well. Whether you are an expert or just looking to try something new during your holiday, there is no need to book ahead - just come to the lodge to buy your day or part-day permit, and you will receive friendly advice on what flies and tackle to use (rods and landing nets are available for hire if you don't have your own). The water from the Fishery flows only a mile before joining the mighty River Spey, renowned throughout the world for it's salmon fishing, and the area is also the heart of the Scotch Whisky industry. There are 30 distilleries within a 20-mile radius of the Fishery, many of which are open for visitors to tour round and have a free sample of the produce - the Fishery itself stocks a number of tagged fish each month, and the angler that catches one immediately receives a free half bottle of "The Macallan" 10 year-old malt whisky. During the summer, we have a resident Osprey, and there is often an Otter on the go during the winter months.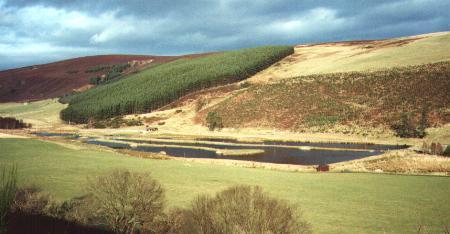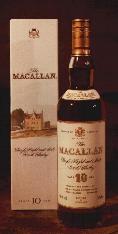 The Lochs at Glen of Rothes, providing enough space for up to 50 Catch a tagged fish, anglers at 15 metre spacings during competitions. and this will be yours!
The lochs are stocked on a regular basis, and daily during the summer, to ensure a steady head of fish that will give a challenging but highly rewarding day's fishing. The average weight of each fish caught has been steady at 2lb ever since the Fishery opened in 1994, and the record for the heaviest rainbow trout stands at 15lb 11oz (see photo gallery). Catches of over 30 fish for a day are quite achievable for those who have got to know the water and how it fishes - experienced staff are nearly always on hand to give advice and free tuition, but for tuition it is advisable to ring and book beforehand.
If you don't have tackle of your own, and you want to have a go, we have both fly and bait rods, nets, a large selection of flies and lures all here on site - all you need to bring is yourself. We have a heated lodge, with toilet facilities for the disabled, as well as a sitting area and a selection of snacks and hot and cold drinks. Car parking is right beside the lodge, and 30 metres from the lochs, but disabled anglers are welcome to drive right up to the edge of the water.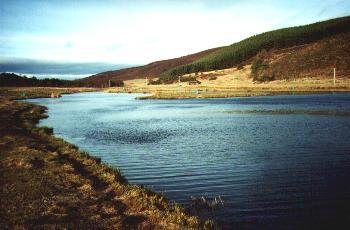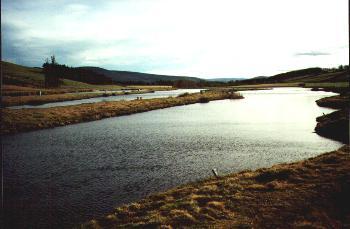 Get away from it all for a while!
The Fishery is unique in the North of Scotland, because it is never closed during frosty winter weather. At the request of local anglers, an aeration system was installed in 1996 which keeps the water moving, leaving large areas ice-free. You cannot call yourself a true fisherman until the rings on your rod ice up! The aerators also keep the fish lively during the hot weather and low water flows which can be experienced during the summer months.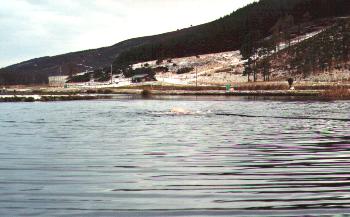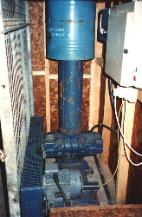 One of the four aerators, keeping some water The high-volume pump, which clear during a frosty period pushes thousands of cubic meters of air per hour into the bottom of the lochs
Glen of Rothes is a member of both the North of Scotland Stillwater Fisheries Association, and the Association of Scottish Stillwater Fisheries.
To contact us:
Phone: 01340 831888 Glen of Rothes Trout Fishery Fax: 01340 831626 Rothes Moray AB38 7AG. Scotland

info@glen-of-rothes.co.uk
Photo Gallery . Monthly Flies and Lines . Weekly Reports . Competitions . Location . Links & Prices