About Us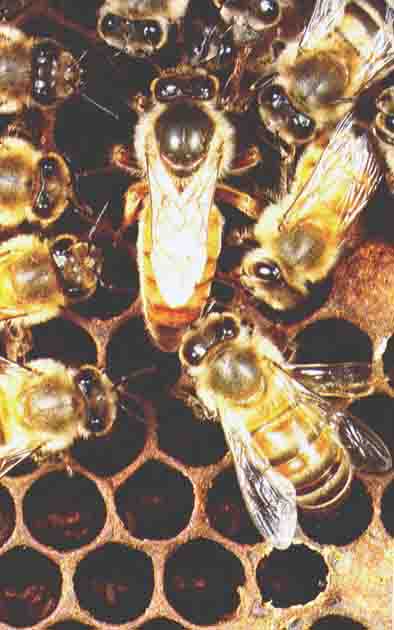 East Lothian Beekeepers
The Association seeks to encourage and promote beekeeping by bringing novice and experienced beekeepers together. In the summer months we visit members' apiaries to learn from each others' methods. In addition, a small number of hives are run as an Association apiary to provide a teaching resource.
East Lothian offers a very rich landscape for bees (and beekeepers) with its relatively warm and sunny climate and its fertile soils. The varied flora includes lime trees planted in the grounds of many old estates, and an abundance of heather across the Lammermuirs. Early evidence of beekeeping in the county comes from niches that were built into buildings to protect straw beehives (skeps) from the elements. Examples of these "bee boles" can be found in Garvald, Aberlady, Pilmuir, Fountainhall, Dirleton and Beech Hill. There is also a very unusual "bee house" at Byres farm, where the south gable of a 16 th century building contains eight niches in two rows, a structure thought to be unique in Scotland (see www.ibra.org.uk/beeboles/home.asp for further information).

The first East Lothian beekeeper whom we know by name is T.M. Howatson, who was a schoolmaster at Humbie, and published a book in 1827 entitled "The Apairian's Manual". Then from 1861 onwards there is a typically argumentative correspondence from beekeepers in the letters pages of "The Haddingtonshire Courier". Their discussions follow the change in beekeeping practice as it evolved from keeping bees in straw skeps to the current system of wooden movable frame hives from which honey can be harvested without harming the bees. Meticulous observations of the development of bees were also published in the Courier in the 1860s by a Mr Shearer of Yester Gardens , Gifford, who kept an observation hive in his bedroom and allowed the bees to fly in and out of his window (transcripts of the Courier letters and articles can be found under "History" )
A Beekeepers Association was first founded in East Lothian in 1887 due to the efforts of the Reverend John Kerr of Dirleton who got things going with a letter to the Haddingtonshire Courier. This slightly predates formation of the Scottish Beekeepers Association, and it is possible that the East Lothian Association is the earliest Scottish local Association still in existence. However, the first Association seems to have quickly lapsed, being reformed in 1946 with a membership that soon exceeded 150. These high numbers were partly due to the fact that beekeepers were allowed extra sugar at a time when sugar was strictly rationed; these numbers were not sustained when rationing ceased. However, in the last decade there has been a resurgence of interest in beekeeping and the Association is blossoming once more with membership now at its highest level for twenty years.
Through the winter months, when the bees are quiet, the Association runs a varied lecture program, a beginner's class and an annual dinner. The Association has a growing library of beekeeping books and owns an electrical honey extractor. In the spring and summer, events move outside with practical training at the Association apiary. There are also visits to members' apiaries around East Lothian where, once the bees have been properly inspected, veils and gloves are dispensed with and everyone tucks into afternoon tea – with plenty of honey for the scones of course! Anyone interested in joining the Association should contact the Secretary, Donald Smith, on 01620 822441 or through the Association website.
Activities
We organise a beekeeping display annually for the Haddington Show.

We have a small (but increasing)library of beekeeping books available for borrowing by members.
Lectures and training meetings are held through the winter
A newsletter is produced every few months advertising forthcoming events, sales of bees and equipment and general information. Please click on the link to view recent examples

We have an annual 'honey competition' at the Gifford Show
The annual membership fee is £5.00.
The Association office bearers are:
President: Colin Mackay
Secretary:Deborah MacKay
Treasurer: Rosemary Carthy
Spray Liason Coordinator: Colin McIntosh