This site is dedicated to the Triumph Mayflower, an important and often overlooked part of British motoring history. Its' purpose is to ensure the Mayflower does not sink below the waves of obscurity and to entice individuals World-wide to dip their toe into the sea of Mayflower ownership. Being a relatively cheap entry-level classic car, suitable for weekend drivers and grease monkeys of all abilities, the Mayflower is fun to own and drive. The owners club gives support and assistance to members all over the World in terms of new and used spares, technical help and friendship. Jump in and join us, we are a friendly and helpful crew!
Site Contents
Cet emplacement est consacré au Triumph Mayflower, une partie importante et souvent négligée d'histoire circulante en voiture britannique. Son but est d'assurer le Mayflower ne descend pas au-dessous des vagues de l'obscurité et n'attire pas des individus dans le monde entier pour plonger leur orteil dans la mer de la propriété de Mayflower. Étant une voiture classique relativement bon marché de niveau d'entrée, appropriée aux conducteurs de week-end et aux singes de graisse de toutes les capacités, le Mayflower est amusement au propre et à la commande. Le club de propriétaires donne l'appui et l'aide aux membres partout dans le monde en termes de pièces de rechange nouvelles et utilisées, aide technique et amitié. Sautez dedans et joignez-nous, nous sommes un équipage amical et utile! Si vous voulez n'importe quelle aide avec traduire n'importe quelle partie de cet emplacement svp contactez-moi. Merci de votre visite. Respect, Stephen.
Site Contents
Este sitio se dedica al Triumph Mayflower, una parte importante y a menudo pasada por alto de historia que viaja en automóvili británica. Su propósito es asegurar el Mayflower no se hunde debajo de las ondas de la oscuridad y no tienta a individuos por todo el mundo para sumergir su dedo del pie en el mar de la propiedad de Mayflower. Siendo un coche clásico relativamente barato del nivel de entrada, conveniente para los conductores del fin de semana y los monos de la grasa de todas las capacidades, el Mayflower es diversión a propio y a la impulsión. El club de los dueños da la ayuda y la ayuda a los miembros todo sobre el mundo en términos de repuestos nuevos y usados, de la ayuda técnica y de la amistad. ˇSalte adentro y ensámblenos, somos un equipo amistoso y provechoso! Si usted desea alguna ayuda con traducir cualquier parte de este sitio por favor éntreme en contacto con. Gracias por su visita. Respeto, Stephen.
Site Contents
Dieser Aufstellungsort wird dem Triumph Mayflower, ein wichtiges und häufig übersehenes Teil britische fahrende Geschichte eingeweiht. Sein Zweck ist, das Mayflower sicherzustellen sinkt nicht unter die Wellen von Obscurity und verleitet Einzelpersonen weltweit, um ihre Zehe in das Meer des Mayflower Besitzes einzutauchen. Seiend ein verhältnismäßig preiswertes klassisches Auto der Eingangsstufe, das für Wochenende Treiber und Fettaffen aller Fähigkeiten verwendbar ist, ist das Mayflower Spaß zu eigenem und zum Antrieb. Die Inhaberverein gibt den Mitgliedern Unterstützung und Unterstützung auf der ganzen Erde in den neuen und benutzten Reserven, technischer Hilfe und Freundschaft ausgedrückt. Springen Sie innen und verbinden Sie uns, sind wir eine freundliche und nützliche Mannschaft! Wenn Sie irgendeine Hilfe bei irgendeines Teils dieses Aufstellungsortes bitte übersetzen wünschen, treten Sie mit mir in Verbindung. Danke für Ihren Besuch. Respekt, Stephen.
Site Contents
Questo luogo è dedicato al Triumph Mayflower, una parte importante e spesso trascurata di storia automobilistica britannica. Il relativo scopo è accertare il Mayflower non si affonda sotto le onde di obscurity e non attrae gli individui universalmente per tuffare la loro punta nel mare della proprietà di Mayflower. Essendo un automobile classico relativamente poco costoso del livello di entrata, adatto a driver di fine settimana e scimmie del grasso di a tutte le abilità, il Mayflower è divertimento il proprio ed azionamento. Il randello dei proprietari dà il supporto ed assistenza ai membri dappertutto in termini di nuove e parti di recambio usate, l'aiuto tecnico e l'amicizia. Salti dentro ed uniscali, siamo una squadra amichevole ed utile! Se desiderate dell'aiuto con la traduzione della qualsiasi parte di questo luogo prego selo metta in contatto con. Grazie per la vostra chiamata. Riguardi, Stephen.
Site Contents
Este local é dedicado ao Triumph Mayflower, uma parte importante e frequentemente negligenciada do history viajando de automóvel britânico. Sua finalidade é assegurar o Mayflower não se afunda abaixo das ondas do obscurity e não se seduz indivíduos worldwide para mergulhar seu dedo do pé no mar da posse de Mayflower. Sendo um carro clássico relativamente barato do nível de entrada, apropriado para excitadores do fim de semana e macacos da graxa de todas as abilidades, o Mayflower é divertimento ao próprio e à movimentação. O clube dos proprietários dá a sustentação e o auxílio aos membros toda sobre o mundo nos termos de sobressalentes novos e usados, da ajuda técnica e do friendship. Salte dentro e junte-nos, nós somos um grupo amigável e útil! Se você quiser alguma ajuda com traduzir qualquer parte deste local por favor contate-me. Obrigado para sua visita. Consideração, Stephen.
Site Contents
Deze site is gewijd aan de Triumph Mayflower, een belangrijk, maar veelal miskend deel van de Britse autogeschiedenis. Het doel van de site is om te voorkomen dat de Mayflower in de vergetelheid raakt en om mensen uit de hele wereld enthousiast te maken voor de Mayflower. De Mayflower is een relatief goedkope klassieker en is geschikt zowel voor mooiweer chauffeurs als voor techneuten van alle niveaus, is gewoon een een leuke auto om te bezitten en hij rijdt nog prima ook. De club biedt hulp in de vorm van nieuwe en gebruikte onderdelen, technische ondersteuning en vriendschap aan leden waar ook ter wereld. Kom op en word lid! Wij zijn een vriendelijk en hulpvaardig stel mensen. Met vriendelijke groet, Stephen.
Site Contents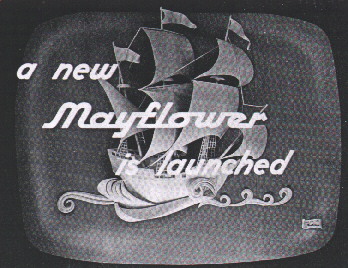 Welcome

Triumph Mayflower Club Historian.

Launch of the Mayflower

short history leading up to the 'launch'.

Who's idea / design?

Lesley Moore - Walter Belgrove, Vic Hammond

Sir John Black

mini biography

What the papers said press comments of the day and 'launch' photos.

Triumph Mayflower Club

membership World-wide.

Links to related sites

recommend a related site.

Photo page

brochures, press photos, factory photos, manuals, adverts etc.

Triumph Mayflower Drophead Coupe

photos, adverts, brochure etc.

Triumph Mayflower Utility Australian variant. Photos, brochure etc.

Triumph Mayflower parts / spares need a part or have you parts to offer?

Service Bulletins help with fitting that part!

'Ghost' Mayflower Cut away Mayflower exhibited at the 1951 Festival of Britain, London.

Mayflower Club Rally Photos

Rolls Royce Myth & the "Watch Charm Rolls" The real 10 hp Rolls Royce!

903 miles in a Mayflower – June 2006 – journey through England & Wales to run in a Mayflower