Go to the Archive index
Three Wheels on your Wagon
by David Stevenson
This is not the definitive article on bicycle sidecarring that you have been waiting your entire life to read. It is penned in the hope that, having read it, real experts amongst you will come forward to tell it like it is (or was).
I am not sure whether Watsonian Sidecars were the first firm to commercially market a cycle sidecar, but it appears that they began production in Spring 1934.
Cycle sidecars have to be of the banking type because the rigid framed type used on motor cycles tend to lift the third wheel on every downward pressure stroke of the right hand pedal. Watsonian overcame this problem by making the inner member of the sidecar a tube which was attached to the bicycle by the means of two clamps secured by wing nuts. The ability of the tube to revolve within these clamps provided the necessary hinge. These clamps were on the lower edge of a plate which was bolted to the rear spindle nut and the chainstay & seatstay of the bicycle. The rest of the chassis was made of rivetted flat steel strips and held a 14 inch wheel within a copious mudguard. Two levels of wheel mounting were provided to allow for attachment to cycles with 26- or 28-inch wheels. The chassis was said to carry up to 112lbs in weight.
The basic design remained the same throughout its twenty years or so of production, but there were modifications. The first mounting plates were made of flat plate with large cut-outs and slots for the U-bolts that went around the chainstays. This seems to have been dropped fairly quickly in favour of a more professional looking pressing with, again, two slots for the U-bolts. This model of mounting plate looks very much like the lower front suspension wishbone of some '50's cars. The third mounting plate, brought out at some point after the war, was, like the second version, a pressing but without the upper slot for fixing to the seatstay.
There was a choice of bodywork on the sidecars. There were single (No.1) and double-seater (No.5) sidecars for children up to about 5 years old, and three commercial bodies: a box (No.2), a truck (No.3), and a flat platform (No.4). All the bodies were mounted on four springs. The sidecar styles were known simply by numbers but the numbering system did not remain the same and can be confusing. No.1, for instance, eventually designated the chassis purchased without a body so that the cyclist could make one to his or her own design.
The style of the passenger sidecars underwent some changes. The first models were broad-nosed and ungainly looking but they were superseded for the 1939 season by a miniature copy of the handsome launch type hull which was all the rage on motor cycles. Both these bodies were available as single and two seaters. The models from '39 onwards were made of extremely thin aluminium sheets pinned to a wooden frame and also had an opening boot. At least two other smaller bodies seem to have been produced by Watsonian, one at least being clad in wood instead of aluminium.
There were other commercial makes of bicycle sidecar and some used a full size bicycle wheel for the sidecar. The Complete Cyclist included a photograph of a really superb Zeppelin-type bicycle sidecar made by Fenton's of York. Derek Langdon's outfit uses another of these other-make bodies but he has been forced to make his own chassis (and a jolly good job he has made of it, although I think the ground clearance may be slightly too small for the Gobi Desert section of the Paris-Peking Rally which he has confided he intends doing in 1994).
And that's about all I know so far. The only thing I can add is that when I first told my father that I had purchased one he revealed to me that I was, all unawares, familiar with such vehicles since, as a very small boy, he had carried me about in one before he had been able to afford the full-sized motorised variety. With that kind of experience behind me I anticipate no trouble in piloting my own outfit when it eventually takes to the road.
My thanks are due to Derek Langdon and Andrew Pattle from whom most of this information was obtained and also Charnwood Classic Restorations of Hugglescote where I first saw one of these diminutive attachments.
[First published: February 1992]
---

Go to the Archive index
Fitting a Sidecar
by Andrew Pattle
Perhaps it would be timely, following David Stevenson's article, to make a few comments on the practicality of attaching a Watsonian sidecar to a powered machine. Pulling the extra weight is not much of a problem, after all a cyclist can do it so why shouldn't a cyclemotorist. Having a reasonably high gear helps as it makes it easier to give l.p.a. before the engine revs drop too low—a hub gear (2, 3, or 4 speed but not 5) will help with this.
The main area in which problems can occur is in fitting the mounting plate to the machine. Anything protruding beyond the seat or chain stay could foul the mounting plate.
Practically all autocycles can be fitted with the Watsonian sidecar and several have been—there is a well-known period photograph of a Raynal/Watsonian outfit. Only one modification is needed: a new sleeve nut to fit the autocycle's rear spindle which is larger than that on a normal bicycle.
Mopeds with suitable frames can also be fitted with the sidecar. Those with tubular frames and unsprung rear wheels are the best bet—the Raleigh RM1 or the Phillips Panda MkI for instance. Again, a new sleeve nut will be required in most cases.
Some cyclemotors cannot be used; the Cyclemaster, BSA Winged Wheel, VAP and Bantamoto are obvious examples of machines which extend outside the cycle stays and prevent the sidecar mounting plate from being fitted. A less obvious one is the Cyclaid which, because it uses a sleeve nut for its own mounting, stops the sidecar's sleeve nut from being fitted. Power Paks and Mini-Motors can be used, and so can any front wheel drive unit. Generally, bottom bracket engines are all right too, although the Vincent Firefly's engagement mechanism might get in the way depending on the size and shape of cycle frame—slight modifications may be required.
Of course, if you make enough modifications to the mounting, or even make your own, it can be persuaded to fit anything. However, it is important to keep the axis of the 'hinge' as close as possible to the bike; the further out it is, the more you will need to lean out when riding to counterbalance the weight of the sidecar.
[First published: February 1992]
---

Go to the Archive index
Sidecar Section Notes (October 1992)
by David Stevenson
I've still not exactly been bowled over by the amount of correspondence I'm receiving but the letters that have dropped on my mat have continued to be very interesting. Please keep them coming.
There were no sidecars on the NACC York Run, from which I have just returned. Ours should have been there but the McCupid, our kilted mutant Mobylette, required my firm hand on his rusting tiller. Since the last issue both Andrew Pattle and I have spotted (at separate locations) a child carrying bicycle trailer body in a four-panel Zeppelin style. It is, or was in August, being autojumbled. It is odd but not unpleasing to look at and appears to be professionally made although it has no nameplate. It is panelled in polished aluminium and has certainly seen some use as it has CTC and YHA enamel badges on it and a pair of rear lights. It would make a superb (though probably expensive) sidecar body. Unfortunately, neither of us had a camera handy.
Now then, with the long winter evenings looming drearily on a darkening horizon, all of you need an indoor project to keep those nimble little fingers out of mischief. Keith Rutledge has sent me seven A4 sheets from a 1950s' Do-It-Yourself Manual with detailed instructions of how to make both body and chassis for a bicycle sidecar or trailer. Send me £1 and your name and address and I will send you a photocopy of them post-haste. Become the Val (I've just got one here that I made earlier this afternoon) Singleton of your local cycle or motorbike club for just one hundred new pennies, ladies and gentlemen.
A report of our first Sidecar Sunday will appear in the next scintillating issue of Buzzing.
---

Go to the Archive index
Sidecar Notes (December 1992)
by David Stevenson
I shall keep this brief or there will be a surfeit of me in this issue of Buzzing, which will quickly prove that you can have too much of a good thing. Derek Langdon and I successfully completed the VMCC hundred-miler on 4th October riding our respective outfits. Derek completely wore out a brand new back tyre in three laps of the soggy circuit. Using the formula largest sidecar/smallest capacity engine, Derek's Mini-Motor is the current Hard Man Sidecar Champion of the hundred-miler. This title is up for grabs however and a sure way to get yourself into the NACC record books (and probably into the hernia ward of your local hospital too) is to borrow the Busmar Double Adult sidecar off my BSA 650 and fix it to your Lohmann-powered folding shopper bike in anticipation of next year's event.
The end of 1992 concludes the first six months of the Sidecar Section. So, although we don't have members as such, we are publishing the following list of those who, by virtue of having either been seen by me riding an outfit or by writing to the section, have earned the right to put ASSNACC (Associate of the Sidecar Section of the National Autocycle and Cyclemotor Club) after their names. Personally, I wouldn't advise it however, since ASSNACC sounds like an unfortunate medical term for the kind of operation that rich old women undergo to improve the shape of their behinds.
Richard Leathley
Dave Davies
The Sobey family
Andrew Roddham
Keith Rutledge
Bill Cassidy
Martin Archer
Derek Langdon
Eddie (of Eddie's Two Wheels)
Nik Haines
Stephen Warner
Tony Dymot
Chris Ferneyhough
J.G.Hughes
Ian G. Reid
Mike Simms
John S. Rutherford
Geoffrey Jourd
Andrew Pattle
Pete Arundel
Richard Warren
May Santa bring you everything you desire and leave foolproof instructions as to how to keep the matter a secret from your husband/wife.
---

Go to the Archive index
Dukeries Section Second Autumn Tapestry Run 18th October 1992
by David Stevenson
The gods (or God if one must be monotheistic about it) smiled once again on John McDermott's fourth NACC event based at the Gateford pub in Worksop. When I arrived at 10am the car park was already full with a fine display of the machines that accelerate our pulses, though not often the rest of our anatomies. Members of the Microcar and Scott Owners Clubs later joined us. NACC members had travelled considerable distances to be there. Roger Worton, for instance, was up all the way from Milton Keynes. John was also able to welcome quite a few new local members, a couple of whom went home with trophies in their Belstaffs.
They day was a brisk, bracing sort of day, very definitely autumnal but with bright sunshine. Roller drive men with fine physiques: large chests and muscular legs, were to be seen placing highly sensitized finger-tips onto damp patches on the roads. Shaking grizzled heads they held aloft wetted forefingers to fathom the wind before consulting the fir cones, lengths of dried seaweed and entrails of small furry mammals that they habitually carry about with them in the orange lining of the fur-edged hood on their navy blue anoraks. Once these deliberations were over they were to be found in secluded corners of the car park with logarithm tables open on their doughty knees as they scribbled numbers on the backs of old envelopes. The divination accomplished they strode on firm legs towards their creaky mounts to raise tyre pressures by fractions of an atmosphere or lower the roller 3/64ths of an inch.
They need not have worried. The well laid out route that John and Les had planned for us was soon drying in the sunshine and wind. The itinerary was not flat (nowhere around here is flat) but it was a scenic ride which included some picturesque countryside. I thought as I rode that it really was not a bad introduction to our locality for those not familiar with it already. By no means is all of South Yorkshire particularly beautiful though, like everywhere else, it has its moments. And John and Les ran us past some of those moments. There were gravelly bits and muddy bits and up and down and windy bits, exhaust-noise off the stone walls on either sidy bits, narrow and grassy in the middle bits and even a few busy even on Sunday morning bits.
The news that week had been dominated by the pit closures and the run took us past the open, but soon to be closed, mine at Kiveton Park and the almost completely obliterated pit in Dinnington where we stopped for lunch. Across the fields behind the pub the partly demolished outline of Thurcroft Colliery was silhouetted against an autumn sky.
There were about thirty bikes on the road run and I only heard of one retirement. The short return route was accomplished by most riders pretty quickly and then the autojumble did brisk trade for a while. In the usual democratic spirit of the Club the awards were by general acclamation and the results were:
| | |
| --- | --- |
| Best Autocycle | Winner: Keith Walker with his New Hudson RKE 218 |
| | Runner-up: Brian Rollings with New Hudson VOB 608 |
| Best Cyclemotor | Winner: Neville Hart with his Mini-Motor GVS 325 |
| | Runner-up: Tony Teale with Cyclemaster KSK 460 |
| Best Moped | Winner: Christopher Hart with his NSU Quickly 251 BKT |
| | Runner-up: Frank Walker with Jawa WGV 899A |
John had agreed to play host to our first Sidecar Sunday. The turnout was a little disappointing. I had set my heart on perhaps eight sidecars or bits of sidecars showing up. Our actual total was 4½. However, what was extremely encouraging was that all four of the complete outfits took part in the road run. As promised there were two genuine solid gold plastic trophies on offer to those who were sidecar mounted. Despite the fact that there were only three serious contenders for these valuable artefacts (even I am not going to go out and buy a trophy in order to present it to myself) the judging was very difficult. 'Best Sidecar on the Run' was easy enough since Jade Warner had shown immense talent in successfully guiding her erring father Stephen around the route. Stephen was piloting a Cucciolo-powered special with what looks to be a purpose-built sidecar chassis of unknown make upon which Jade was ensconced in an early Watsonian body. I must by the way pay tribute to the courage of Jade (3½) and my own daughter Katy (5), the Amelia Erhardt and Amy Johnson of motorised bicycle sidecarring.
'The Most Interesting Sidecar' trophy was a more difficult decision. Derek Langdon's souped-up Trojan Mini-Motor (the barrel and piston off an industrial engine boost it to a mighty 70cc) hauls a home-designed and built sidecar chassis which carries a body of unknown make. The outfit has been amazing onlookers at NACC rallies (while covering them in a fine coating of rubber particles) for two seasons now. Head-to-head with it in the gold etcetera stakes was an Eddie's Two Wheels (or in this case three wheels) Special. Eddie has built a hinged sidecar chassis using the rear seat rail(?) from his Talbot Express which looks for all the world like it was made for the purpose. With a tiny wheel, plastic mudguard and basket-work body advertising Eddie's motor cycle shop in Sale, the whole caboodle fits extremely neatly to two mounting points under the floorboard of a Motobi. After much agonising and a brief consultation with our esteemed editor I decided to award Eddie the coveted prize since: (a) Derek has already experienced on a number of occasions the fame and fortune that only an NACC award can bring, and (b) Eddie had put together his outfit from scratch in the five weeks since the York Run when the Motobi first appeared in solo form.
Eddie's mount was later to be seen in the car park with a two man crew practising the new art of powered bicycle sidecar racing.
For the record the fourth outfit was my own Bown autocycle with a later Watsonian type sidecar piloted by Katy and the half was a double, tandem seated sidecar constructed and brought along by Andrew Pattle. This is for sale if anyone is interested.
Our Second Sidecar Sunday will be incorporated into the Stowmarket Run in May '93 and it would be nice if we could increase the attendance from nearly five into double figures. Sidecar plans are available from me for £1 so starting collecting washing-up bottles and toilet roll centres now. See you at Stowmarket.
Sidecar Notes (April 1993)
Les Sleath sent me some photocopies of advertisements for a bicycle trailer and two sidecars from the Motor Cycle and Cycle Trader magazine. The trailer advertised in the 22nd January 1932 edition was clearly a substantial affair that pivoted from the back spindle of the bicycle. It was obviously intended as a commercial rather than as a private vehicle and at £8 10s was expensive. It was made by Alldays and Onions Ltd of Birmingham who, before and just after the Great War, had produced the Allons motor cycle.
One of the sidecars, also a commercial model, comes from the same period having been advertised in the issue of 3rd February 1933. It was made by Sandums of Islington and was set upon a fixed, motor cycle-type sidecar chassis with a full-sized wheel. Perhaps the most interesting photocopy Les sent me, however, was a short article on the Rennoc sidecar, which appeared more than a decade earlier on 26th February 1921. The article claimed that the Motor Cycle and Cycle Trader frequently received enquiries from all parts of the country for the names of makers of sidecars for use in connection with pedal cycles, both for the carriage of a juvenile or adult passenger or for light parcels.
Rennoc Motors Ltd, of Stroud Green, London had just begun to manufacture a quickly detachable motor cycle-type of sidecar for bicycles. It was available with a variety of superstructures: a wooden parcel box, a wickerwork basket, or for the carriage of passengers, adult or child models were available with either wickerwork or coach-built bodies. An accompanying photograph showed the model with a wooden box.
How practical an adult carrying sidecar was in any but the flattest areas and for the shortest journeys is to be wondered and it is impossible to know how many were sold. Nevertheless this is the first information I have come across that pre-dates the 1930s. It suggests that the mid-1930s saw not the invention of the bicycle sidecar but of the folding lightweight child-carrying sidecars like the Watsonian and the Runwell (for which Andrew Pattle sent me a brochure some time back). This type of sidecar, particularly attached to a tandem, was probably the first to make the sidecar of practical use to the touring cyclist.
If you have any further information on any of this please contact me. Andrew's April Sidecar of the Month comes from a leaflet sent to him by R Williams of Weybridge. It is a photocopy of the 1936 Wanderer brochure and reveals that at this time the German firm were producing 13 models of autocycle! The one of particular interest to us was the Model 15, which had a 98cc Sachs engine and a very neat child's sidecar, styled like a miniature motor cycle-type single seater of the period. I can't tell you any more as the leaflet is in German…
Mike Cheesman of Southampton has sent me a charming photo of his 1960 NSU Quickly with a 1949 Watsonian child sidecar attached. And very nice it looks too. Interestingly it has a wrap-round windscreen without pillars, a miniature version of that used on Watsonian's larger models. His biggest problem, he reports, was making up the brackets to fit the mounting plate to the moped. I should be very pleased to receive a picture of your sidecar, if you would care to send one.
Spring is here. You wasted all those dreary winter evenings, didn't you, watching repeats of 1970s' sitcoms? Hurry! There is still time to refurbish that sidecar for our Second Sidecar Sunday in conjunction with the Stowmarket Run on 18th May. Once again, ladies and gentlemen, not one but two solid gold plastic trophies will be on offer. Be there.
---

Go to the Archive index
Sidecar Notes (June 1993)
by David Stevenson
Strangely enough, although the riding season has begun, I've received very little correspondence about sidecars since the last magazine. Les Sleath has sent me some more photocopies of sidecar advertisements, including a very early one from March 1905. Taylor Gue Limited was advertising its Veloce Carriers, a range of three tricycles and one sidecar, in that weeks edition of 'The Cyclist' Trade Review. The sidecar was a very simple rigid frame with a small box attached. It looks surprisingly sporty, perhaps because it has no mudguards on any of its three wheels. I imagine this sporting image would have been dispelled if one had actually tried to pedal it anywhere.
This impression is confirmed by an advertisement in the Motor Cycle and Cycle Trader for July 1931. A T Perry was proudly advertising a 12-guinea 'Economical and Light' Side Box Carrier, which weighed in at 93lbs. Modern bikes generally weigh somewhere around 30lbs and one is rather dubious of Perry's claim that the patented side box carrier made 'it possible for considerable weights to be carried by a youth without fatigue'. One imagines a species of adolescent dinosaur with a pimply proboscis, sticky out ears, a brain the size of a gooseberry and legs like tree trunks.
Later in the same year Perry was advertising an even more unlikely looking double wheeled sidecar, which is shown with its full load: a milk churn and crates of milk bottles. 'Running costs practically nil' boasted Perry and one begins to think that they had some particularly virulent grudge against delivery boys. Perry's sidecars had small wheels that appear, like the one fitted to the Cyc-Auto outfit on the front of February's Buzzing, to have a castor action.
Les also sent me an article on 'New Patents'from one of these magazines dating from August 1913. Patent 22907/12 was for 'Luggage Carriers for Bicycles'. This patent also envisaged a small wheel but in this case of a fixed type. The rigid frame had a three point fixing to the front down tube, saddle bolt and lower chain stay. A platform for the luggage was fixed above the wheel.
The 'Unity' Delivery Sidecar of ten years later used similar fixing points but with a full sized wheel riding outside the very substantial sidecar box.
Andrew's first contribution for this edition is page 641 from The Motor Cycle for 12 June 1952. It shows Reg Petty and his home built special, a tandem to which he had attached 'a two stroke engine' and a DIY sidecar. The photograph has Reg and his wife on the tandem and their two children standing in the sidecar—'an under £40 outfit for touring runs' says the caption. How far did they get, one wonders, and even more, did they get back? And what did Mrs Petty's legs look like afterwards?
Last but not least Andrew sent me the trade card of the Battery Cycle Works, Tram Terminus, Prince Rock, Plymouth. 'Devon's Best Carrier Cycles' it says, which was probably true since Devon, even then, was hardly teeming with cycle factories. They offered two sidecar models, both fixed types, with full sized wheels. The closed box version was £14 while the same machine with an open box for Milkmen cost £13-10s. 'There is no danger of skidding' says the copy, rather unnecessarily given the outfit's three wheels. Perhaps the brakes didn't work.
Turning from the distant to the recent past: Eddie's Motobi and sidecar made a star appearance on the NACC stand at the Stafford Classic Bike Show in April—without the solid gold plastic trophy it won at Worksop last autumn. 'Disgusted' of Rotherham spoke to him most sternly on the topic and he claimed to have forgotten it! On a more humble note I must apologise to all concerned for my son and me partly demolishing the stand at one point on Saturday.
The next bumper fun-packed edition of Buzzing will include a full colour verbal photo-panorama of our next world-class promotion—The Second Sidecar Sunday—when two more of these super-value trophies will be on offer.
---

Go to the Archive index
The Second Sidecar Sunday 23rd May 1993
by David Stevenson
This year's Sidecar Sunday was incorporated into the Stowmarket Run. It would be nice to report that sidecar-mania is sweeping the club and that there was a huge turnout… Nice but untrue. The number of sidecars on the run actually decreased by one over last October, although the overall total of sidecars present went up from 4½ to 6, an increase of 33.33% or so my maths adviser, Mrs J B Smith, informs me. (Ever been shopping with a maths teacher? They may know about vectors, logarithms and predictability but take any three of 'em into Tesco's to buy a bottle of wine for £3.57 and ask each one:
a. How much is their share? and
b. What change will you get from a ten pound note?
You'll get at least six different answers.)


The sidecars at Stowmarket
The sidecars on the run were: Derek Langdon's hauled by a Trojan Mini-Motor, Glen Duff's beautifully restored and repanelled Watsonian on a late-model chassis with two point rather than three point fixing, also hauled by Mini-Motor, and my own Bown. In addition in the display area were: Andrew Pattle's James autocycle with a 1936 Watsonian attached, Andrew's Lohmann-powered Watsonian tradesman's outfit with box and finally, but not least, an unpowered large-wheeled tradesman's cycle with a Watsonian platform sidecar. Confusingly this bike is sign-written with Alex Mutimer's name but actually currently belongs to David Whatling. It too is attached to a late model sidecar chassis.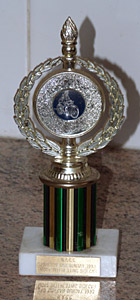 A solid gold plastic
etcetera
So what of the solid gold plastic etceteras?
Well, neither Derek nor I would begrudge Glen Duff the honour of receiving 'Best Sidecar on the Run' and the trophy was duly presented to his son who had ridden shotgun on the route. 'Most Interesting Sidecar', which is a competition that includes the static exhibits, was again a more difficult choice. We awarded it to Andrew for the Lohmann-powered tradesman's outfit on condition that he attempts to get it running. It was Andrew's fortieth birthday on this very day and if the project isn't going to take up the whole of his retirement he better start now. Coincidentally and completely irrelevantly it was Mrs J B Smith, the maths adviser's, birthday too and I firmly believe that given a calculator and several sheets of blank A4 she could probably work out exactly how much older she is than Andrew—especially as Andrew's birthday ended with a nought and there's no carrying to do.
Anyway I suggest that if Andrew does get the Lohmann going we could institute some negative awards at each year's AGM 'Worst Dressed Member of NACC' has to ride the Lohmann outfit at the VMCC AGM meeting in July dressed in two Woolworths carrier bags. 'Most Miserable Bastard' has to do the first 33-mile lap of the Milton Keynes 100 Miler on it and 'Person Rudest About Other Peoples' Bikes' has to do the last two laps. (On the other hand 'Fool Who Writes Biggest Load of Rubbish for Buzzing' will be presented with a large cheque and a bottle of champagne on a silver salver.)
Sidecar Notes (August 1993)
Nobody is writing to me about sidecars at the moment but that's hardly surprising, I've known me 40 years and I wouldn't write to me either. I can put up with the hurt and the loneliness but its the way that our postman sniggers behind his hand as he takes another extra large sackful of mail next door that is turning me paranoid. Andrew, faithful old soul, has sent me a photocopy of a picture from The Classic Motor Cycle for August 1989 of a bicycle with a large sidecar, probably from a motor cycle, attached. A licence-built Briggs and Stratton power wheel has been bolted between the bike and sidecar to drive the sidecar which in turn pushes the bicycle, which meant that this three-wheeler actually had four wheels. (No need to guess what profession the owner followed then, eh?) No driver is shown with the vehicle and presumably he was lying under the hedge at the back of the photograph receiving mouth to mouth resuscitation from his (hopefully female) passenger. This is why cyclemotorists touring the French Alps should always live on a diet of les sandwiches de l'ail pressé (garlic butties to you son). Otherwise the shock of being revived by a French person could seriously damage their health. Mind you, if Sheila knew where Gérard Depardieu lived she'd pedal her evil bronze Mobylette up and down his drive all day long, praying to Almighty God that her lungs would give out before her legs did so that le beau Gérard might aspirate Gallic garlic down her oesophagus.
The only other sidecar event I have to report is that the VMCC AGM at Marsh Gibbon was graced by the appearance of a 1935 Halfords tandem with period Watsonian sidecar attached. The pair were sold as a unit some 58 years ago and are both recently restored. The tandem has its original hub brakes and early 3-speed derailleur gear. It is not motorised but could easily be so. The outfit is (or was) for sale.
---

Go to the Archive index
Sidecar Notes (October 1993)
by David Stevenson
You are going to find this hard to believe, but I've got very little to say.
Andrew has sent me an article from either the Blue 'Un or the Green 'Un for 24th November 1949, '98cc Plus a Sidecar'. [Editor's note: it was the Blue 'Un.] This describes a carrier autocycle which had been attached to a Watsonian sidecar modified to allow the carriage of a larger passenger, the writer's four and a half stone son. The outfit, claimed Alexander Johnston (a name which sounds suspiciously Scottish to me) could be run verra, verra cheaply so that, ye ken, ye could could put the entire price of a year's running costs in ya sporran in silver threeha'penny pieces and still have enough room for a wee morsel of porridge, a hip flask of yon sweet tarn water, and half o' last Friday's haggis, Janet.
The article is most notable for including the immortal line: 'Such a vehicle would be a boon to the harrassed mother who tries to combine shopping with minding little Willie.' Now that would be a stylish way to get arrested in Tesco's. Two other letters from Power and Pedal, February 1955, suggest that Mr Johnston was not alone in cyclemotoring with a sidecar. Both correspondents were Mini-Motor owners and both wanted to increase the size of their sidecars. The lurking suspicion that 1950s' cyclemotoring may have been an elaborate cover for a sado-masochistic cult is heightened by the fact that the first writer signs himself 'Leather Dresser, Leicester'. Was Power and Pedal one of those magazines only available on the top shelf at W H Smith? (This has always seemed to me an act of gross discrimination against those of smaller stature. Come on all you shorties, stand up and be counted! Oh, you are standing up.)
The prevalance of sidecar cyclemotoring in the early 1950s is also suggested by another of Andrew's offerings. Power and Pedal for February 1954 announced with a flourish that sidecar duty for electrically propelled bicycles and motor cycles under 250cc had been reduced from £1 5s 0d to 10/-. Actually, reflecting on the generosity of Government, this probably suggests that there were very few such vehicles on the road.
I took the Bown and sidecar down to the British Two Stroke Club's Chiltern 100 Run at the end of August, balancing it somewhat precariously on the BSA A10's sidecar chassis. At 53 miles, the Chiltern Run is feasible for a cyclemotor although it is quite hilly. It's lovely countryside and a few of us always camp and make a weekend of it.
I've just returned from the NACC's York Run, which was very pleasant, but have to sadly report a dearth of sidecars. Derek Langdon tells me, however, that he hopes to better his own record and tackle the 100-Miler on a 50cc Mini-Motor and sidecar. You are not going to let him get away with that are you? Where are the early Cyclemaster outfits? Where is the VéloSoleX with a Bambini amidships? Andrew has sent me a note from his mother, by the way, to say that he is to be excused Lohmanns for the rest of the term. My son is insisting that I take his mother's evil bronze Mobylette to the 100-Miler because he wants to do 100 miles on the pillion. Is this kid normal? Sheila and I are very concerned about him.
Managed to spin that out, didn't I. How was it for you?
---

Go to the Archive index
Sidecar Notes (December 1993)
by David Stevenson
Cliff Homan came and pressed an envelope into my greasy little hand at Worksop during October 1993. The photocopies it contained showed that in 1938 Watsonian actually began to produce a slightly modified version of the bicycle sidecar designed to be fitted to autocycles. A picture showed a Raynal, with the rather unfortunate trade plate R-101, pulling a very standard looking Watsonian chair.
The article is particularly interesting because it seems to be assumed that putting a bicycle sidecar on an autocycle was something only eccentric and largely hare-brained owners did without the approval of the manufacturers (Roy Bacon actually captions the picture of a similar Raynal outfit 'A suffering Raynal autocycle struggling with too much of a load'). Yet we can now show that Wanderer in Germany and Cyc-Auto/Noxal in Britain actually sold such outfits and that Raynal and Watsonian had officially sanctioned the idea. If your MoT tester plays awkward ask me for a photocopy.
Cliff's other offering was also interesting: a tandem with one of those very nice Noxal air-flows on the side, motorised with the engine from an earlier Villiers Midget-powered motor cycle. The lower frame from the motor cycle was used as a sub-frame to carry the engine above the rear wheel, driving it by chain. A two-speed gearbox on the engine and a three-speed derailleur on the tandem enabled practically any hill to be tackled with ease. Note the strategic placing of that 'practically'.
Andrew has failed me completely this month. He has sent in no sidecar homework whatsoever. Wait till I see his Mum on Parents' Evening…
Of sidecars in the metal I have little news. Derek Langdon completed the 100-miler on the 50cc Mini-Motor and sidecar. He makes it look so easy I feel ashamed for the rest of you. Eddie came back to Worksop with the Motobi and sidecar one year after his famous victory in the First Sidecar Sunday. He was to be seen in the car park drinking lager with the same style and aplomb with which he usually dispatches Guinness. As one of his friends remarked to me as we stood back admiring the simple grace of his arm movement, Eddie is nothing if not versatile.
We are trying to hold a Sidecar Sunday at each of the four points of the compass to allow all you secret sidecar fetishists to shyly come out in the warmth and foetid security of your own patch. We have been North (Worksop), East (Stowmarket) and for 1994 we shall go South. Colin Packman has kindly consented to let us attach ourselves to his Kent Run in September. Be there. Ask Santa for The Val Singleton Book of Making It In Leather And Suede and when you and your partner have tired of that get some relief by building or refurbishing a bicycle sidecar.
There we are. I was quite well-behaved and hardly horrid to anyone this time, was I Mother?
---

Go to the Archive index
Sidecars (February 1994)
by David Stevenson
Nobody wrote to be about sidecars over Christmas, so I'm not playing this month.
---

Go to the Archive index
Sidecars (April 1994)
by David Stevenson
I lied.
Last issue I said I was sulking because nobody had written to me. That was untrue. I rang up Uncle Andrew, late as usual, to say I was sending him some words of wisdom and he told me not to bother.
I had to get down on my knees on the telephone to beg to be allowed to show that the Sidecar Section was alive and kicking (have you ever tried kicking from a kneeling position? My back still isn't right). Hence the lie; it has been a great comfort to me over the last couple of weeks to know that William Waldegrave thinks this sort of behaviour is acceptable. I also stamped my feet and held my breath till I was sick—is that OK, too, Willy?
Let's face it, mind, no publication anywhere could fail to benefit from my not writing for it.
Which brings me to Cliff Homan, who has been writing to me—lots. Cliff was so gratified by the instant fame to which being mentioned in October's Sidecar Notes entitled him that he has opened an extensive correspondence with me in the hope of seeing his name again. So here we are: Cliff Homan. At the end of 1992 I appended a list of ASSNACCs (Associates of the Sidecar Section of the NACC) who had either written to me or in some other way been associated with The Cause. Here is the continuation list to date:
Bill Ross
Derek Davis
Ken Smith
Richard Dare
Brian Hampton
Ken Brookes
Les Sleath
Mike Cheesman
Gordon Watkinson
John Hobson
Rufus Cant
Alex Mutimer
Glen Duff
Cliff Homan
Dave Goss
Colin Packman
Cliff sent me a picture of a Corgi and sidecar from The Classic Motor Cycle May 1991. By coincidence Derek Langdon has recently found what may be a Corgi sidecar and we are in touch with the VMCC Corgi Marque Specialist to see if he can identify it.
Actually, during Cliff's correspondence with me he has been replaced as signatory of the epistles first by 'Wilf' and now by 'Gladys'. After recent grisly events in Gloucestershire, Cliff's disappearance has left me very worried and I've been down to our local police box to report the matter. They'll be starting excavations in Cliff's garden next week, so Constable Higginbottom assures me. All those muddy size 10 police issue blue wellies trampling Cliff's daffs, I thought to myself. Such a pity, but what is an honest citizen like myself, who only lies in the course of duty (cf: Wally Waldegrave paragraph earlier) supposed to do?
My other correspondent has been Colin Packman who has been attempting to attract media interest to his forthcoming Headcorn Event into which he has kindly incorporated our next Sidecar Sunday (18th September). The point of holding these sidecar bashes at different points of the compass is to allow the locals to show us what they have in the way of three-wheeled cyclemotoring gear. With all you rich Southerners about, us Northern hobbledehoys are expecting to see some real choice motors, John. You nouveau riche chappies down there say that sort of thing, don't you? Talking of choice motors, and this has nothing whatever to do with cyclemotors or sidecars (So it'll fit in well with the rest of these Notes—Ed.), if you're anywhere near Birmingham City Art Gallery before May, go and see the BikeArt Exhibition.
Er, well I think that's about it. Did I tell enough whoppers, Wal?
---

Go to the Archive index
Sidecars (June 1994)
by David Stevenson
Not a great deal to report this issue. Our sidecar has been out for its first run but Katy, my passenger, is growing apace and will soon be too big. Two sidecars were on show at Stafford: Stephen Warner's, or rather Jade's, and our own. Thanks to Andrew Roddham for inviting us.
Andrew Pattle has sent me a page from the ELRCo catalogue of the 1930s advertising bicycle sidecars. They were selling tradesmen's sidecars from Sandum, Perry's, Watsonian and another manufacturer in styles varying from flat platform to full-lidded box. Most used an undersized wheel but the Milkman's float used a full 26" wheel. They were also offering Kerry and Sandum sidecars for children up to 8 years old. The East London Rubber Company has since become famous for a different line of product but I'm told that it's not true that the idea for this occurred when a painter putting Stop Me and Buy One on one of their tricycles accidentally transposed Stop and Buy.
Don't forget the next Sidecar Sunday on 18th September.
---

Go to the Archive index
Sidecars (August 1994)
by David Stevenson
Is it that time already? I've really not a lot to say this month (sighs of relief from editor et al). Who is this Al? Is it Al Frescoe the well-known wall painter? Four sentences and I havn't mentioned sidecars yet. It's going to be that same old drivel, isn't it?
I haven't attended any NACC runs since the last issue so I've nothing to report on that front. Can I appeal again this summer for anybody spotting sidecars at rallies or in shows to drop me a line and if possible a photo? Our sidecar has been out on the British Two Stroke Club's Wolds Fifty Run and on the local Council's Rotherham Motoring Weekend. I needn't really tell you that there were no other cyclemotor sidecars present, need I?
The section has received three items of correspondence. Jonathon Checkley has sent me three pages from the February and March issues of The Bicycle for 1939. Two of the pages advertise and review the more streamlined Watsonian sidecar which had been announced for the 1939 season. Its cost complete was £4–5s–0d. It is interesting to read:
'The cycle sidecar has now become so popular that it is almost a matter of course for the young newcomer to the family to join his parents on the road as soon as he (or she) is old enough to be seated in a sidecar.'
Where are they now? It is interesting that the revival in cycling in the last half decade or so has not led to a reintroduction of the bicycle sidecar, although the kiddie trailer has made a comeback. I think this is because traffic conditions make it dangerous for the cyclist pulling a sidecar to be pushed further out into the road and a trailer therefore seems a more attractive option. It could be argued, however, that the ability to see the sidecar and its passenger allows for a greater margin of safety than towing an unseen trailer.
By the way has anybody actually made a sidecar using those plans I've been sending out? If you have we'd dearly like to see it. I still get occasional requests for them. That was another of my letters this month from Paul Slydel, a cabinet maker. If you see a bicycle sidecar in mahogany veneer with Queen Anne legs, it will almost certainly be his. Photocopies of the plans which appeared in The Practical Mechanics How-to-Make-it Book during the 1950s are still available from me for £1, which includes postage.
The third page Jonathon sent me is entitled 'As I See It From the Sidecar'. It purports to be an 'amusing' article written by the child passenger of a cycle sidecar. It makes interesting reading and reminds one of the limited freedom enjoyed by some middle-class women by the 1930s (Mummy does the shopping and looks after the supposed-author while Daddy and other hairy-legged 'uncles' and blokes go off doing manly things on their velocipedes). Mummy does most of the sidecar cycling, however, so she may have been just a bit hairy-legged herself. But the Thirties was not a funny decade. Let's face it, only a poker-faced period could have promoted the popularisation of the autocycle. In fact apart from laughing at people who had paid out good money for a Cyc-Auto, there was very little to laugh about and in Germany they were taking the art of being unamusing to new heights. A trend which, as you can see I am emulating this month.
My third, and final, letter was from Jill Hind of the Federation of Sidecar Clubs. Having seen Stephen Warner's sidecar, and our own, on the NACC stand at Stafford she has written to ask me if I would like 'to do a piece for their magazine'. Poor woman if only she knew… Actually Jill is the second person to contact the section in this way. Last year the British Two Stroke Club was foolish enough to print a picture of the Bown outfit and ask for information. And they got it too, but not until we could see the whites of their eyes, Carruthers. Whether it does the club any good for others to know quite what peculiar sorts of chaps and chappesses dwell in the nether regions of NACC, I'm not quite sure. As the Duke of Boot said at the Battle of Wellington 'I don't know whether they frighten the enemy but by God they frighten me'".
And that's about it. I was going to write an article in praise of the Mobylette to celebrate Eddie becoming the Marque Enthusiast but Sheila's Bronze marvel has broken down twice in the last month so I'm not speaking to it. Don't forget Sidecar Sunday at Headcorn on 18th September and the Fourth Autumn Tapestry Event at the pub at the end of the Universe on 16th October.
---

Go to the Archive index
Sidecars (December 1994)
by David Stevenson
Well, where were you? Colin Packman's Headcorn Event was well attended but not by the sidecar men. There were three outfits: Andrew Pattle's evil diesel, Lohmann in the gloamin', actually ran although it didn't move under its own power. Well you can't have everything, can you? Phillipa Wheeler's similarly powered machine successfully took part in the run and Andrew has taken advice. He believes he knows what is wrong so we may soon see the ultimate cyclemotor sidecar. Phillipa let Andrew take her bike back from the pub to the airfield and I rode behind it for a little while. What a funny smell! It smokes like a proper cyclemotor but the smoke is white not blue. We look forward, all of us sadists, to seeing Andrew on the 100-miler next year.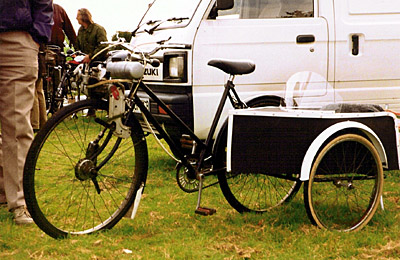 Chicken Power sidecar
Ian Williams had built his own sidecar and fitted it to a bicycle powered by an Orline Chicken-Power American cyclemotor (650 chicken power was claimed). The same engine also powered chain-saws and other hand tools. Ian had built it 'so I wouldn't be disappointed if no-one else turned up' and boy, was I grateful. Unfortunately, it too was playing up and did not take part in the run, although, like the Lohmann (650 cockroach power?), the engine was heard running.
That left our Bown as the third three-wheeled entrant. Steadfastly refusing to award myself a prize, it was not difficult to decide the winners of our two splendid all plastic trophies. Ian received 'Most Interesting Sidecar' and Andrew 'Best Sidecar'. Andrew has now won two Section trophies for the Lohmann and it still hasn't turned a wheel on a Sidecar run. So great is Andrew's desire to win another trophy with this bike that he actually hid it round the corner without a number on it when he came to our Killamarsh Karaboo, a month later. BUT now that a lot of us know that the Lohmann will run, Andrew has in my humble opinion a simple choice: he either shoots himself before next April or does the decent thing and gets it taxed and tested.
I'd like to thank Colin for having us. It was lovely wending our way in a long line through the Kentish countryside past oak timbered cottages and oasthouses. Our little party was most impressed by the scenery, the amazing collection of Dutch enthusiasts and their machines and by the several interesting tandems in the Veteran-Cycle Club run that we met up with. There was a sidecar attached to one of these too. See what you sidecarrists missed?
Well, there's not a deal else to say. Andrew, old faithful, has sent me another sidecar cutting, this time from a Dutch magazine. It shows a Zündapp Combinette attached to a low, small-wheeled sidecar with a large wickerwork basket mounted on the top. The caption describes it as Een jongedame experimenteren met een brom-zijspan-combinatie. Het zijspan is scharnierend bevestigd, zodat men onbeleemmererd in de bocht kan gaan hangen. Loosely translated I take this to mean: 'A young woman experimenting with a moped combination. This sidecar is sharpened at both ends so that men who leer at her must wear a box over their bits that are hangin'.' When you think about it if 'euphemism' was spelt with an 'f' and had a silent 'j' in it somewhere it would almost certainly be a Dutch word.
Anyway, talking about loins, it's time you girt yours and got out in that bloody freezing-cold, draughty shed and made yourself a sodding sidecar in time for next year's Sidecar Sunday, isn't it? Forget Christmas, it only makes you miserable and there's no point in welcoming in the New Year; it's bound to be even worse than 1994. Decorating is for wimps and only the desperately senile want to spend their time developing a meaningful relationship with a rockery. It's a man's life in the Sidecar Section.
Bitter? Me? Never. This time of year I always go for a double Southern Comfort, thanks, no ice, no water, nothing. Oh, and one for my friend. Cheers.
---

Go to the Archive index | Go to next Sidecar Notes, April 1995