| Go to the Archive index | Go back to Sidecar Notes, Dec 1994 |
by David Stevenson
Gentlemen of the Sidecar Section, we have been duped!
Last December I rang our editor to suggest that if he would print some four photographs of sidecars from last year's events, I would refrain from sending him any words of mine. "You have a deal", he replied with what I can only describe as unseemly alacrity.
Did the said illustrations appear, gentlemen? No. Instead the editor attempted to fob us off with a cover illustration of one of the section's more disreputable outfits. I just hope that he has not corrupted my daughter to the extent that she wishes to make a career of draping herself over motor vehicles in the hope of appearing on the cover of magazines of dubious moral propriety. A horse whipping seems hardly good enough for the cad.
He shall not keep me silent this month. I have two important communications which I need to impart to you: In a feeble effort to appease my trembling wrath, our poltroon of an editor sent me some pages from "The Vintage Motor Bike Club" magazine (of America). These showed some restored Cushman scooters, several with sidecars.
I don't know anything about Cushmans, but from the illustrations I would say that they were one of those small capacity bikes based around an industrial engine. Anyway in the small ads section of the publication Dan Van Dussen of Holland, Michigan, was advertising reproduction sidecars for Cushmans. So I wrote. I received a very pleasant letter, price list and photographs from him. A complete sidecar, unpainted and without wheel and tyre, costs $590 + shipping. He offers a complete range of spares for both chassis and body work.
I know it's unlikely that there are any Cushmans out there, but if anyone wants to contact him please write to me for the address. By the way, I have been informed that, even as I write, David Scott is hard at work in his shed putting together a devastating sidecar for the Honda P50 he bought at the last Dukeries do. More information on this anon.
David Casper has sent me an original 1930s catalogue of sidecars from Fentons of York in wonderful condition. Their top of the range model was the "De Luxe Sports", a Zeppelin-shaped body with a hinged boot behind the seat. Their second model was the "Lightweight Sports", a more slab sided design still with a boot, and with a tapered nose, sides and top. Their cheapest model was the "Standard", less aerodynamic and with no locker space. All models were on the same T-shaped chassis where the cross-bar of the T formed the link from the bicycle to the third wheel axle and the down-stroke of the T, facing to the front of the bicycle, provided a single fitting for the front body mounting spring. A clamped fitting which slid along this tube provided an adjustable front mounting. All outfits used a 26" wheel and weighed 26 - 28lbs.
Mr Casper claimed to be an agent for the company and informed me that he could supply a model, in matching paint work, for a deposit of £5. The money I sent him was returned by the next post with a very curt letter informing me that Fentons considered themselves suppliers of top quality workmanship "to the gentry" and that my appearance in a leather-wear catalogue some years ago debarred me, in their opinion, from becoming a customer. All I can say is that everyone who saw the photograph, including our local vicar, thought it a very fetching portrait of me. I can hardly be held responsible for what the young woman in the foreground was doing to that goat with a melon.
Well you can't please all of the people all of the time (although the goat, I seem to remember, was smiling). Enough of this rubbish. Where are we going to hold this year's Sidecar Sunday? We have been north (Worksop), east (Stowmarket) and south (Headcorn). Is there anyone putting on a run in the West Midlands/Mid-Wales area in September who would be willing to be visited by a bunch of three-wheeled desperadoes?
Please?
---

Go to the Archive index
by David Stevenson
A couple of interesting things this month: first, Les Sleath has written to me again with some photocopies from magazines. These two are from very early this century. The cutting from "The Cyclist" Trade Section is dated 15th July 1903 and gives details of what was probably the first sidecar patent by W J and S C Graham. Of particular interest to us is that the patent is for bicycles and motorcycles and because, of course, at that date they would both have had pedals, the sidecar frame is constructed to allow pedals to be turned. It is a sturdy design (four point fixing) and fully developed as an idea, although only the body has any springing.
The second photocopy is an advertisement for the Liberty side carriage which is, I think, the patent fully realised. It has one of those elegant wickerwork bodies and is definitely aimed at the motor cycle market. The motor cycle, however, still has pedals so we can justifiably claim that the very first sidecars were attached to cyclemotors. If sociability be a charm of cycling, it says, it has never been so fully assured as by this latest invention.
Which brings us to the present day and the charming and sociable NACC Sidecar Section. The Dukeries Spring Run was blessed by the appearance of not one but two new home-brewed combos. Neville Hart has constructed a quite wonderful orange contraption on the orange side of his orange Batavus and the impression is of, well, a kind of superb orangeness. The body, which is of folded aluminium sheeting and is son Russell-shaped, rides on one of those banking Sidewinder mini-sidecars that allowed learners to ride machines over 125cc without carrying the weight of a real sidecar. On a moped it works wonderfully with the wheel riding inboard of the sidecar body and a large mounting plate attaching the two horizontal frames. As the bike leans the two frames move in relation to each other and, hey presto! the sidecar wheel leans in imitation of the bike.
David Scott has used a very similar idea in mounting a sidecar on the side of his Honda P50, although he foresees some further development work as at present he has used a tiny trolley wheel which does not ride particularly smoothly. The box body he originally mounted drummed so badly that for the run he mounted a rabbit and a carrot on the pedestal and rode round in company. Both were nailed to their perch, however, and he was not allowed the mandatory two extra points for carrying a passenger. I keep photographs of all these wonderful contraptions (well, there may be some opportunities for blackmail at a later date); so don't be shy, if you have added a third wheel to slow down your cyclemotor (rendering it, says the Liberty advertisement Absolutely free from side slip and impossible to turn over) send me a photo.
Our fourth Sidecar Sunday will be at Keith Walker's modicum of Midlands Mayhem sometime in September. Give the Club 18-30 holiday a miss, you know how all that sun, sex and seafood brings you out in blotches, and get down to some serious sidecar work in the shed. Let's be honest. Who can really say there's any satisfaction to be had in lying about on a Mediterranean beach for a fortnight when instead you could be turning up at the next Sidecar Sunday on a bicycle attached to the first powered bidet? If I dyed my hair and didn't eat anything from now until we got on the flight at Gatwick do you think I could pass for a very tired 29?
---

Go to the Archive index
by David Stevenson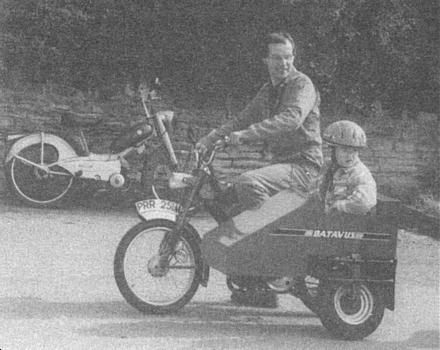 Two pictures this month. First, Neville Hart's orange Batavus in glorious Big Screen Panavision Do-It-Yourself Technicolor. All you need are three coloured pencils, a blue, a green, and most importantly - an orange. Put on the special glasses provided and make Neville's suit blue, Russell's hat green, the bike orange and Russell's shirt all three colours in squares. Woweee! Psychedelic, Triroulettes! Now find a mirror and sit down in front of it. Put Buzzing by your left hand (that's right in the mirror). Reach your hand slyly out of frame and slide the picture towards you. All together pick it up and thrusting it towards the mirror smile and say: "Now here's one I made earlier." See, you do look like Valerie Singleton. Why did your mother always deny it? Didn't she want you to be happy?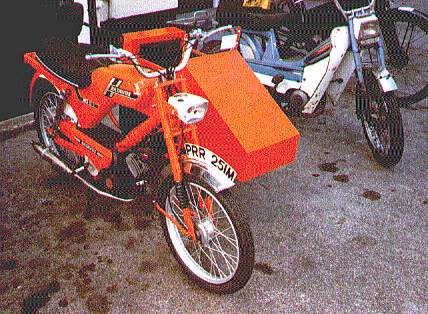 "Now here's one I made earlier."
Gordon Watkinson has constructed a sidecar to slow down his 3800. Having strengthened the rear end of the frame he has fitted a hinged chassis of his own construction, T-shaped to allow the body to pivot at the front and be sprung at the back. At the time of writing Gordon was mobile (with the aid of a battery as the magneto had been mishandled by a previous owner) but the machine was waiting to be re-registered. He is promising to undertake "development" work once the machine is street legal. (Something you may have to consider too if you really want to look like Val Singleton.)
Gordon is hoping to bring the machine for us all to examine at the next Sidecar Sunday in September. Attendance figures at the three previous events have been 4½ , 6 and 3. Mathematicians amongst you may have noted that this is not a numerical progression. To keep things going we need a minimum of 7½ outfits at Keith Walker's Midlands Run. So put that wig and the wife's dress back on, pick the eight toilet roll centres, fourteen lolly-sticks and three Fairy Liquid bottles up and get back out under those studio lights to see what you can do.
My two most faithful correspondents have been in touch again. Les Sleath has supplied me with what I think must be just about the definitive history of the sidecar in a series of articles published in the 1960s. I will précis that for you next month. Andrew has sent me two pages from the Gamages catalogue of 1914. On page 28 Adult, invalid and juvenile sidecars are offered for bicycles. They are of the type familiar from early motorcycles with wickerwork bodies suspended on "C" springs. The bodies are less elaborate than those for motorcycles and offer less protection. The chassis is attached rigidly to the cycle but is quickly detachable leaving the fixings still on the bike. Page 24 announces Something Quite New which turns out to be a tradesman's cycle sidecar with a box made of wicker (something like a large picnic hamper). Underneath is a child's sidecar on the same type of rigid chassis with full size wheel and a rather charming slipper or boat shaped body made again in wicker with thick buttoned upholstery (and all for £4). The Bicycle Stands Alone reads the copy under the photo which is a fascinating coincidence because that was the first film made in Big Screen Panavision Do-It-Yourself Technicolor. I used up a whole box of Lakeland Crayons at the Feltham Odeon on a wet afternoon in February 1960 when my Dad took me to see it. Still you could buy the big tin with eighty different coloured pencils in for 2d in those days and still have enough money left to go twice round the world by Power Pak.
Well that's it. As you can see, a few spelling corrections here, the polishing of a phrase or two there and this article will be as good as the one I made earlier.
---

Go to the Archive index
by Roger Caunt
"There's one born every minute" or "Don't judge a box by its rust".
Dave Stevenson has persuaded me that I should tell you about my latest acquisition: a Watsonian box sidecar, number 5255. I for one have always enjoyed Dave's literary ability to write copious paragraphs about the very few sidecars in the NACC but probably like you I never thought I would own one or even want to (being at an age past that time when I had a youngster to occupy a sidecar).
This is how I came to be an owner. I avidly scan our local newspaper columns headed "Motorcycles", "Collectors Cars", "Antiques/Collectibles", "Miscellaneous Sales", "Bicycles", "Photography" and "Books" as these cover my current interests. Mrs C says I'm not concentrating on one hobby but I protest that I do also read "Gardening" (OK, I'm really looking for a 12'x8' all-wood shed/workshop). Perhaps like me you are hoping to read "Type 7 Bugatti, one lady owner, too old to drive, good home required, £300, telephone Leicester 0116 2888415" or perhaps for cyclemotor fanatics "1950s Cucciolo 49cc Sports Ducati with spine frame, ex M Hailwood, £30". Note: my brother had one of those (Ducati) and had to leave/dump it in Knighton, Salop in about 1965 so if you found it I can give you the history!
Back to sidecar adverts: don't you agree that anything worth having is usually gone by tea-time so it's no use phoning at 7pm (which is my usual time after chores, etc - but Mrs C claims I'm regularly asleep from 6pm to 7pm!) Anyway, it was 5pm this time and I made my move. "Are you selling a box sidecar plus numerous cycle spares mostly over 50 years old?" I asked. "Yes, but my husband works late so can you ring back after 7pm" was the reply. However, encouraged that I was probably first in the queue (why do I always assume that there will be one?) I rang back dead on 7pm and arranged a viewing the next morning. Eight rusty wheels, rod brakes galore, cranks, a Tandem lamp (no glass), carrier bits, the chassis & box sidecar (but no cuddly toy). I thought it was all useful and the price fair.
Mrs C could not believe I had actually paid money and conveyed her views in two short sentences: a) "What a load of rubbish" and b) "There's one born every minute". To be fair, I was piling it all into her beloved C-reg, one cherished owner, 115,000 miles, VW Polo Estate, which made it look like a dustcart.
Home again, I surveyed the box, visualised it as a useful shopping trolley and put it aside for later restoration. The rest (if you are still interested) reads: One circa 1st World War child's rear seat, period for a Wall Auto-Wheel etc, good solid metal, forged by smithy, suit father/mother rider or person with midget friend who is desperate to ride passenger; many rod brake spares, some new; pair of new small-wheel metal mudguards, various guard fittings; metal sign for a butcher's type carrier bike. If you want anything, ring the Bugatti number quoted earlier or write to 11 Shrewsbury Avenue, Leicester, LE2 6JN.
The box and chassis were soon restored to their original condition after much de-rusting. The colour scheme is lawn green box and black chassis. A Raleigh 16×1.375 tyre & tube was fitted but I would prefer a 16×1.5 if anyone can oblige. Next I rang the vendor (I immediately told him I was satisfied) and enquired of the previous owner as he still has the fitting gear. Apparently, someone might be pedalling his bike around Huncote, Leicestershire with a lot of surplus weight in the form of a Watsonian fixing plate plus bronze clamps attached at the rear spindle. I hope he is in the NACC and reads this! Dismayed at the thought of having no fittings, I wrote to Dave Stevenson who tells me that they can be difficult to find. So please, please, if you have a spare set I will gladly buy or swap. Please reply to the number or address as above. I want to attach the box to my 1941 Sun autocycle.
Enthusiastic - ie: instead of sleeping from 6pm to 7pm - I recently researched most of the family library for evidence of pre-war and post-war sidecars but after sending many photostats to Dave he tells me that little new has come to light.
My chassis number is 5255. I believe this is: Series 5, Style 2 (box), Number in series 55. Can anyone confirm?
And finally (if you got this far) the box, etc is put aside with the other half-finished projects - OK, OK, I am rather slow at finishing things like: Mercury Phillips bike for Cyclemaster, Hercules Cyclemaster, BSA Winged Wheel engine rebuild, the Sun autocycle. However, the rest of what's in the garage, like 98cc Vincent Fox, Rumi Junior Gentleman, Scott F/S, Stirling Single, Coronation, Lickum Hall, Minnie traction engine, etc, etc, I've protested to Mrs C that these weren't started by me. I need to acquire the specialist skills, so meantime I dream of being able to finish them for future generations to enjoy! Anyway, I have done exhibitions for a children's charity (NCH) and the Technology Museum, so I need to keep ringing the changes. Do you get like this with an almost impossible list of unfinished work?
I look forward to an avalanche of correspondence, hopefully sidecar related for the Section Notes. I'll even pay for the reply postage if that helps you to scribble off a quick note and you find you've only the one stamp.
---

Go to the Archive index
by Roger Caunt
Tradesman's Box group and Passenger Group - 24th September 1995.
On approaching our Sidecar Sunday venue, close on 9:30am, I saw lots of tents pitched with people milling around. Impressed by what I took to be an early turn-out and the 'carry on camping' spirit, I prepared to 'hang right' and park, until I noticed to the left on a hard standing area a large trailer with 4 bikes. Who were those keen campers? The resident Model Car Racing Group.
Picking a spot to park among our 50 or more allotted car park spaces was easy as the NACC had by that time occupied just 5 including the Control Point caravan and breakdown vehicle. Eddie (2 Wheels of Sale) had trailered from Sale with 2 bikes for sale (NVT and Panda) and 2 to ride (or sail as the weather deteriorated). How many smiles can you get from one word? Eddie soon proceeded to assemble a Motobi 3-wheeler (Eddie's 3 wheels?) to ride. The result was a comfortable looking machine, typical of the Italian half scooter/motor cycle fashion of the 50s & 60s, with tradesman's basket and advertising (Sales/Service) to boot. (No, it didn't have a boot, just a display board.) I put on display the Watsonian Box as described in the last 'Buzzing'.
Score so far = Tradesman's 2, Others Nil.
Dave Stevenson then arrived with his family's and friend's Mobylette, Bown and Bown/Watsonian Launch Sidecar having camped overnight at Lichfield to sample Midlands rain (much, much more was to come).
Final score = Tradesman's 2, Passenger 1.
The passenger deserves a special mention for providing the ballast and giving spectators a unique spectacle. As Dave might be too modest to comment, I will say a big thank you to Katy his daughter. Hope you enjoyed the ride.
Now a few paragraphs only loosely related to sidecars (I can't let the habit of digressing die out, Dave). On the other hand, this could be all that some of you find of interest. Firstly, 2 older cars attended: a Vintage Austin 7 tourer and a B-reg 1964 Hillman Super Minx towing Eddie's trailer. Secondly, I remained on the car park (not having a finished machine to ride; this has been my excuse for the past 8 years) and had a grand time with half a bottle of Dandelion and Burdock. I felt a little uneasy when squalls of rain persisted during the afternoon as I had told almost everyone that the forecast was good! Michael Fish did say it would be a sunny day, honestly. Also I was comfortably settled in my wife's VW Polo, this time full of autojumble.
Our intrepid riders duly returned to enthuse over the route, which followed lovely small lanes. The scene was very autumnal: the tarmac being covered with acorns and, at a couple of points, damsons. During a couple of the aforementioned squalls, some took shelter under convenient trees. Out of a group of twelve, four, I think, were women riders.
A big thank you to Keith for having us and laying out a superb route.
Our Section trophies were awarded to me (most interesting sidecar) and Eddie. The awards are quite impressive and worth competing for (hint, hint). Dave Stevenson was making the awards and, after leaving out himself, with only 2 awards to make there's not much competition. Now you know what you missed why not try harder to attend a future event? Even a static display might win again.
1996 DATES:
First International Sidecar Sunday at Sars Poteries on 2nd June.
All sidecars please come and display plus parade at the 15th Anniversary Run.
---

Go to the Archive index
by Dave Stevenson
Your New Year's Resolutions:
Get the sidecar fixed.
Go to the Sars Poteries run in June for first NACC International Sidecar Sunday.
Bring Sidecar for Section display at 15th Anniversary Rally.
Nothing else matters.
---

Go to the Archive index
by Dave Stevenson
Not a great deal to report, sidecars being out of season at the moment.
Nick Devonport sent me a few pieces about sidecars, mostly relating to larger machines. Included was Bike magazine's contents page for August 1992, which showed a VéloSoleX combo surmounted by acres of lobster coloured corrugated rubbery flesh which turns out to be called ThompsonandWestlakeattheTT. ThompsonandWestlake are, the caption reveals, Bike "staffers". I think it says staffers. They were so used to seeing scantily clad models draped over new motor cycles that they thought this was the only way to introduce the cyclemotor sidecar to their readership. Somewhere they'd missed the point about half-naked women and the rest is history. Nick tried serving a compulsory purchase order on ThompsonandWestlake on the grounds of self-abuse and mental cruelty but was sadly rebuffed - just another example of man's inhumanity to cyclemotors.
Don't forget the First International Sidecar Sunday at Sars Poteries on June 2nd and the Sidecar Section's presence at the Fifteenth Anniversary Run on June 8th and 9th.
---

Go to the Archive index
by Dave Stevenson
Bryan Hollinshead has sent in a picture of a French Vannod sidecar. It is a most unusual design of body-work with a small cabin with perspex windows ending in a front like a ship's bow. It looks like the gondola off an airship. Mounting, etc, sounds very much like Watsonian practice. Andrew sent me a picture of a Triumph tandem with a Watsonian box-sidecar on it. The couple, dressed in bicycling clothes, wear huge mittens that look like they might come alive in a Hammer-House-of-Horror B feature. She wears a natty beret over one eye as they cycle past what is obviously a London policeman holding the traffic up to let them go. Underneath it says:
"Mr J. C. Wells, son of a Canadian explorer and himself a Fellow of the Royal Geographical Society, setting out on a Triumph tandem with his wife to seek the lost treasure of the Queen of Sheba in Abyssinia."
Andrew has searched the rest of the 5th January 1934 issue of Cycling for any other reference but has found nothing. As the poet Shelley says:
"Nothing beside remains ... boundless and bare the lone and level sands stretch far away."
Anyone know if they're back yet?
---

Go to the Archive index
by Dave Stevenson
Some correspondence has been received from old friends of the Sidecar Section. Roy Siddall sent me two pages from a 1930s Halford's catalogue. They showed a double gents and a lady-back tandem with accompanying advertisements for contemporary Watsonian and Armstrong sidecars. One of these outfits, with a slightly earlier Watsonian chair appeared for sale (unmotorised) at the VMCC Cyclemotor AGM in July 1993. Does anyone know what happened to it?
Derek Langdon has sent me a page from an October 1953 Power and Pedal showing a two seater Mercury cycle (a specially strengthened carrier took a pillion seat) with a Trinder sidecar. The whole plot was shown ridden by an adult, with a large child pillion and small child in the sidecar. Powered by a Cyclemaster engine it must have really flown.
Cliff Homan contributed a page from the 1936 Triang Toys catalogue showing "The Fairycycle and Sidecar". Apparently you could fit the sidecar to models 2, 3 and 4. It came with leaf springs and a licence holder and for "slight extra charge" could be fitted with all manner of exciting accessories. Trouble is, in a club of this type dedicated to powerful male status symbols like the VéloSoleX, I can't see anyone owning up to ever having ridden a Triang Fairycycle with or without sidecar, can you? Cliff asks whether I agree with the copywriters that the New Ski-Kar would give "unequalled pleasure". Living in Rotherham, it wouldn't take much, would it?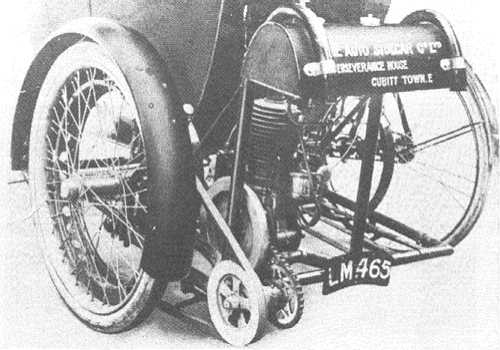 Last, but certainly not least, Andrew has sent in a photograph of the Auto Sidecar, the ultimate in cyclemotor attachments. Bolted to your (unpowered) cycle this sidecar included its own engine which drove the sidecar wheel by chain to a countershaft and then by belt. I used the phrase "unpowered cycle" advisedly because the caption in the book describes the cycle as "ordinary". As Andrew points out, the thought of adding a powered sidecar to an Ordinary "would be too horrible to contemplate". If anyone builds one, please let's offer Michael Portillo a go. The makers advised that, in the event of a breakdown, the pedal cycle should be detached and ridden to the nearest garage to seek help. There's probably a rusting Auto Sidecar in a ditch somewhere near you.
---

Go to the Archive index
by Dave Stevenson
Geoffrey Jourd contacted me last October with a photograph of the sidecar he has fitted to his Raleigh Runabout. He describes it: "The chassis consists of bedstead angle iron. The box is of plywood and the wheel is off a child's scooter." He says that he is looking for a bigger wheel "as the present one notices all the bumps". This may be something worth considering if you do decide on a ménage à trois.
Many old sidecarrists reckoned that the ride on bigger sidecars was ruined when manufacturers began using Mini wheels and Watsonian have gone back to making one chassis with a full size wheel (although I believe this is largely for a 'classic' look). Geoffrey first wrote to me for plans in October 1992 so it was good to hear from him again. All photocopies, photos, etc, gratefully received.
Last issue I showed you the ultimate bicycle attachment, the Auto Sidecar. I'm not quite sure what the word for the opposite of ultimate is, but I'm certain that Tim Bunting has found what we will call for the sake of argument the disultimate bicycle sidecar. The Pramcar by Clatonrite was ... well, a four wheel pram that you hitched up to the side of your bike and it looked like ... how can I describe it ... well, a four wheel pram that you hitched up to the side of your bike. And how did it handle ... well it was probably like hitching up a four wheel pram to the side of your bike. The cutting picturing this delight comes from a magazine called Best of British. Since Tim's favourite vehicles are, as everyone knows, the French Citröen 2CV and the French VéloSoleX, I can only assume this is irony.
Sadly the Granadaland Hangover Run saw the last outing by Katy and myself in the Bown outfit. She has quite simply become too big to fit in the sidecar anymore and even if the sidecar were bigger she is definitely becoming too heavy for me to pedal up hills. I nearly expired going up the 1-in-5 glacier that the Granadaland Section had seen fit to include in their Hangover Run. Good cyclemotoring in '97.
---

Go to the Archive index
by Dave Stevenson
Eddie Constable sent me a personalised Christmas card he had come across with a Noxal sidecar attached to a tandem. The Noxal was a distinctive design with the sidecar wheel steering like a castor. The wheel was hung from a headset formed at the junction of its two frame tubes. The bodies were proper miniature sidecars, rather like the Watsonians. They were certainly available pre-war as I have an article from a copy of The Motor Cycle from November 1937 featuring a home-powered tandem attached to one. The Noxal was also the official sidecar of the Cyc-Auto which was available from the makers as a combination ("The fitting of any side car attachment other than those supplied by Cyc-Auto Ltd invalidates our guarantee"). I am not sure whether this was pre- or post-war, but the company were at Westbourne Grove, London at the time. Do any Noxals survive?
---

Go to the Archive index