Go to the Archive index
Autocycle A B C
No.3 - ABJ
The initials ABJ were those of A B Jackson, one of the three directors of the Raynal company that produced the Raynal Auto. Raynal ceased production in 1950 but, in July 1949, two new machines were announced by A B Jackson (Cycles), based at 300 Icknield Port Road, Birmingham B16.
Like many other makes, the ABJ based its machines around Villiers engines. These two machines were 98cc models; they were very similar in appearance, the first being an autocycle powered by a 2F engine, and the second, a motor cycle with a 1F engine. Both had the styling of a motor cycle rather than an autocycle, making the ABJ autocycle unlike any of its contemporaries. The saddle tank, telescopic front forks and simple, rigid loop frame all contributed to this appearence.
The telescopic forks, unique in an autocycle, had two springs in each leg: one controlling the depression and the other limiting rebound; an arrangement of cones and split bushes acted as progressive frictional dampers. They were packed with grease and had seals to retain the lubricant. The front mudguard was attached to the upper tubes of the fork and was deeply valanced to allow for the movement of the front wheel.
Although the rear mudguard was a simple blade, it was hinged to allow easy wheel removal. The stays of a luggage rack supported this mudguard, and a rear stand was provided. The wheels were shod with 2.25×21 tyres, as was usual for 2F-engined autocycles. Fuel was carried in a 1½ gallon rubber-mounted saddle-tank. The lights were powered by the flywheel magneto but unlike the motor cycle, the autocycle did not have a rectifier and battery; nevertheless, it was equipped with an electric horn - another unusual feature for an autocycle.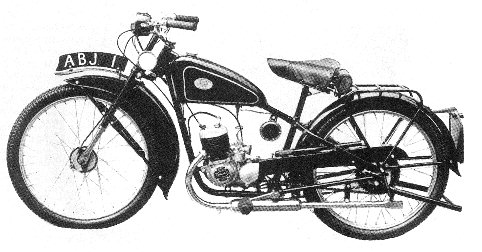 The autocycle's controls were all mounted on the handlebars, both brakes being operated by hand levers rather than using a 'back-pedal' mechanism for the rear brake. The clutch lever could be locked in the disengaged positions and the throttle was controlled by a twist grip. The finished was black with gold lining - although other colours were advertised as options. Both autocycle and motor cycle continued in production until 1952. In July of that year they were joined by another machine, a motorised bicycle named the Auto Minor. This was a vélomoteur in the style of the VéloSoleX - ie: it was sold as a complete machine rather than as a 'clip-on' engine unit.
Although it was announced that the two bigger machines and the cyclemotor would all be produced for 1953, the range had been reduced to the Auto Minor alone before that year began.
The next article in this series will describe the Bown autocycle.
---
First published - March 1998
---

Go to the Archive index
---