Go to the Archive index
Autocycle A B C
No.19 - Rudge
Rudge-Whitworth Limited was founded in Coventry in 1894 by the merger of two cycle making companies: the Rudge Cycle Company and the Whitworth Cycle company. Rudge-Whitworth produced many very high quality cycles and motor cycles but, in the early 1930s, began to fall upon hard times. One of its major creditors was the Gramophone Company, part of the EMI Group. The Gramophone company bought the assets of Rudge-Whitworth fom the liquidator at the end of 1935.
So, the company continued and, in 1938, production was moved from Coventry to a new factory at EMI's site in Hayes, Middlesex. Before the move, the company decided that it would produce an autocycle. However, it was not until February 1940 that the Rudge autocycle was launched onto the market.
The final product of Rudge-Whitworth's "two year's development work" was little different to any other Villiers Junior de Luxe powered machine. There were two models, the Standard and the de Luxe. Both were unsprung, although a spring fork was available as an extra. The Standard was priced at £22 and the de Luxe, which had engine covers, at £22 15s [£22.75]. The spring fork cost an extra £1. The Rudge had a carrier and rear stand, both brakes were cable operated by inverted handlebar levers and the large fuel tank would hold 1¾ gallons [7.9 litre]. The frame, tank, mudguards, etc, were all finished in maroon enamel.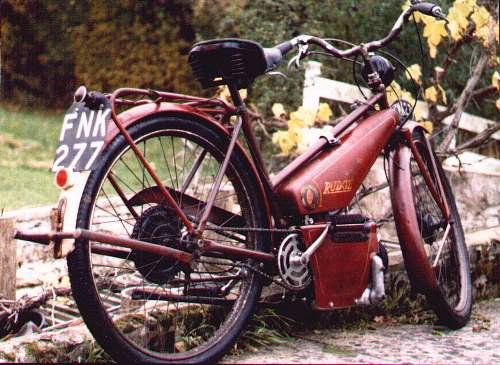 1940 Rudge autocycle
With the outbreak of war, autocycles were one of the few types of motorized transport that would remain in production for civilian use. Rudge Whitworth was also geared up to produce a large batch of 250cc motor cycles for military use. Hovever, the factory next door to Rudge Whitworth was one of the Gramophone Company's electrical equipment plants. With a huge demand for the newly-invented radar systems, the Gramophone company needed all the space it could get to produce radar equipment, so motor cycle production was stopped. The Norman Cycle Company at Ashford, Kent was given permission to continue the production of the Rudge autocycle. The Rudge concern was sold off in 1943 and the Rudge trademark was acqured by Raleigh Industries. Raleigh produced some Rudge cycles, but the Rudge autocycle was the last powered two-wheeler to be produced under the Rudge name.
The next article in this series will describe the Sun autocycle.
---
First published - July 1999
---

Go to the Archive index
---