Go to the Archive index
---
Letters to the Editor - February 2002
---
I have just acquired another Mini-Motor Industrial Engine, which we have just restored. I have also a bike with a Mini-Motor engine on. I am told they used these engines for all sorts of things, including a marineised engine for boat use.
Both our industrial engines are driving a reduction gear box with two pulleys either side and a fuel tank is mounted above the gear box. I am told these were used for sheep shearing machines by two different people, and if this is so has anybody seen one or got any mformafion? My engines are the 49cc version, not the 75cc version. Any information would be most gratefully received on 0115 930 9252, thank you.
Mark Adams
[Two photographs of a 'Trojan Industrial Engine' appear on page 33 of the April 1999 Stationary Engine Magazine (issue 301), and the featured engine has a serial number commencing with an 'EX' prefix, but a number that appears to be part of the normal Mini Motor cyclemotor series, complete with a 'Z' suffix to denote a Miller magneto. Has any reader got a Mini powered sheep shearer or boat engine? - Editor]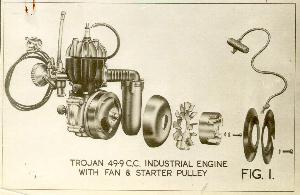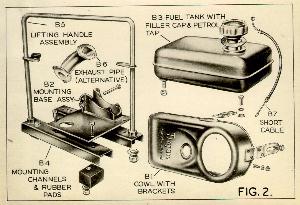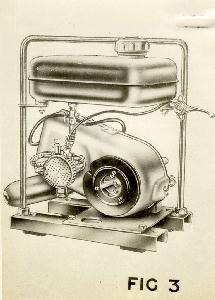 ---
Dear Paul,
Firstly I'd like to say how much I admire your taking on the commitment of being Editor of Buzzing, and look forward with as much pleasure to reading the magazine under your stewardship as I did when Andrew Pattle was in the hot seat.
Secondly, I feel very strongly that we as members (and that includes the NACC committee, who should have thought to do something much earlier than this) have not shown our appreciation of Andrew the Editor's efforts in producing Buzzing for 20 years and greatly increasing the popularity of the NACC. A club magazine is the lynchpin and reference point for all club members; its importance cannot be underestimated. Then there is Andrew's work in setting up our highly successful web-site and dragging the NACC into computer literacy. We owe the man a lot.
I think all NACC members who feel like I do should get in touch with somebody on the Committee and add their support for presenting Andrew the Editor with a suitable gift as a thank you for all his hard work.
Best regards,
Dave Beare
---
Dear Paul,
Could you put a thank you note in Buzzing to those responsible for the excellent 30 page comprehensive work on the Mini-Motor. I am sure this must have taken much care and time to complete.
As a point of interest, on page 3 it mentions the rear lever method of lifting or, lowering the engine; I have a 1949 engine, No. A6840, which has this lever, but I am going to replace it with a cable. Many thanks for such a super magazine.
Glyn Jones
---
First published, February 2002

Go to the Archive index
---