Go to the Archive index
---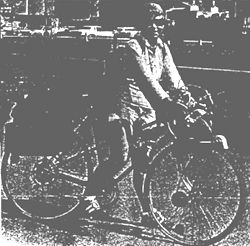 JUSTICE TRIUMPHS!
In the apring of 1978 an indomitable woman named Ilona Justice bought a BikeBug. She bolted It to her bike and headed west out of Boston, Massachusetts. After 2400 miles of hills, mountains, rain, fog and dogs, the lady, the bike, and the BikeBug rolled into Santa Fe, New Mexico...safe, sound, and fully functional.
Miss Justice used our 0.8 hp engine, the same engine that was tested by the Auto Editor of Popular Mechanics. This engine has been superseded by our new 1.2 hp 1979 model...with no change in price!
When we learned of her trip, we exchanged engines with Miss Justice, sending her one of our new l.2's. When we checked her original engine, we found it to be in perfect working order, aside from the roller which was pretty scruffy after 2400 miles.
After Miss Justice received our new 1979 engine, she wrote: "Thank you for the new engine. I used it today for the first time, and indeed there is a big difference. I believe this motor will be able to take me up to the Ski Basin, which is an 18 mile climb into the Sangre de Cristo mountains, 12,000 feet above sea level..." It did; no problem.
As for her transcontinental journey, the 51 year old Miss Justice said: "The keenest memory in my mind is of Grandfather Mountain, when we curved gently up and up, the valiant little engine pulling 200 pounds..." And she said: "Each day I heard myself saying that what this little engine and I are doing is impossible, only to surpass it the next day, and the day ofter that."
You ought to know that AquaBug International did not sponsor Miss Justice's trip, had no knowledge of her intention to make such a trip, and that Miss Justice bought her BikeBug through one of our national ads.
The BikeBug did a great job, as you might have expected from the Popular Mechanics Product Report; but in the final analysis, it was Justice's triumph.
---
First published by Aquabug International in 1979.
(thanks to Mike Schneider for suppling the article)

Go to the Archive index
---