It should have been written sooner, but somehow never was, then as the years roll by, once again we find ourselves in a race against time to piece together the fading fragments of a lost history, before the last grains are carried away on the desert wind. Though obscure and reclusive, this pioneering engine was particularly important in being the very first British clip-on to appear after WWII, and one can actually follow its influences towards the British cyclemotoring boom of the 1950s. Credit is long overdue for the Ostler Mini-Auto...
Somewhere back in the fog of days past, Richard Henry Ostler decided to make his own model engine and mount it on a bicycle. Little is known about his first effort other than it was built around 1941/42, the engine believed to have been mounted above the rear wheel, and described by colleagues as "a particularly crude contraption". Some evolution seemed to have taken place to the second prototype, with a relocation of the motor to a forward position above the front wheel. This front mounted configuration led to the development of a third model, which appeared to have been completed around spring of 1948, and registered as 8710 PV for road trials. This model was proved in use as local transportation during the year, then burst onto the world on 20th January 1949 - well not exactly: more like trickled in through the back door!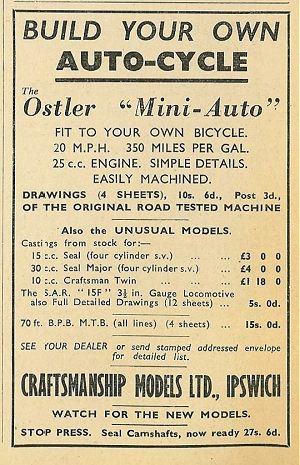 A contemporary advertisement
First news of the motor was posted in that date's edition of The Model Engineer magazine in a feature as "Winner of the Challenge Cup at the Exhibition of the Ipswich Society of Model and Experimental Engineers". Accompanied by photographs and general layout drawings, the article described the technical arrangement. Within the magazine also appeared an advertisement by Craftsmanship Models Ltd, Ipswich, offering the chance to "Build your own Auto-Cycle, easily machined"! Yes,you did read that correctly, The Ostler was a DIY motor the customer would make for themselves to a set of plans, from a few pieces of metal!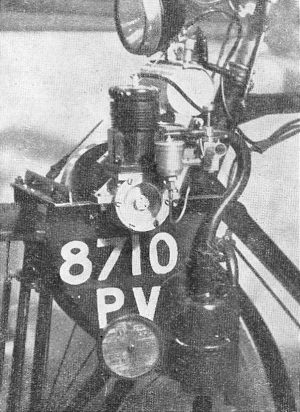 From Model Engineer, 20 January 1949
Girdlestone's Model Shop in St Nicholas Street, Ipswich, was possibly another outlet for the kit, but the concept of the Mini-Auto cyclemotor had attracted the attentions of bigger fish! Later in the year, Dick was invited to bring his machine to a London hotel by a potential customer interested in discussing the prospect of putting the model into commercial production. While being wined and dined, it seemed his motor was covertly stripped for study, and then reassembled as if nothing had happened. He immediately recognised the engine had been tampered with, and later, when the occasion had come to nought, was left with the feeling that the design had been pirated. Dick never appreciated who the other party actually was, and though the Mini-Auto didn't actually become copied, it was probably a close call! Just the following year, in 1950, Blue Star Garages appeared as sole concessionaires selling a clip-on cyclemotor, its manufacturer given as Cymo Ltd, Leamington Road, Erdington, Birmingham 23. The Cymota was listed up to 1952, but thinly veiled beneath its tin bonnet lurked an unlicenced copy of the VéloSoleX!
Copies of Ostler plans sold through Craftsmanship Models carry their address of Norfolk Rd Works, Ipswich, and were a branch of C W Juby & Co, Toolmakers and General Engineers. Associated to Craftsmanship Models and producing designs for them, a certain Mr Edgar T Westbury also latched on to the concept of a cyclemotor engine kit, and followed up with his own model, The Busy-Bee.
Our test motor seems to have originally been registered EAN 715, issued from West Ham around February of 1952. It features a number of refinements not appearing on the original Ostler plan: decompressor, ignition timing control and butterfly valve carburretion. The deflector type piston of 15/16" bore × 1¼" stroke calculates to 27.7cc, and while the con-rod runs on plain bronze bearings at both ends, its overhung crank is substantially designed with three ballrace bearings along its roller-driving mainshaft. The original model was ignited from a 6V dry cell battery, but our test machine is built with a 3V dry cell system - that obstinately resists all efforts to get it to spark, so there's no alternative but to assemble another ignition set! The test system uses a modern HT coil powered by 12V lead acid gel rechargeable battery, it may not look particularly aesthetic - but there's no question about the cracking spark across the little modelling plug!
Fill the tank with petrol - and it pours straight out of the tap plunger! So, one new cork later, fill up the tank again, pull on the tap - and petrol spurts forth from a hole in the fuel line! So, a replacement pipe, and hopefully we'll be ready to go. (It should be pointed out that the test machine has been laid up for quite some time, so a few difficulties are probably to be expected.) Petrol on, plug in the battery, decompressor, pedal up the road, drop the motor - and the roller slips! Ah-ha! Pump up the tyre really hard! Yep, that does the trick! So off we go again, pedalling along the road while twiddling with the decompressor, throttle, ignition advance mechanism and adjustable main jet. Up and down, twiddle, nothing - up and down again, twiddle - nothing, gasp - knackered - gasp. Time to call in a professional! "Help,we 've got a cyclemotor needs rescuing!" "There, speeding across the Heavens on a James Clubman Ace bicycle! Is it a bird? Is it a plane? No, it's PattleMan!"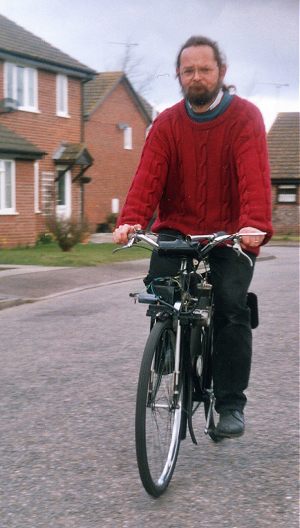 Andrew Pattle riding the Ostler Mini-Auto
With Andrew Pattle now providing the leg power, more fiddling with contact points, carburettor, then a drop of priming fuel through the plughole does the trick - the Ostler finally chugs into life. We run it up and down the road and tweak in the main jet setting. The exhaust note is pleasantly mellow and well muffled, but the motor's main bearings are concluded as the source for quite a bit of running noise.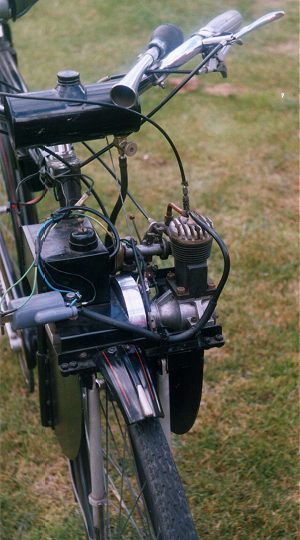 The ominous rumbling does abate somewhat as the motor runs a while and performance continues to improve as the engine warms up. Within some ten minutes of operation the motor settles down to become more tractable and able to pull cycle turns without loss of speed, though still requiring assistance on initial take-off. Typically of deflector designs it proves to have a narrow effective power band in the low rev range and we judge straight-line speed on the flat around 15mph, but very much doubt it would cope with any incline.
Period reports credited the Mini-Auto with 20 mph performance and 350mpg economy, but our example is clearly not up to a representative order and in deference to its sensitive condition we decide to curtail the test. The motor has probably condensated the main bearings over years of storage, and would require a full strip and fettle to bring it back to practical usable service. However briefly, it was still a significant event to actually fire up one of these little engines again.
Dick Ostler worked at Ransomes & Rapier on the Wherstead Road in Ipswich, whose foundry was the source of prototype crankcase castings from his own moulds for the two Mini-Auto engines he built up as models, all other parts being cut from solid. The second of these units was made of slightly larger capacity (over 30cc), mounted on a ladies cycle frame for Mrs Ostler to ride, and was later shown at a Model Engineering Exhibition in Ipswich. Plans sold through Craftsmanship Models were seemingly accompanied by a kit of rough aluminium and iron castings (crankcase, piston, cylinder head & cylinder block), and credited to C W Juby Engineering as the source. The Craftsmanship kit only seems to have been listed for barely more than a year, since by 1950 the elderly and ailing Mr Juby is reputed to have begun winding down the modelling side of his business.
The Ostler Mini-Auto never did become available as a complete commercial engine, and was only ever offered in kit format. It only sold in very small numbers to enthusiastic model makers and hopeful engineers, and probably very few engines were actually completed, so surviving examples are immensely rare and their preservation is particularly important. The Mini-Auto cyclemotor was followed by a one-off homemade scooter built with a small 4-stroke industrial motor and driving through a hand-shifted 3-speed motor cycle gearbox, painted bright orange and registered for road use. With Dick favouring his new scooter, 8710 PV was passed to son Alan who subsequently wore it out over 7 years usage, finally breaking it for scrap in the 1960s. The second model (30cc) also became dismantled and scrapped in the later 60s. Though R H Ostler died in 1965, aged 64, it is hoped his pioneering contribution to British cyclemotoring should now be recognised through publication of this article. Full copy sets of the original hand-drafted drawings and updated CAD plan versions to produce the complete Ostler Mini-Auto are available from the Club Library, along with several other research and photo library files. Though the first Ostler Mini-Auto was built and run in 1948,the comprehensive NACC records could allow anyone to remake the engine again - perhaps the last Ostler hasn't even been started yet! Originated from the Ipswich Society of Model and Experimental Engineers, the Ipswich Model Engineering Society still meets every Tuesday from premises on the Foxhall Road, my thanks to all its members for their assistance with the research.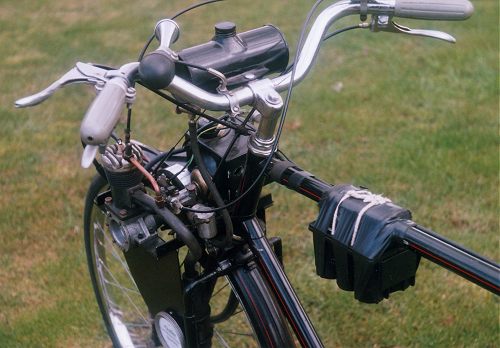 The Ostler Mini-Auto cyclemotor has now gone for special loan to Ipswich Transport Museum for the 2004 season only, and stands on display together with the Stella (Buzzing Dec 2002), examples of the only two makes of motor cycle produced in the town.
Next Issue: It's not an autocycle, it's not a cyclemotor, and neither is it a moped! It doesn't have pedals, but it doesn't have a kickstart either. It falls into that mysterious no-man's land of Other Oddities, so I reckon the NACC can adopt it since no one else would want it, and we like strange things don't we? Zeus sends his messenger. An Olympian chariot, from Out of this World.