Go to the Archive index
---
Letters to the Editor, June 2004
Dear Paul,
Peter Chinnery's Puch Away in the October 2003 Buzzing brought back a few memories. As a Puch dealer in the 1970s & 1980s we found Steyr-Daimler-Puch products a pleasure to deal with. For over one hundred years S-D-P had been making motor cycles very successfully indeed. Formed in 1934 as a result of the amagamation of Steyr Engineering, Austro-Daimler, and Johann Puch's two-wheeler business, which was already established as one of Europe's best with its bicycles and motorcycle products.
Johann Puch had left his Yugoslavian homeland just before the turn of the century to seek his fortune in Austria where, with its close links with Germany, the future of two-wheeled transport was becoming well established.
The formation of Steyr-Daimler-Puch AG in 1934 resulted in the group quickly going on to become Austria's second biggest employer manufacturing bearings, automotive products, and mili- tary hardware. In fact the whole business was very similar to that of the BSA Group in the UK. Contary to what some people believe, BSA made many other things besides motor cycles, manufacturing some fourteen million weapons for the Allied war effort during WW11, but that's another story. The book, BSA The Other Battle, tells all.
My own experience of Puch both as a product, and the UK operation under Peter Bolton was one of the great pleasures of my working life. It was a pleasure to be involved in selling Puchs and the service from their UK headquarters at 211 Lower Parliament St, Nottingham (the same premises now occupied by Machine Mart) was second to none. Some two hundred thousand Puch mopeds were sold in the UK from 1968 to 1984 with two million finding homes world wide. Peter's article reminds me of two Purple Maxi S models I sold to two young students who announced they were going to ride them from England to Portugal on a camping holiday in 1974. We fitted panniers (whatever happened to Brealey-Smith and their wonderful moped accessories?) and off they went. Returning some 5 weeks and 5,000 miles later they proudly announced that the sum total of their problems had been two punctures and a failed spark plug which, considering all the buzzing around they had done in France and the Iberian peninsular, could not be bad. They did however admit that it took some time to relieve themselves of the buzzing in their backsides. Both bikes were thoroughly serviced, the results of which did not show any major problems.
Kind regards,
Jim Lee (Puch ME)
---
Dear Paul,
Regarding the article by David Casper in the December 2003 Buzzing about his Simplist cyclemotor, I read the article and began to search some magazines that I had borrowed from a friend. I found in The Motor Cycle, 29 April 1954 a report of a motor assisted cycle trial. The venue was Catford Greyhound Stadium, and this was the third event. Thirty nine entries were received; thirty finished with three non-starters. This was described as a poor entry! The course was thirty miles, to be covered at 15 mph, with special tests that included stopping, starting and hill climbing, with a down hill brake test.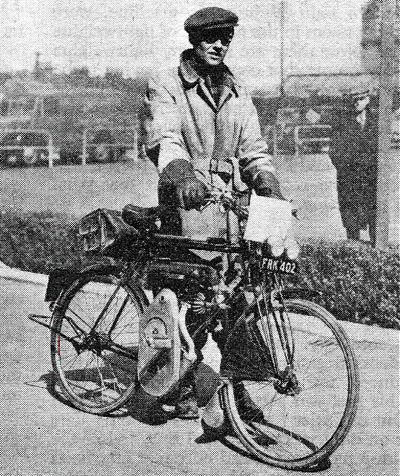 Machines mentioned in the report were Cyclemaster, Busy Bee, a prototype 2-speed Tailwind, Power Pak and Mini-Motor. Special mention is made of a home built Mini-Motor Special ridden by J Stacey. The photograph shows a Mini-Motor mounted in the main frame diamond. A special exhaust system is fitted and a large cover leads to the pedal chainwheel. The cycle has twin headlamps, and it all looks very neat.
The article reads: "The power unit is mounted within the middle section of the frame and the drive is taken by chain to a clutch on a countershaft above the bottom bracket. From the countershaft a further chain transmits the power to the main pedalling spindle. A three speed Sturmey Archer hub gear is inccorporated in the rear wheel". Sounds very similar to the Simplist! The event was won by a Mini Motor and the photographs show entrants sporting big smiles.
Very best wishes,
John Workman
---
Dear Paul,
Enclosed is a picture of one of my bikes. I was so surprised to see and read of Barrie Portas's Motobécane and how it came to him that I had to put pen to paper. As you can see, the two machines are identical, and so is the way I came by mine. A friend of mine, an antique dealer, imported it from France along with another engine, pair of wheels some tyres and a 1949 French copy of Motocycles, which contains a full pge advert for this machine known as the Motobécane Poney 50, priced at 44,520FF.
I too have kept the original, as found look, although a late Mobylette ignition coil had to be fitted and an Amal float bowl top had to be machined to fit the carburettor. Modification and fitment of a Mobylette centre stand allows protection of the undented tinware while not in use. After having dismantled, cleaned and lubricated the moving parts and re-assembled it, I rode it around a factory car park and up and down a disused canal tow path one Sunday. A more effective time machine I cannot imagine. Everything works fine, even the lights work, it has nice power char- acteristics, the girder forks smooth out the front end and make it a comfy ride with excellent brakes.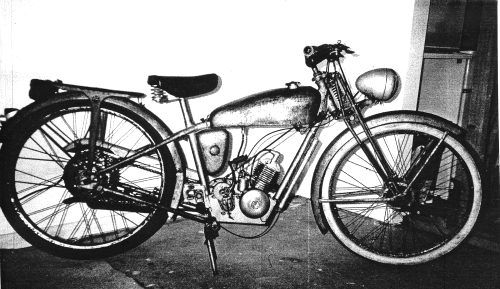 The machine now sits in my hall, where it has been for the last three years, so if someone made me a nice offer, you never know!
Matt Halliday
---
Dear Paul,
I thought that you might be interested in featuring the enclosed snapshot in Buzzing.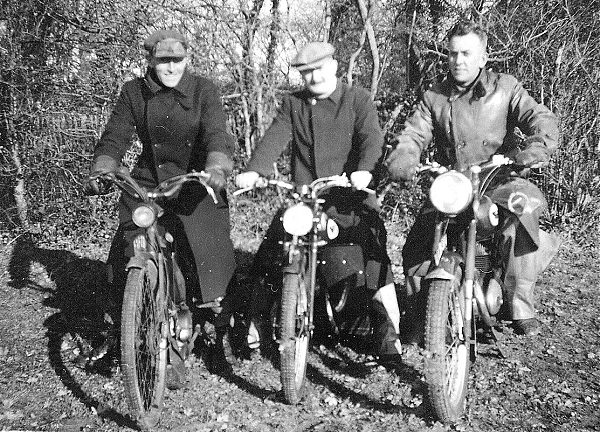 It belongs to my partner's family and was taken in 1950, probably in Surrey, at a place called Colley Hill. The riders are (left to right) Jimmy Woods, Ted Yeend and Jimmy Whistler. These 'Three Musketeers' used to go riding in the long summer evenings after work. We think that Ted Yeend's and Jimmy Whistler's machines are James lightweights, but can any members positively identify the makes and models?
Incidentally,a further scrap of information about Sir Yehudi Menuhin and his Lucas electric bicycle (Buzzing April 2004). He was very interested in electric vehicles and was, in fact, a member of the Battery Vehicle Society. I understand that he had an enormous American electric car that was specially imported. Also, regarding the Scintilla electric bicycle. Does anyone know if this was made by the company that manufactured the Scintilla Vertex magneto? This magneto was intended to replace the distributor on a normal four cylinder car engine and was available (I think) in the 1950s.
Best Wishes,
Tom Lucas
---
Dear Paul
Please find enclosed a copy of my letter dated 10 February 2004 to MP Tim Collins CBE and the reply letter dated 9 March 2004 to Tim Collins CBE from Wilf Morgan, Local Operations Manager, DVLA. I received a letter on the 7 February 2004 and £25.00 fine from the DVLA for a motor cycle which was last taxed on the 20 February 1967. The motor cycle has been in my ownership since before 1967, and a V5 was obtained in December 1997. The motor cycle is currently being slowly restored. However, the DVLA letter claimed the excise licence for this motor cycle had ex- pired on the 30 Nov 2003.
MP Tim Collins CBE passed on my complaint letter to the DVLA, and has now sent me a copy of their reply from Wilf Morgan. In February just after I had finished writing my letter to the MP, the Buzzing for February 2004 arrived, and so I took the opportunity of enclosing as a PS a copy of pages 16 & 17 - Mark Daniels's Sorn Traps. In his reply letter, Mr Morgan says of last year's 872,496 SORN letters about 20% were "terminated". That means about 174,500 letters and fines went to the wrong people. Latest story off the TV is that 95,000 SORN letters are to go out this month (March) with the new £80 fine. If they all pay up that's £7.6 million. Finally on the second page of his letter Mr Morgan suggests that the SORN system was "user friendly" for restored and vintage vehicles. Perhaps Mr Morgan, along with many vehicle owners, is unaware of the three Traps (as set out in Buzzing by Mark Daniels)and this why he thinks the SORN arrangements are simple and straightforward. Clearly he needs to be enlightened and the nil excise licence vehicles removed from the SORN system.
Yours sincerely,
David Aspinwall
PS: A Pat on the back for Frank Auton and his Golden Eagle Cyclemotor saga. The high standard and interest value of Buzzing means it remains the best motor cycle club magazine I have encountered. Any chance of road tests, etc, for some electric power bikes or electric clip-ons?
[It has to be remembered that the DVLA is carrying out the policies of the politicians in Westminster. There is of course a widespread belief that the government sees road users as a source of easy revenue and make changes to the law to raise money through fines applied by the DVLA and the courts. However, there should be 0% margin of error, not 20%. This subject is now closed.
Thanks for the compliment, however we won't be covering contemporary electric cyclemotors to any great extent as that subject is catered for by A to B magazine (01963 351649). We will cover electric machines of historic interest, I won't use the word "classic". - Paul]
---
First published, June 2004

Go to the Archive index
---