There have been other Norfolk Camping weekends before and last year's was also at Martham; however this was to be a first for the EACC. Eighteen members signed on over the weekend as well as two non-members from as far away as Scotland and South West France.
Routes and venues had been checked but nothing was really cast in stone, the plan being to lead round, to keep a tight group and not to lose anybody.
Friday was manic. Having moved my insurance date, I only had one bike actually on the road. I had booked three MoTs with a potential fourth. First was the PC50 (no problems), check camp site, nobody about. Next was my NVT Easy Rider, after a year's sabbatical would it run? Would it hell: carb & tank clean, fresh fuel, and away we go (MoT Number 2). Check site: my camper for the weekend had arrived.
Don't ask 'why?', but I had insured the Batavus Pronto, which had not run since purchase two years ago. Would it run? Would it hell: carb off and clean. Would it run? Would it hell: big fat spark so carb off again, problem sorted (MoT Number 3). Check site: John Shaw had arrived from Scotland via an event in Austria. Formalities over, it was back for the Mobymatic. Last used five years ago, would it start? Yes, straight away with the old fuel (MoT Number 4). Check site and Stuart and Lynda are over from France. A clean up of the house for Mr & Mrs Hunt and umpteen other things and tax the bikes. Check site and it was good to see John Bann with his section banner all the way from Rotherham.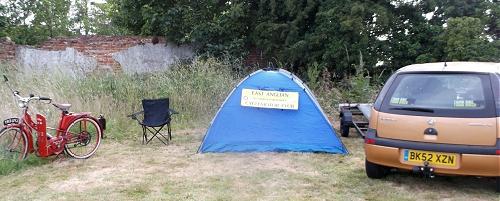 Two others had ridden all the way from Rushden, Northampton but were nowhere to be seen. Phillip Chenery and Paul & Pauline Nelmes were representing Suffolk. Regular on East Anglian runs, Luke Booth from Sussex was there, as was Keith Rutledge (his wife electing to stay back at their B&B). We also had two locals along, Matthew and Ian.
Nine Bikes & riders plus a pillion mustered for the first run of the weekend. MH lead us away on what basically was the same as last year's chip shop run; we had a short break in the evening sun at Thurne Mill.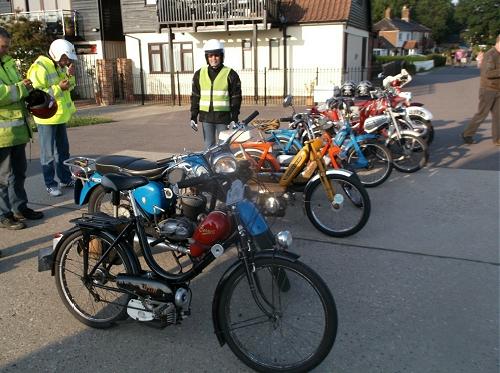 We then carried on to Stokesby for a swift half. Shortly after this we were riding into a sea mist as the light was also starting to fade, another quick photo at a restored post mill, and onto Hemsby for the chips. Now, a recce had been done on Tuesday, when they were queued outside the door, therefore wouldn't you expect them to be open on a Friday? Wrong but, hey ho, right opposite was a take-away/diner which was probably better anyway as we had a greater choice and a seat.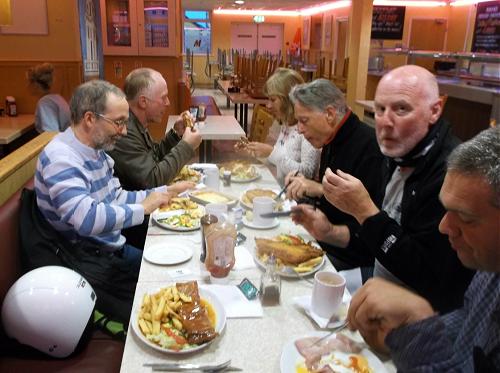 Local boy Ian headed for home as we returned to Martham for a couple in the Victoria Inn and also a visit to the Kings Arms, a great start to the event.
---
A thunderstorm had everybody awake at 04:00ish which lasted for about an hour but by 06:00 it was all dry and very sunny.
On Saturday we were joined by Jim Davies and Dave Watling from Suffolk and the West Anglian three of Ralph, Chris and Matt. Iron man awards (if we had them) would go to Andy and Chris who had ridden their Puchs from Andy's home at Rushden, Northamptonshire: about 140 miles (they were having a pint and meal in the KA the previous evening).
A diverse assortment of fifteen bikes lined up for the run (day out). Dave Watling was there but not doing the full run.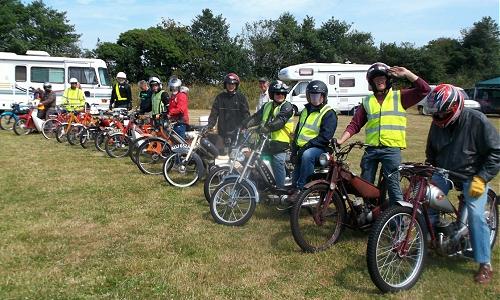 The Batavus was used for the Friday evening run but wasn't 100% so my Easy Rider was pressed into service, PN was given the job of tail end Charlie as we set off, (some just in t-shirts as it was so hot). First stop at a new attraction at Wroxham was reached with no problems but, just as we arrived, Luke was having an issue with the front suspension linkage on the Ciao … soon sorted. We didn't visit as the entrance fee was £8.95, but we all had a welcome drink. Next stop was at Booton Church where we were joined by MH, after a look in the church everybody just seemed to be happy chatting away in the shade from the midday heat.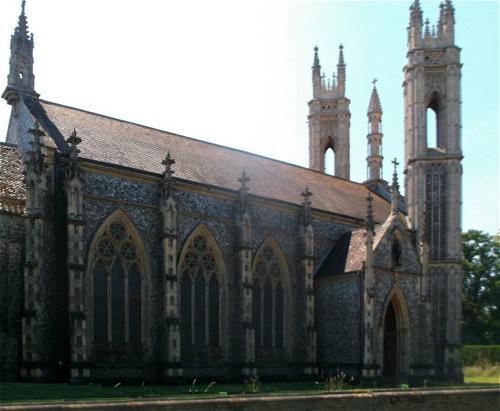 Then on to the lunch stop at Whitwell Station. No bike issues but I was starting to think we may be running late for our visit to Norfolk Motorcycle Museum; George would not hang about if he didn't have any visitors. So a phone call was made and we all arrived together except for Keith on the Bantam. It's always well worth a visit as the place is full of mainly British bikes, Rudge Ralph was in heaven drooling over this exhibit.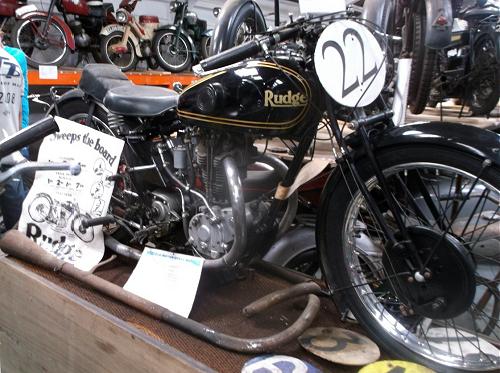 We headed for the coast, a stop to look at the erosion at Happisburgh and then down to the Nelson Head, Horsey for a swift half and back to camp at Martham.
(MH had joined us for the short run from Booton to Whitwell then made his own way back to Aylsham, Dave Watling was there with his Berini on show, Bantam Keith was there but we didn't see him at all after this! He did always say not to worry about him as he may blast past us and do his own thing and, if he had a problem, he could call his wife out.
The routes had been mapped on Google (63.1 miles in total) and had gone to plan with (apart from Luke checking his front suspension) no mechanical issue at all. I was well pleased but there was no respite as a quick head count was done and I was unable to phone Caister Carvery. Stuart & Lynda went ahead to book us in, the West Anglian Three also used their vehicles as the rest of us rode to our table for fourteen at 7:00pm. Unfortunately, Rotherham John did not leave base camp as he checked his car for keys we left without him. We then returned to Martham for a drink and entertainment on the village green.
---
Sunday was a bright start as the Rushton Two (one lives in London) decamped and departed for their long ride home.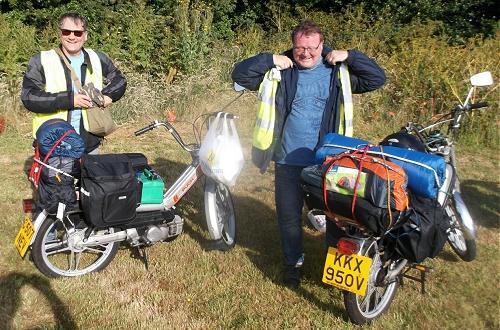 Breakfast run was not until 10:00. JS was on his super reliable Bima powered Terrot. I had a plot! take the Bima powered Christophe for a reunion (both had done the Heb-Hop last year). Correct seat fitted, fuel tap refitted and a bit of fuel she was away. John's face was a picture as the bikes posed next to each other.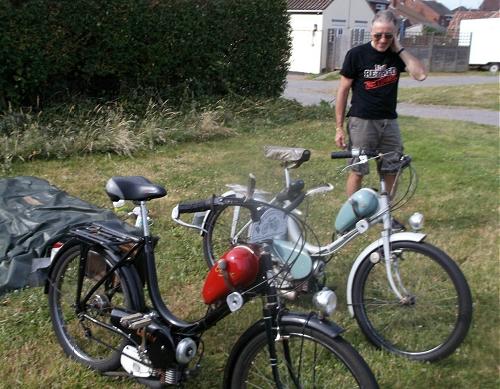 It was just a bit of fun but John wanted me to ride it! A rear number plate was quickly made from duct tape and letters from the local DIY; all done just in time as I wanted us to have a quiet moment to remember Harvey before we set off. Although not in the best of health last year he was with us for the whole event.
RIP Harvey Spencer.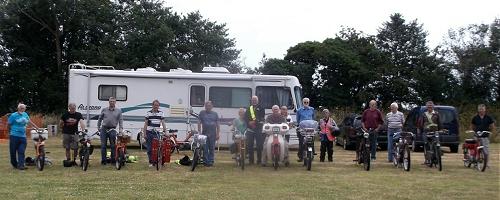 The well travelled Clive and Ann had arrived the previous evening with a nice Moby SP93 and it was good to see another Norfolk member join in with an early OHC PC50. Just as we arrived at a nearby garden centre for breakfast, it started to rain, that was not in the plan (after such a bootiful day yesterday). Ralph and Chris decided to abort, I had trouble starting the Christophe then had roller slip in the rain so returned to base camp followed by Rotherham John, who had not packed his wet gear. Back to the group, cut a bit of the scenic route out and on to Acle where our road was chocker with a broken-down van/caravan (main Acle straight to Yarmouth shut because of an accident). We lost C & A and the normally reliable Easy Rider died when out looking for them in the rain. This is not going well, Easy Rider eventually restarted and C & A were back in the group; we carried on to Strumpshaw in the rain.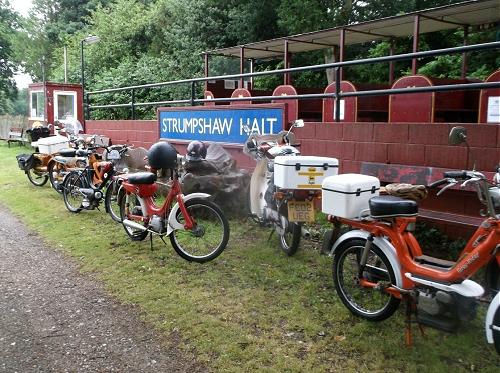 Did I mention it rained? Well when we were in the museum it absolutely pissed down. We had a good look around the exhibits and were treated to a few numbers on the Christie cinema organ.
Plan was to be back for the carnival procession but that idea was dropped as the rain continued. Eventually it stopped and we returned on the planned route with a slight detour for ice creams at Ranworth Broad.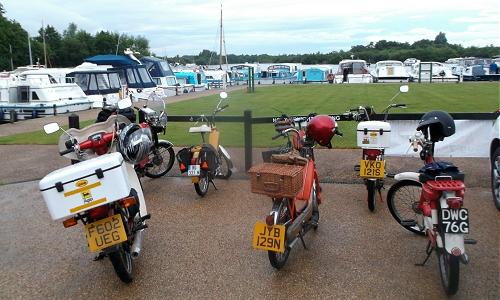 We were nearly back at Martham when I was beginning to think we had lost somebody: PC on the PC was missing. Thankfully, he had made it back along the main A47 and was loaded ready for the journey home. Chill; phew it had mainly gone to plan and nobody had died. Malcolm collected the classic RV and it was nearly all over, just some clearing up and putting bikes away to be done. Dave Watling was staying over and we went to the Vic for a drink. Stewart, Lynda, Paul and Pauline were also staying and we all ended up in KA until we heard 'Drink up please ladies and gentlemen'.
More pictures at: www.flickr.com/photos/40103650@N04/sets/72157655084385508.