Martham near Great Yarmouth to Yarmouth IOW was conceived after a few drinks on last year's Yar to Bar event. Mike Barrell informed us early on that he would not be able to attend as he has family holiday commitments to consider at that time of year and Keith (his father in law) was also planning on moving (to Suffolk). Phillip Chenery, a new boy to the moped scene, had made enquires about our big runs and was slotted into the vacant rider's spot; Matthew Hodder volunteered for backup and support duties. As for previous events, Travelodges were booked around Christmas time, the cost being split between the five riders to cover the accommodation including back-up man as a thank you for providing support. The initial plan would have been to stay on the Island, but was dropped. After a long day riding, arriving to make a ferry crossing including the back-up vehicle seemed like a plan too far. So three days to get to Lymington and a less strenuous day to cross to Yarmouth (with or without the 'peds) was the master plan. Dave Wickens was given the job of sorting the three middle days, which left the first two and the last two to me. Matthew offered his services and spent many hours planning and buying OS maps, however, when he came round with it marked on a road map there were parts I did not agree with and did not see how I could combine his instructions with my amendments so the whole 200 miles were plotted on Google Maps and notes made. This was very time consuming and did not always work but at least I knew (in my head) where I wanted to be heading. Matthew's map was amended and cut into A4 sheets and the notes were all laminated as I was expecting us to be getting wet. Matthew kindly fitted a tow bar to the Kangoo and Dean added an extra runner to my 2 bike trailer.
Jim Davies arrived with two bikes on the Saturday evening and together with Matthew we enjoyed a meal in the Kings Arms.
Day 1: Sunday, August 2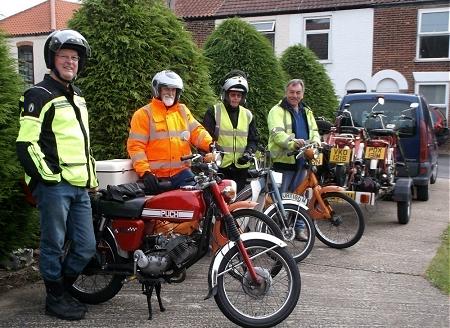 Sunday morning was manic as first Harold arrived with Phillip and his two bikes. Then Matthew in the Kangoo with his Ciao and Jim (after his sleepover) arrived. The spare bikes including my NVT Easy Rider, bags, spares, fuel cans etc were all loaded; David Wickens was dropped off by his wife Sandi who then had the long drive back to Sussex. Not too long after our intended departure time of 9:00 we were ready to set off.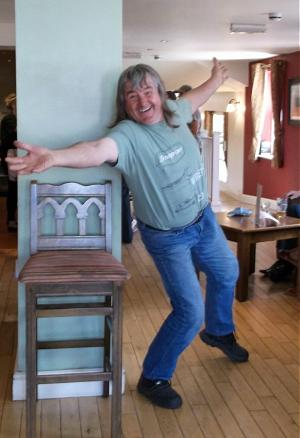 I did blow the cobwebs off the Honda and I did have a spare old, old stock plug; it is said the only time a PC50 stops is when it runs out of fuel! That moment happened just five miles into the run, Doh! Thankfully, MH spotted us and my can had some fuel in it, the kitty was sorted and away we went. We didn't bother with actually leaving from Greatt Yarmouth, preferring to take a rural route via Reedham Ferry where Dave Wickens came out with a classic 'Don't they know how to build bridges in Norfolk?' First official meet with MH was after crossing the A140, which went OK. Although still in Norfolk, I was in an unfamiliar area and was really looking for somebody to lead with me second—this didn't happen and we set off following MH. Jim had an issue and we were altogether then, don't ask why, but when we came upon MH kneeling to take a picture I thought that was just it and rode straight past him (sorry). We then made our own way to Thetford and MH went his way. We met up at the Deer's Leap pub (in the plan) and a lunch was ordered. Before the lunch arrived we were met by John Burgess who had ridden from Crewe via an event and overnight stop in Leicester. What a Legend.
JB had ridden some of the route to meet us and lead us on the next leg to Wicken. The plan was to stop at the Fen but, just before that, they were holding a picnic on the green event so cream scones and teas were enjoyed before a visit to the working mill. We then carried on the A1123 before turning off onto minor roads that took us via a back entrance to the garage and into the Fenstaton Travelodge avoiding the very busy A14. The bikes were chained together next to an Africa Overland vehicle—now there's an idea for a future run!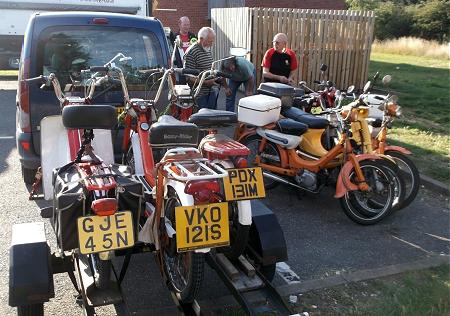 MH had checked us in and taken the bags to a room and the kettles were hot. A short walk to the village and a pint and meals were enjoyed in the local pub.
Day 1 pictures at: www.flickr.com/photos/40103650@N04/albums/72157657017940369.
---
Day 2: Monday, August 3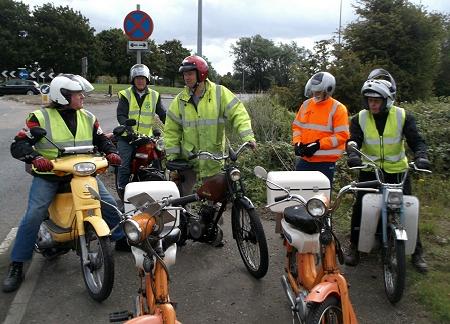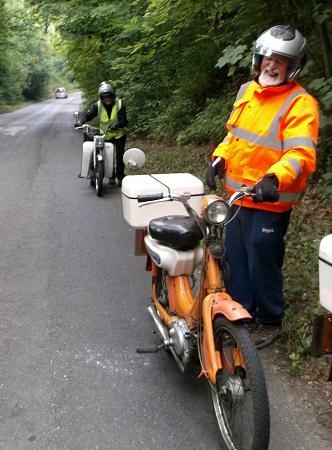 After breakfast in the adjacent Little Chef, JB was press-ganged into doing lead and we set off to the first scheduled stop at the Shuttleworth Collection. No reflection on John's excellent leadership but probably more to do with my notes, we saw more of the road works in Biggleswade than we should have done and surprise, surprise, who should we meet coming in the opposite direction but Sussex Luke. We then ended up on the A1: that was definitely not in the plan; Shuttleworth was off the next roundabout so we went for it.
Not recommended but we made it to Old Warden. It was not planned to visit the collection just to call for a coffee break, but the doors to the hangers were open so you could see the exhibits and I did sneak past the barrier to take pictures of the bikes on show. Luke followed us for a bit then doubled back as he had planned to meet his sister in the afternoon. We carried on past Dunstable Downs and then Whipsnade Zoo to meet up with MH at The New York Diner for lunch. We carried on and my sheets were not working so Dave Wickens stepped up to give JB a break. Dave ignored my instructions and did an excellent job of leading, just occasional looking at my marked map but leading from his own taped to the tank of his bike. Just the one hill that was too much for the PC50s and Moby. Phil and Jim had to get off and push and JB kindly came back to help me.
Just one minor off-piste moment after that, Dave did very well to get us all the way to Reading Travelodge where there was an adjacent pub & eatery that did an excellent carvery at a very reasonable price.
Day 2 pictures at: www.flickr.com/photos/40103650@N04/albums/72157657370532106
---
Day 3: Tuesday, August 4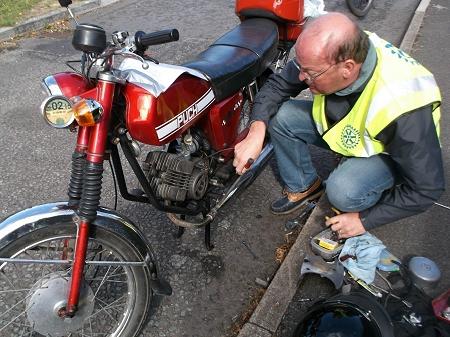 Back in the morning at 8:00 for the all you can eat breakfast, which was very good. Dave Wickens had been given the task of route master for this end of the run and discussed with MH meeting points, etc. We had to cross the M4 then get in the outside of three lanes to turn right off the A33; just as we reached the junction there was a gap in the traffic and we got across, that was close. It was busy at times passing Aldermaston, then all of a sudden Dave's normally ultra reliable machine suddenly died. No spark; MH was contacted to come back for us then with a fiddle of the wires in the mag she fired up again; recovery was cancelled.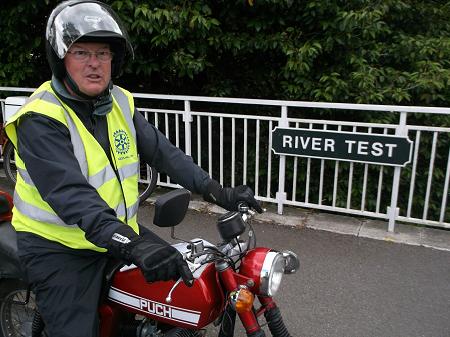 Not long after that another stoppage and it was found that the wires on the condenser were loose. Matthew was not called this time and we set off again only for it to stop again. Fearing the worse (although it started again) we found a spot and called for MH to return; various options were discussed as to how Dave could get a replacement bike to continue. Five miles in two hours was not good and we carried on with Matthew following, arriving at Stockbridge for lunch with no more problems. We had planned an excursion to visit a private collection but this was cancelled as we were running late and in case of further issues. Stockbridge was a nice break and we wandered along the street where we saw trout and eels in a stream that came under the road. As we set off again the Puch faulted again, this time it was lack of fuel. It was concluded that although the first two stoppages were lack of spark, the third and this were put down to the route sheet that Dave had taped to the tank blocking the vent hole on the filler cap and no more problems were encountered.
We followed Dave through some lovely countryside and hamlets with lovely thatched cottages and arrived at the New Forest for a photo shoot, then a gentle ride stopping for the cattle and the ponies that just amble about completely ignoring the traffic. We arrived at Minstead and stopped for ice-creams and booked in for an evening meal at the local. Matthew had checked us in at the TL and came to join us on the Ciao.
There was a scary bit to the Stoney Cross and tun left as you have to join the dual carriageway from a blind (to them) side road. Bags all in the rooms again, it was soon time to set off for the walk back to Minstead. Bit of an off-piste moment but nobody seems to care as we all get lost together. Nice pint and meal, then the walk back.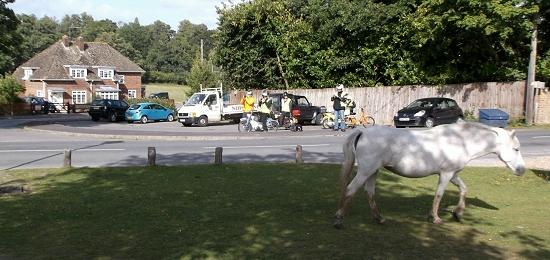 Day 3 pictures at: www.flickr.com/photos/40103650@N04/albums/72157657029197458
---
Day 4: Wednesday, August 5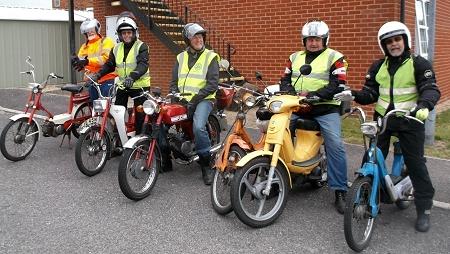 Breakfast in the adjacent Little Chef. Jim had declared he was going to use his spare bike as first choice was not running correctly (never let him down but was low on power) and then it was found PC's PC50 had a flat rear tyre so his spare Graduate was also unloaded. Do I also give my PC a break and use the Easy rider, better not maybe tempting fate. Matthew had his Ciao were joining us for the day.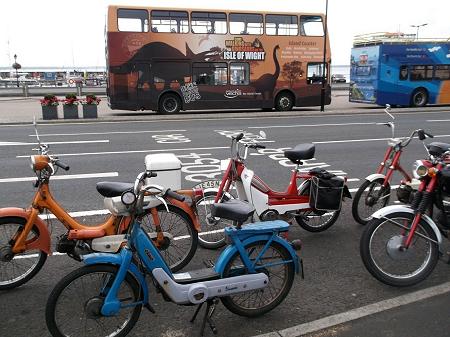 Bit of a free day this one but everybody was up for taking the 'peds over on the ferry if we could. With the forecast of rain for the day we arrived at the ferry just as the 10:00 was sailing, we booked on the 12:00 but they said if there was room we could go on the 11:00 a quick coffee and we were boarding the 11:00 for the 40-minute crossing which was good as we had a planned meeting with Marc Bashford from Hull (founder and moderator of the Mobylette forum: mobylette.proboards.com) who is looking to return to living on the Island. We arrived safely and waited for Marc to appear.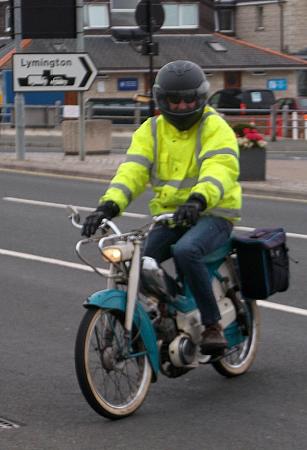 Marc hadn't planned anything as such but agreed to lead us to a local attraction. We came upon a massive queue and I'm not sure what went wrong but Matthew decided to go off alone (it was free day after all) just as we were invited to go down the outside of the queue and that parking would be free. We parked up by the funfair attractions and walked past the multi colour sands on the cliffs passed the old concrete remnants of a rocket testing site to a view point for the Needles with a Spitfire flying lower than us. We then visited a small a display explaining Britain's part in early space travel. We returned to the funfair for ice creams and a chat with a couple touring the Island on an unrestored scooter.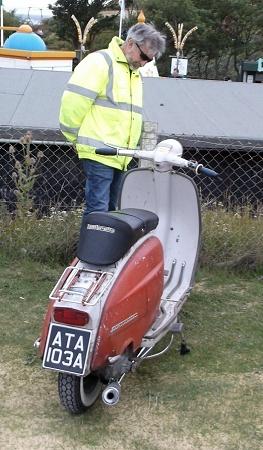 It looked like we were going to get a soaking as we headed back to Yarmouth; we said farewell to Marc just as it started raining, we found a café by the pier and met up with Matthew again for the ferry back to Lymington. Another smooth crossing we rode back to our TL and JB was straight on it replacing Philip's punctured tube with the spare he had brought along. We had another walk, straight to the pub this time.
Day 4 pictures at: www.flickr.com/photos/40103650@N04/albums/72157657447581555
---
Day 5: Thursday, August 6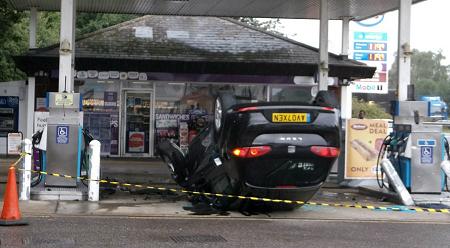 Unusual sight from the TL window as we went for breakfast at the Little Chef (looked as if the driver got out himself as ambulance and police were on site but no fire and rescue).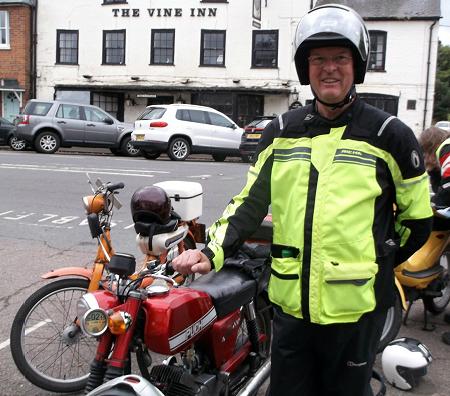 Pencilled in for the morning was a visit to the Sammy Miller Museum but nobody seemed to mind that we give it a miss as our 'leader' was going to leave us at Stockbridge for the 80-mile ride home and we would have to make our own way back to Reading. After a delayed start waiting for the recovery lorry to right then load the upturned car we followed Dave, when Jim stopped for a call of nature JB and I also stopped; we spotted Phil and went straight on and missed Dave as he was checking the route. We met him again via a different route to Stockbridge and said our byes.
JB was promoted to leader with the instruction to think he was on his own with three muppets following him. He liaised with MH and we met up at the Silk Mill at Whitchurch for lunch. Next stop: Reading. We made it including crossing back over the M4. We arrived early and as I was not sure of our route out the next morning we went for a recce and Matthew came with us. A few issues, but we eventually found the crossing over the Thames at Sonning Eye ... but not on the intended route.
On returning to the TL we realised where we had gone wrong. Another drink and nice carvery was enjoyed.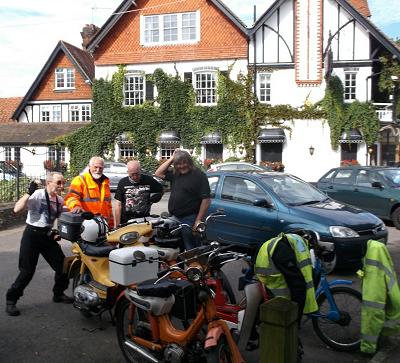 ---
Day 6: Friday, August 7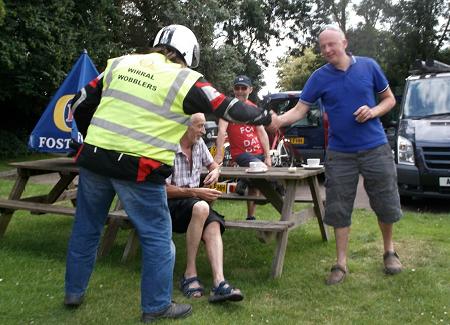 Another all you can eat breakfast in the morning; then it was time to depart. Thankfully the recce paid off as I lead out of Reading back to Sonning with no problems this time. Then JB took over and did an excellent job (although I think we did see more of Stevenage than intended) to get us back to the New York Diner meeting point. Just a top up with fuel and off we go again. No accounts of hills were taken in my routes but we had come down a very steep hill on the way out; thankfully we avoided that as we went on a different route back from here. We came across a closed road that Jim checked out for us as (local) cars were coming through and he had to HPA to return and I phoned Mike Barrell, as we were due to meet up with him. We saw more of Harpenden than intended and met Mike and Keith at Old Knebworth for a (late) lunch, only problem being then weren't doing food.
No further problems, we were now five again and made our way to the Fourwentways Travelodge. The World Famous Comfort Cafe is all closed up so it was another walk to the local for a drink and meals.
Day 6: bad camera day: www.flickr.com/photos/40103650@N04/albums/72157657486959805
---
Day 7: Saturday August 8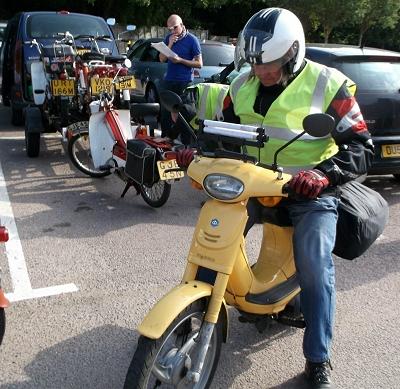 Breakfast in the adjacent Little Chef, then it was time to bid farewell to JB who set off to ride back to Crewe and Mike was promoted to Red Leader.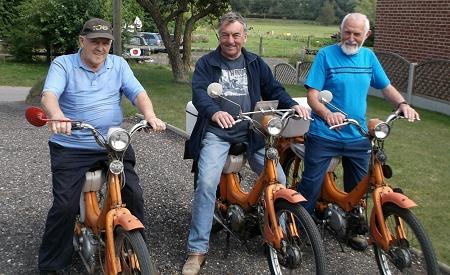 One missed left turn early on, but after that Mike did an excellent job and we were making good progress. I was flagged down by a local who said he had a bike just like mine in his shed, a slight detour and we just had to have a photo, it had been in the shed for 20 years when his grandson wanted to use it round the garden, fresh fuel and it started.
At our next stop and we were approached by an AV30/cyclemaster owner and then a bit further on whom should we see coming in the opposite direction? Kent's Clive and Ann were camping at a Norfolk event but rode out to meet us.
We carried on to Kenninghall and I actually did stop this time, a swift half and we were back on to our outward bound route and, for the first time, we were lead by Jim; bless him, there was actually only one turning and when we arrived at Seething I took over. Nice break at Loddon for ice creams and back over Reedham Ferry (a first time ever for Mike) and we returned to Martham with no problems. Matthew and Mike had come straight home and the bikes, spares, bags, etc, were all unloaded by the time we arrived.
Dave Wickens had been home a couple of days and it wasn't long after that I got a call from JB that he was safely home. It was good to have Mike and the camera shy Clive and Ann with us to the finish. Well done to fellow Yar to Yar and return riders Phil and Jim.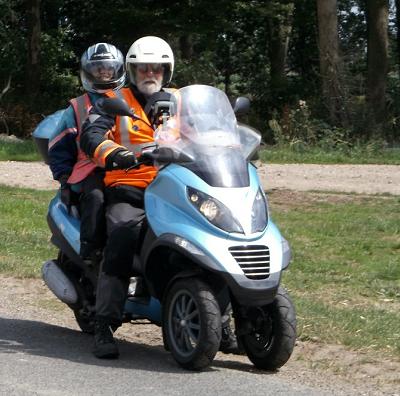 Day 7 pictures at: www.flickr.com/photos/40103650@N04/albums/72157657031686440
---
Conclusion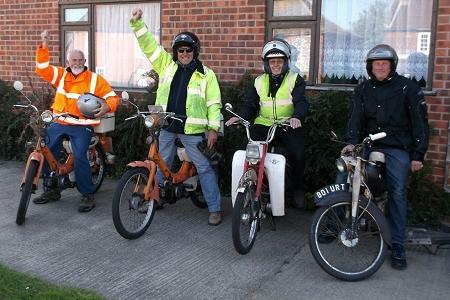 This was never going to be an easy run, not sure of the total mileage, but the four days I planned were all 100-milers (without the cock ups). We had a few issues and missed a couple of planned visits but, overall, I think the many unplanned moments compensated for the losses. A good group of riders (again) who all committed early on and we were blessed to have MH as support. Good to have Luke, Marc, Mike & Keith, and Clive & Ann along for parts of the event. All the Travelodge bookings went to plan and there were no problems at any of them. Next year was discussed but no decision was made, I have never wanted to do a LEJoG before but am starting to think JoGLE (but would not want to organise it for a group). I've done Barra, South Uist, Benbecula, North Uist, Harris, Lewis, Skye, Mull, Man and Wight within the last year but haven't been to Holy Island, Anglesey ... now there's a thought!