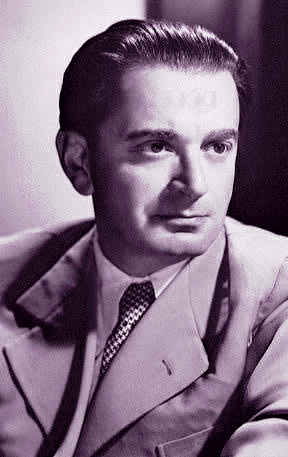 Miklós Rózsa: Passion And Discipline - by Chris Blackford
Hungarian born Miklós Rózsa (1907-1995) was one of that rare breed of composers who established an international reputation in both concert hall and cinema; his insightful andentertaining autobiography is aptly titled Double Life (The Baton Press, 1982). In 1940 he emigrated to America, via Paris and London, becoming an American citizen in 1945. During the last few years of his life he was fortunate to see a renewed interest in his music, with many important concert compositions and film scores reissued or rerecorded for CD release. Although the following CD reviews are principally concerned with his film music, occasional reference is made to his equally important concert works where, he once said, "my musical heart truly lived." Nevertheless, Rózsa was a dedicated film composer, who composed 90 scores (1937-81), who detested the superficial classical pastiches of numerous Hollywood composers he called "tame studio hacks". Like Erich Wolfgang Korngold before him, Rózsa brought a formal sophistication to Hollywood film music based on a rigorous conservatory training; he had gained a doctorate in musicology at Leipzig Conservatory in the late 1920s. Moreover, some of his film scores were created after intensive preparatory research into various ancient and traditional musics. Although an "unashamed champion of tonality", he pushed tonality to its limits, sometimes exploring polytonality. His rich orchestral palette conveys a passionate, often dark and dissonant, romanticism with a range and intensity of emotional expression equalled by few other film composers.
MAGYAR MOODS
The Complete Music For Solo Violin (Koch International Classics 3-7256-2 H1, 1995) Like Bartók and Kódaly, Rózsa was an avid collector and transcriber of Hungarian, Magyar peasant folksongs. A childhood love for this music would become the central influence on his subsequent musical development. This disc includes two early compositions from 1929 that draw on this heritage. Variations On A Hungarian Peasant Song, Op 4, features violinist Isabella Lippi, accompanied by pianist John Novacek, performing with great verve, superbly conveying the many dramatic contrasts in mood and tempo - from spiky fervour to high-pitch, wistful melancholy. While North Hungarian Peasant Songs And Dances, Op 5, lacks the uninhibited energy of Variations, it signals Rózsa's developing structural refinement and passionate, romantic sensibility. As the only occasions where he used authentic Hungarian folk material, they make an essential point of departure for newcomers.
Theme, Variations And Finale, Op 13A, was written in 1933, revised in 1943. Its November 1943 performance in New York conducted at very short notice and without rehearsal by a young Leonard Bernstein, brought him and Rózsa international critical acclaim. While essentially Hungarian in spirit, there are echoes of Ravel in the radiant woodwind and string textures of variation II, and suggestions of Stravinsky's The Rite Of Spring in the vigorous writing for brass in variations III and V. However, the gorgeous, sweeping arrangements of the theme are typical Rózsa; the grandeur of variation IV presages his epic historical film scores of the 1950s. Also featured on this disc (Koch International Classics 3-7191-2H1, 1993) is Three Hungarian Sketches, Op 14 (1938), another evocative folk-inspired work with a particularly sensitive Pastorale section. Stirring performances by The New Zealand Symphony Orchestra under James Sedares.
DARK SIDE OF THE MOVIES
Double Indemnity/The Killers/Lost Weekend (Koch International Classics 3-7375-2-H1, 1997) Rózsa described his "first period" of film scores as "Oriental" because of the exotic locations in The Four Feathers (1939), The Thief Of Baghdad (1940) and The Jungle Book (1942). His "second period" of "psychological" films began with Hitchcock's Spellbound (1945) for which he won an Oscar, quickly followed by Billy Wilder's memorable depiction of a desperate alcoholic (Ray Milland) in Lost Weekend (1945). Rózsa's film music here assumes a suitably darker, tragic hue while interpreting this obsessive, disintegrating personality. The string scoring is magnificent, even lyrical passages are tinged with anguish; the brass explodes in dissonant clusters and a theremin, used sparingly, creates a chilling poignancy for scenes of delirium tremens (Rózsa had introduced this outlandish instrument to Hollywood in the aforementioned Spellbound).
Wilder's Double Indemnity (1944), a classic film noir with ruthless Fred MacMurray and Barbara Stanwyck immersed in insurance fraud and murder, brings another atmospheric score from Rózsa. Its edgy, tremolo strings figure resembles a motif later employed by Bernard Herrmann in Psycho (the two composers were the best of friends). Rózsa heightens the film's sordid, pessimistic mood with low woodwinds and brass, swathed in dark clouds of brooding strings.
According to Rózsa, The Killers (1946) - by producer Mark Hellinger and director Robert Siodmak - ushered in his "third period", tailored to suit the violent exploits of an urban criminal underworld. Burt Lancaster is the promising boxer gone bad, crazy about a duplicitous Ava Gardner. 'Prison Stars', however, finds a melancholy romanticism between the sharp, percussive rhythms of the 'Main Title' and the boogie-influenced 'Exit The Killers', which recalls the strident, polyrhythmic jazz of Copland's Piano Concerto (1926). James Sedares conducts the New Zealand Symphony Orchestra in these superb new recordings. Excellent sleevenotes, too.
Another cue from The Killers appears on Lust For Life Suite/Background To Violence Suite (Varèse Sarabande VSD-5405, 1993). A memorial to producer Hellinger, Rózsa assembled several excerpts from The Killers, Brute Force (1947) and The Naked City (1948) to form Background To Violence Suite; three films that share a common theme of explicit (for the time) gangster violence. Especially impressive are the militaristic ostinati, searing strings and punchy brass of 'Prelude To A Murder', sharply contrasted with the eerie nostalgia of 'Nocturno' and the moving thematic climax to 'Epilogue'.
Rózsa used Debussyian impressionism as a stylistic reference point for Vincent Minnelli's Lust For Life (1956), a bio-pic of Vincent Van Gogh (Kirk Douglas). After 'Prelude' and its soaring theme, the following four cues establish an expansive pastoralism alive with vibrant colours and skittish episodes. As Van Gogh's mental condition deteriorates, so 'Madness' plunges us into a noir-like soundworld of shrill woodwinds, whirlwind strings and tempestuous brass. 'Finale' is classic Rózsa - huge theme, triumphant, yet shot through with a tragic beauty. The composer conducts these digitally enhanced 1958-9 stereo recordings.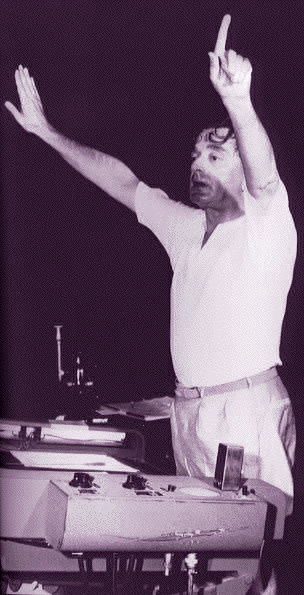 AGE OF EPICS
Ivanhoe (Intrada MAF 7055D, 1994) Rózsa's "fourth period", his "Historico-Biblical" scores for MGM's epics, begins with the Roman Quo Vadis (1951). A year later it's the Age of Chivalry for Oscar nominated Ivanhoe (1952), where 12th century French troubadours, Latin hymns, medieval Jewish music, even a ballad by Richard the Lionheart, provide thematic inspiration. Never merely faux medievalism, Rózsa's subtle blending of these elements within his own passionate style ensures an harmonically rich work, admirably performed by the Sinfonia of London conducted by Bruce Broughton. The tender lyricism of 'Rebecca's Love' is outstanding, but the most arresting music is reserved for the two battle cues ('The Battlement' and 'Saxon Victory') where competing polytonal lines and polyrhythmic energy achieve an exhilarating intensity which is reminiscent of Ives' symphonic work.
Bruce Broughton and the Sinfonia of London are back in action for Joseph L Mankiewicz's 1953 Shakespearean epic Julius Caesar (Intrada MAF 7056D, 1995), like Ivanhoe newly reconstructed (to the satisfaction of Rózsa) by Daniel Robbins. Happily, the composer's original 'Overture' has been reinstated, having been ditched by "High Command at MGM" for a piece by Tchaikovsky. More alarming excisions, now heard for the first time, were 'Brutus' Soliloquy' and 'Brutus' Secret' which form a vital part of the brooding heart of the score - their sombre strings rife with conspiracy and treachery. Elsewhere, striking fanfares and stately processionals announce the splendour of Caesar's rule. A wonderfully paced 'Caesar Now Be Still!', sensitively interweaves those majestic and tragic elements of the principals' themes producing a suitably dramatic climax to this impressive score.
In recent decades it has become fashionable to deride William Wyler's remake of Ben-Hur (1959). The Time Out Film Guide review is a typical travesty of this epic-of-epic's robust central performances; in particular, Charlton Heston and Stephen Boyd. Other memorable features include its narrative cohesion, breathtaking action set-pieces, sumptuous cinematography and, not least, Miklós Rózsa's Oscar winning score which, like his music for Quo Vadis, draws on Greek, Hebrew and Oriental sources to colour his own compositional style (few fragments of purely Roman music have survived).
Rhino Records' 2CD-set of Ben-Hur (Rhino R2 72197, 1996) looks certain to become the definitive presentation. Available in their entirety for the first time, here are the original 1959 soundtrack recordings (digitally enhanced stereo) conducted by Rózsa. Despite the film's colossal running time (approx 213 minutes) many cues were shortened and nine excised. The complete soundtrack runs to 2 hours 46 minutes and is an emotional tour de force: from the exquisite tenderness and intimacy of 'Love Theme' and 'Ring For Freedom', to the pounding, polyrhythmic accelerandos of the galley and battle cues (echoes of Holst's 'Mars'); the blazing fanfares and triumphal marches before the legendary chariot race, to the brooding despondency within the leper colony. Rózsa's brilliant achievement is having produced a massive statement that never becomes unwieldy, tiresome or pompous. As always, there's a gripping economy to his work, even in its large-scale romantic gestures; both the splendour and tyranny of ancient Rome are evoked with characteristic passion and discipline. The superb accompanying 50-page booklet, containing many photographs, includes a history of both silent and 1959 versions of Ben-Hur, notes on Miklós Rózsa, a narrative synopsis linked to musical cues, etc. An essential purchase for soundtrack aficionados.
Anthony Mann's account of Spain's 11th century national hero, Rodrigo Diaz (aka the Cid), is refreshingly understated as Hollywood epics go. Dependable Charlton Heston's athletic knightly exploits are infused with a moving humility; a voluptuous Sophia Loren brings notable dignity to Chimene, his wife. Rózsa's musicological research for El Cid (1961) led him to the 12th century Cantigas of Santa Maria and numerous Spanish folksongs; influences which, as usual, would be seamlessly absorbed into his own stylistic approach. The 'Prelude' is a dazzling piece of epic writing, its surging, heroic central theme one of Rózsa's most shatteringly beautiful creations. This newly recorded El Cid (Koch International Classics 3-7340-2 H1, 1996) by James Sedares and the New Zealand Symphony Orchestra, also conveys the bittersweet tension of 'Wedding Night' and luxuriant lyricism of 'Love Scene' with its poignant oboe and flute exchanges and passionate high register violin. Its rich orchestral detail, alive with vivid Spanish timbres and rhythms, makes El Cid as substantial and satisfying an experience as Ravel's earlier Spanish-influenced triumph Rapsodie espagnole (1907). As usual, an excellent sleevenotes presentation by Intrada.
A SORROWFUL NOSTALGIA
Rózsa cites El Cid as his last major film score, and Alain Resnais' Providence (1977) as the last important film he worked on. He and the acclaimed French director greatly enjoyed their collaboration, based on mutual respect for each other's artistic integrity. Providence (CAM's Soundtrack Encyclopedia CSE 085, 1992) is one of the great films of the 70s; Rózsa's score earned him a César, the French Oscar. Time, Memory and Creativity (familiar Resnais themes) underpin its engrossing mind-game narrative(s), the product of a self-important, embittered, guilt-ridden, alcoholic, dying writer (splendidly played by John Gielgud) who invents various malevolent scenarios involving members of his family. Rózsa's music, a theme and variations, is a subtle combination of the dreamily elegant and portentous - these imbued with a sorrowful nostalgia. The darker variations recall his 1940s "psychological" and films noir scores, especially Lost Weekend (alcohol being an obvious narrative similarity, too). A haunting work from a master composer nearing the end of his film career. Unfortunately, CAM's sleevenote information is scant and sketchy.
Between these projects, Rózsa adapted themes from his Concerto For Violin And Orchestra, Op 24 (1953), for Billy Wilder's enchanting film The Private Life Of Sherlock Holmes (1970). Here, his wonderfully expressive score helps elevate the illustrious sleuth to a figure of considerable emotional complexity and Proustian stature; however, this sublime violin concerto deserves to be heard in its entirety on The Complete Orchestral Music Volume IV (Koch International Classics 3-7379-2-H1, 1997) where violinist Igor Gruppman gives a thrilling performance aided by the New Zealand Symphony Orchestra under James Sedares. Gruppman's cadenza in the first movement is filled with the taut passion and spiky textures of Hungarian folk music; the heartbreaking nostalgic theme of the second is evoked by airy violin, delicately shaded by melancholy woodwinds, whereas the third movement abounds in vigorous folk-like rhythms. This stunning work is arguably Rózsa's finest and, in its bittersweet Magyar influence, sometimes resembles Bartók's second violin concerto (1938). The disc's other works, Concerto For String Orchestra, Op 17 (1943) and Andante For Strings, Op 22A (adapted from his first String Quartet in 1992), also testify to Miklós Rózsa's compelling writing for strings, while typifying the passionate intensity of his vision - where brooding, restless, anguished textures can suddenly release the most exquisite of melodies that burn into the soul. R
ADDRESSES
CAM, Via Cola di Rienzo, 152-00192 Roma, Italy (Tel: 0039 396 687 4220)
Intrada Records, 1488 Vallejo Street, San Francisco, California, CA 94109, USA (UK distributor: Silva Productions - Tel: 0171 428 5500)
Koch International UK, 24 Concord Road, London W3 0TH (UK distributor: Koch - Tel: 0181 992 7177)
Rhino Records, 10635 Santa Monica Boulevard, Los Angeles, CA 90025, USA (Tel: 001 310 474 4778)
Varèse Sarabande Records, 11846 Ventura Boulevard, Suite 130, Studio City, CA 91604, USA (UK distributor: Pinnacle - Tel: 01689 873144)
This review essay was first published in Rubberneck 27, June 1998
Text © Rubberneck; photos © The Baton Press and Turner Entertainment Co.
film music reviews