My Grandfather was Antonio Melaragni. Here he is with his first wife and family. He was born in 1868 in Sant'Elia Fiumerapido (d.1948 Liverpool UK), a village 3 kilometres outside of Cassino. His father was a peasant farmer and his first name was also Antonio. His mother's name was Alessandra Persechini. Antonio served in the Italian Army with the 39th Infantry Regiment for five years,1887-92. (I'm told that the two soldiers are cousins of Antonio.) He had three brothers, Michael, Joseph, Crescenzo, and a sister, Annuncia. Crescenzo came to Ancoats "Little Italy" in Manchester, England in the early 1880s. To link to a very good Ancoats sites, click here Antonio came to England in 1905. He joined Crescenzo in Manchester for a short time then moved to Liverpool. He appointed an agent to manage his smallholding back in Italy and worked in a number of jobs which included confectioner and ice cream maker in his own shop
Antonio changed the spelling of his name to Melarangi - I'm guessing that he did this to accommodate English difficulty with pronunciation. Crescenzo changed his name to Melarange.
Antonio's first wife's name was Frances Lanna. They married in Cassino, (left) in 1903 and had their first child, Antoniella before moving to England. To link to Cassino Town's websites, Cassino2000, click here and Comune di Cassino click here.
The view on the right is from inside Cassino Town. The monastery on the summit is a sixth century Benedictine Monastery that has been destroyed and rebuilt five times; the first time by the Lombards in ca. 585, and the last time by the Allies in 1944.
To link to the monastery click here
Below, left, is a view of Sant'Elia Fiumerapido village; Antonio's land was nearby.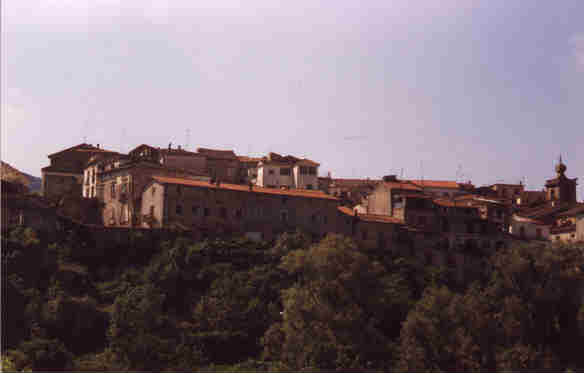 The village has a beautiful high walled cemetery situated at the bottom of the slopes amidst vine groves (bottom right). You approach the gateway through the vines, then into the cemetery itself, whose walls are capped by a backdrop of the hills and mountains surrounding it.