'CUMBERLAND' PATTERN PILL-BOX, BRAMPTON.
Nestled unobtrusively behind a wall at the east end of Brampton, this 'Cumberland Machine-Gun and Anti-Tank Rifle Emplacement' pill-box overlooks a crossroads, and was planned to be accompanied by road-blocks. Although quite a small place, Plans for the defence of Brampton consisted of eight road blocks, three Browning-Gun emplacements and two machine-gun emplacements! A further two machine-gun emplacements and another road-block were also planned slightly out of town.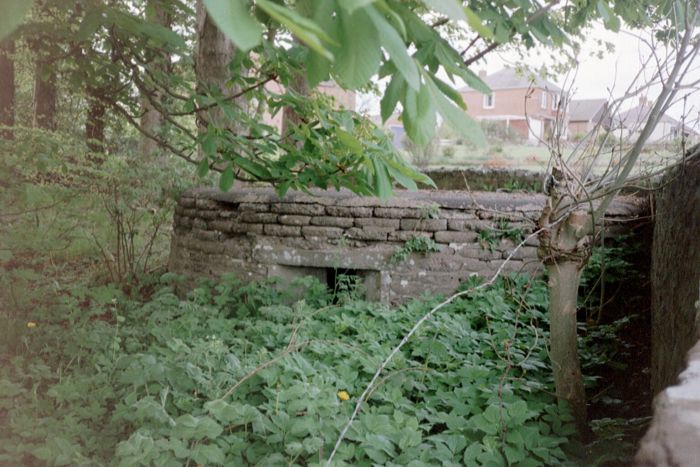 The 'Cumberland' pattern pill-box (described on one drawing as a 'firepost') was designed by the Cumberland County Council's Surveyor, who took receipt of plans for the type F/W 22 pill-box from the Carlisle Garrison Engineer. Bearing little resemblance to a type F/W 22, the 'Cumberland' type was of concrete-filled sandbag construction, with a support / anti-ricochet pillar inside. It fell into one of two types depending on whether three or four loop-holes were employed. Each pill-box had a smaller rifle loop-hole by the entrance.
The pill-box was constructed in a circular 'snail-like' fashion with the entrance formed between the outer wall wound back on itself. The M/G loopholes were made from zinc-coated steel to a local design. Gunners could be positioned sitting or standing, depending on a further variation. In 1941 a Browning-Gun emplacement was designed along similar lines, but with extensions behind the loopholes.
BELOW: Inside the pill-box. The RH photograph shows the zinc-coated loophole surround. Careful inspection reveals the sacking intact on the concrete bags used in construction. It looks like this pill-box was designed for the 'sitting' position (compared with the 'standing' variety at Grune Point), as there is no great depth between the firing positions and the centre pillar.
---
Home | Contents | Workington | Links | E-Mail
---