HUTTON-IN-THE-FOREST: SATELLITE LANDING GROUND.
Hutton In The Forest was SLG No:8, situated adjacent to the sylvan grounds of the stately home of William Vane - later Lord Inglewood - who inherited the house in 1931. The first aeroplane to land here was an Avro Anson, in June 1941. Hutton was parented by No:22 Maintenance Unit, some 24 miles to the north-west, at Silloth. Other aeroplanes to reside here were Bristol Blenheims, Bothas, Venturas, and Mustangs. Some of the first Hawker Hurricanes were also stored here.
The SLG was guarded initially by the local Home-Guard, but duties were given over to a platoon of the Border regiment in November 1941. The SLG closed in 1945, but the land was used by the Admiralty to store munitions, along with a location in the west of Cumberland, at Camerton colliery until 1946.
All that remains of the SLG today is a small firing butt used for harmonising machine-guns on parked aircraft, and a small building in the woods (not shown). There is the remains of a small store nearby, and a "Robin" hangar once stood there, but was removed some years ago. It is the firing butt which is shown here.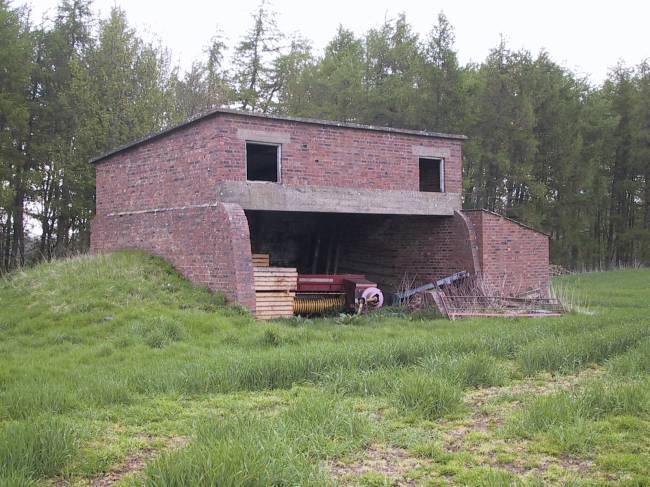 Close inspection of the firing butt shows that the entrance - now opened up to allow the storage of agricultural implements - once was revetted with the bottom of the opening about 1 yard above ground level. There is a small section still built up to the RHS of the entrance, and an old gate is lying noncholantly on a brick buttress.
The clickable images above show the small office at the side, and details of the roof within. The butt was filled with sand, and the blast would be dispelled through the apertures in the roof, over which concrete slabs were originally positioned on raised corners. The RH image is a general view, and the pile of junk in front of the butt is positioned on a concrete apron where the aeroplanes stood when firing. This once furrowed and gently undulating ground was levelled - at one time about 100 men were employed in doing so - with thousands of tons of rubble from Flusco and Blencowe limestone quarries nearby. Weldmesh was laid down, and the whole lot grassed over to give a flat airstrip.
Interestingly, the house itself was used in the war effort. A RAF contingency arrived in 1939, but left soon after as they were too far removed from Carlisle. The Army soon followed, in the guise of a tank company overspill stationed at Lowther Castle.
---
Home | Contents | Workington | Links | E-Mail
---