LONGCROFT WIRELESS HUTS
(PART OF RNAS ANTHORN)
The remote village of Anthorn, sited on a blunt peninsula 13 miles west of Carlisle, was once home to a busy, thriving Naval air-station. Originally a WWI landing-strip in the vicinity of the now-demolished Solway House, the site was reinstated by the RAF at the start of WWII as an Emergency Landing Ground for RAF Silloth.
The Royal Navy bagged the site in December 1942, building RNAS Anthorn, eventually being commissioned in September 1944, and given the title 'HMS Nuthatch' (RNAS Air-Stations tended to be christened ornothologically: Inskip was 'HMS Nightjar'; Crimond was 'HMS Merganser'; Bootle Transfer Station - near Millom - was 'HMS Macaw', etc...). RNAS Anthorn operated well past WWII as No:1 ARDU (Aircraft Receipt and Dispatch Unit), and the last 'official' aircraft left the runway in November 1957. The base was put into 'mothballs', finally closing down in March 1958.
There remains an extremely small selection of buildings around the site today, including several static water tanks, some firing butts around the perimeter, and the wireless station featured on this page, which is located at the hamlet of Longcroft, 2 miles east of 'HMS Nuthatch'. It must be stressed at this point that the former site of 'HMS Nuthatch' (RNAS Anthorn) is not open to the public!
The site of the former RNAS Anthorn is now a radio station, and the village itself is largely formed from the Admiralty houses which were constructed in 1952. The wireless hut featured on this page is now used as an agricultural byre.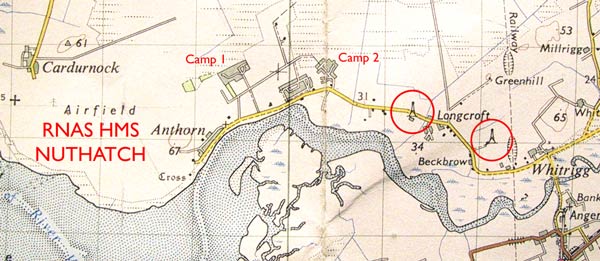 ABOVE: A contemporary map of the area, showing the relative positions of the wireless buildings (circled) to the air-station. Camps 1 and 2, incidentally, were where the matelots and WRENS were billeted: Matelots in Camp 1; WRENS in Camp 2.
BELOW: One of the wireless huts; the other being identical but in slightly worse condition, having being fitted with a tin roof. Only one building is shown on this page, represented by the leftward circle on the map (above). It is - as yet - not known the exact role played by these relatively distant wireless buildings, but it is known that they were visited daily by RN personnel from the airfield. The VHF homing-beacon was located behind the Admiralty houses between the two camps, about four fields back, and there was another wireless installation within the confines of the airfield.
There are still the remains of electrical lighting conduits and fittings within. Building construction is typical MOWP pattern (Ministry Of War Production), but constructed of red tiled bricks, rather than the conventional method of stretcher-bonded regular bricks. The asbestos roof and end-vents are the same as on the standard MOWP hut. Most of the windows have been bricked in. The angle-iron tower support bases are still visible, and it is possible to see where the wooden tower was felled.
The four angle-iron tower legs are shown in the RH photograph.
---
Home | Contents | Workington | Links | E-Mail
---