RNAS ANTHORN (HMS NUTHATCH)
TEST-FIRING BUTTS AND STATIC WATER TANK
The remote village of Anthorn, sited on a blunt peninsula 13 miles west of Carlisle, was once home to a busy, thriving Naval air-station. Originally a WWI landing-strip in the vicinity of the now-demolished Solway House, the site was reinstated by the RAF at the start of WWII as an Emergency Landing Ground for RAF Silloth.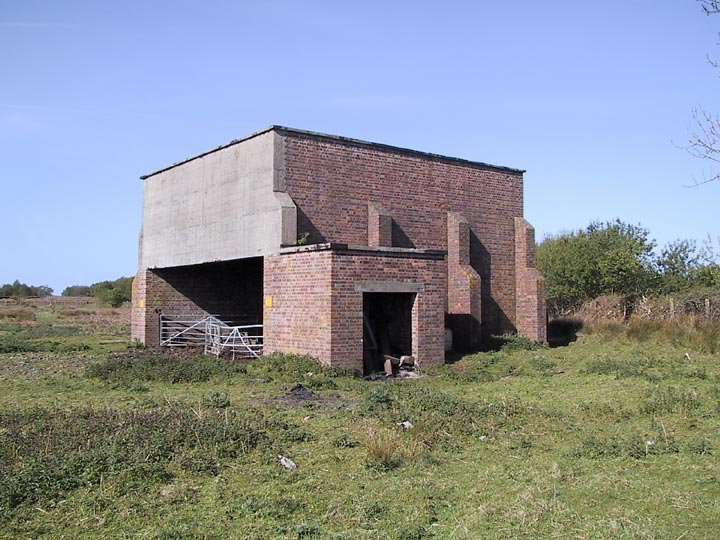 The Royal Navy bagged the site in December 1942, building RNAS Anthorn, eventually being commissioned in September 1944 and given the title 'HMS Nuthatch' (RNAS Air-Stations tended to be christened ornothologically: Inskip was 'HMS Nightjar'; Crimond was 'HMS Merganser'; Bootle Transfer Station - near Millom - was 'HMS Macaw', etc...). RNAS Anthorn operated well past WWII as No:1 ARDU (Aircraft Receipt and Dispatch Unit) and the last 'official' aircraft left the runway in November 1957. The base was put into 'mothballs', finally closing down in March 1958.
This page shows two of the five test-firing butts, the others being identical in every respect except location, but all around the perimeter of the site. In front of the butts stood a small hangar, perhaps one of the 'Fromson' type. Aircraft would harmonise their machine-guns by blasting into a bank of sand at the rear of the butts. The construction of the butts - sturdily built from Whitehaven bricks - is broadly similar to the butt at Hutton-in-the-Forest Satellite Landing Ground No:8, with a small 'office' at the side and remains of brick revetments at the front. The Anthorn butts are architecturally similar to a gun-butt found at another contemporary Royal Naval Air Station, HMS Nightjar (RNAS Inskip, Lancashire), except that here, the middle buttresses are a constant-width all the way up to the roof, with only the front and rear buttresses being tapered.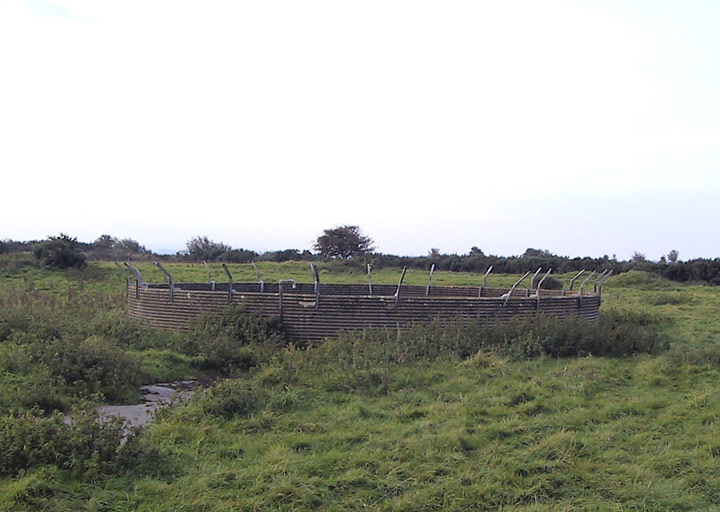 The butts are not the only remains around RNAS Anthorn; there are several static water supply tanks scattered about the place. The hangar bases remain, as do the remnants of the M/T department buildings and a small(ish) building - not a hangar - along the perimeter road, purpose unknown.
The site of the former RNAS Anthorn is now a radio station and the village itself is largely formed from the Admiralty houses which were constructed in 1952.
---
Home | Contents | Workington | Links | E-Mail
---