STAINMORE PILL-BOX
Type F/W-24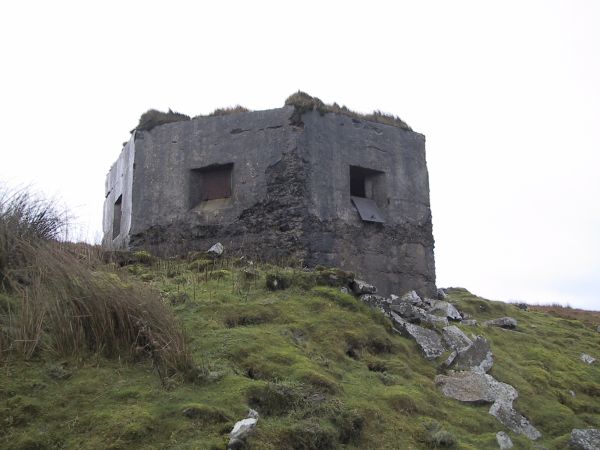 Entirely at one with its surroundings, this - arguably the county's most bleakly located pill-box - sits high upon Bowes Moor, where the A66 crosses the Pennine chain. At around 1500 ft. above sea-level, it gazes down over what is regularly the first major road in the area to get cut off in the snowy winter months. This primary route into Westmorland from the north-east has been recognised as important since Roman times, and links the Roman military sites at York and Brougham, just south of Penrith.
ABOVE:
Looking east towards County Durham.
BELOW:
Embrasure from the outside.
ABOVE:
Looking west through Westmorland, towards Brough.
BELOW:
Embrasure from the inside. All steel shutters still in place.
This pill-box is similar to the one at Kirkby Stephen, and is identical in most respects; I would go so far as to say they were both erected by the same builder. The major difference is that the embrasures have a steeper slope on the lower edge, to enable downward rifle-fire from the elevated position of this pill-box.
There was a pill-box at Appleby, also on the A66, but it was demolished some years ago when the A66 was dualled and widened at that point.
The routes of the A66 and A685 were - and still are - the major thoroughfares across this relatively inhospitable landscape between Barnard Castle and the east, and Kendal and Penrith in the west. The area around Brough, and the point where the route splits were defended thus.
| | |
| --- | --- |
| | |
| Pill-box from the rear. Door is missing, but steel shutters are intact. | General view inside. Quite damp, and floor muddy. Good animal shelter! |
In common with the other pill-boxes in this area, there is no anti-ricochet pillar inside. It is fairly obvious from the photographs above that this pill-box was cast in several pourings; there is a horizontal split showing at loophole-level, and the roof-joint is fairly evident. No doubt the weather takes its toll, accounting for the crumbling concrete on the front side. I wonder for how long these structures were intended to last?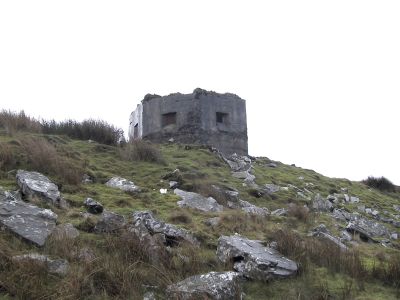 ---
Home | Contents | Workington | Links | E-Mail
---