WATH HEAD SATELLITE LANDING GROUND.
In 1940 Sir Archibald Sinclair, Secretary of State for Air wrote: "There are many large private estates and huge parklands which, if the trees were taken down, would be suitable as landing grounds, if not aerodromes. We are out to win this war and should not be put off by a desire to maintain intact the stately homes of England or the future of horse racing and horse breeding."
Four Satellite Landing Grounds were constructed in Cumberland; top-secret storage areas for replacement aircraft to top-up the operational bases. They were at Hutton-In-The-Forest (SLG No: 8), Hornby Hall (SLG No: 9), Wath Head (SLG No: 10), and Brayton Park (SLG No: 39).
BELOW:
The Watch Office and Guardhouse at Wath Head.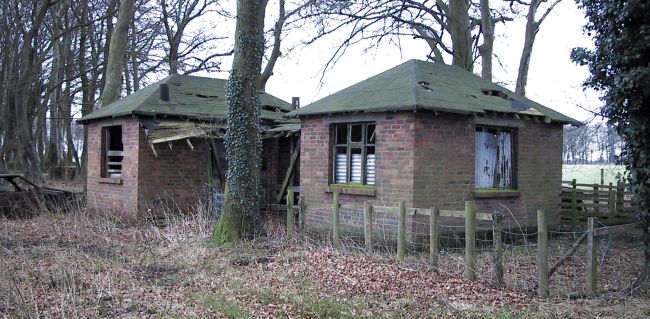 Other pictures are available by clicking on the minature images below.
The inside of the Watch-Office still bears a trace of RAF blue paint around the lower wall section. In order to maintain the element of secrecy, the Watch-Office, Guard-house and latrines were disguised to look outwardly like a small bungalow. Hangars of the "Robin&quot variety were elaborately painted to look like houses, with mock chimneys, etc. There are no hangars at Wath Head anymore, however.
There are several other small buildings still extant at Wath Head, one of them being shown in the photo above, which stands adjacent to a small ramp, purpose as yet unknown. The farmer who owns the land remembers, as a boy, playing on huge earth embankments constructed to muffle the sound of the aircraft's exhausts.
Wath Head was constructed in 1941 to store aircraft for No12 M.U at Kirkbride, 5½ miles north-west of here. In January 1944 control of this SLG was transferred to No: 18 O.T.U at Dumfries. Wath Head closed in September 1945. Aircraft types which passed through here included Bothas, Halifaxes and Wellingtons.
---
Home | Contents | Workington | Links | E-Mail
---