WINSCALES RIFLE RANGE, Nr WORKINGTON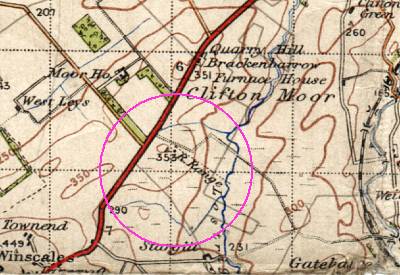 This rifle-range has been around - I suspect - since before WWI, being clearly shown on this One-Inch-To-The-Mile OS map of 1921. It was probably built at the same time as the Edkin Street drill-hall in Workington. My Father remembers playing on it as a boy (which would have been around 1936), collecting spent bullet casings by the score!
The layout of the original rifle-range as shown on the map runs from the north-west to the south-east. According to Keith Atkinson - who visited the range as an Army Cadet around 1970 (and later as a TA Soldier), The range firing-butt shown on this page was a 25-yard range. There used to be large wooden target-shed building south-west from here, and to the west of this was a mini-assault-course. The original range firing point faced towards Branthwaite down into the valley (as shown on the map above). Keith visited the site about ten years ago (1994), and the Butts - including some target frames and a brick target shed - were still standing.
Still extant and in good condition, the 25-yard range firing-butt can be glimpsed in places from the busy A595 Lillyhall to Chapel Brow trunk road, miraculously untouched by the blight of nearby opencast mining operations. The range was used by the 5th Battalion (Cumb) Home-Guard, and further ranges were also constructed around the town (Oldside, north of the docks being one of them) when it was found that the Winscales range could not cater for the requirements of the whole Battalion.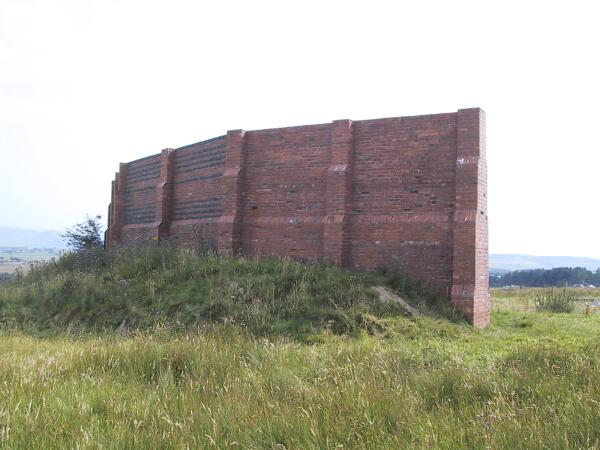 The centre section of the wall is constructed from a darker (harder?) type of brick, and there is a sturdy wooden structure - possibly used for the attachment of targets - covering an amount of sand and mud, long since dried up. What appears to be a target pit lies in front of the wall by several metres.
The LH picture below shows a small brick-built cube structure about 1 yard high, wide and deep. It has been suggested that this little brick box was for dumping 'misfires' into, for safe disposal and collection after shooting.
The lower RH picture is looking up the range, showing a sunken area, possibly arranged as a target pit. It might also be the footings for the wooden hut described earlier.
---
Home | Contents | Workington | Links | E-Mail
---