THE REAL 'DAD'S ARMY'
How Workington Was Defended During WWII.
In the four days following Mr Anthony Eden's call for volunteers to form a Citizen army on 14th May 1940, over One Thousand Workington men had applied to join it. The 'L.D.V.', or Local Defence Volunteers, were formed into a group - 'E' Group - organised by the local territorial association, covering the Workington, Cockermouth and Maryport area.
At a meeting held in the Commercial Hotel on 17th May that year, two Workington companies were formed: One from the Workington Iron and Steel Company and one from the rest of the town. Drilling took place forthwith in the drill-hall on Edkin Street (now under St. John's Precinct), and the men took up arms consisting of dummy rifles (for the steel-works division), assorted firearms collected by the police, and molotov cocktails.
Uniforms - of sorts - were issued in July 1940, but it was a while before any of it arrived that happened to fit!
American calibre .300 rifles started to arrive about the same time, eventually being supplemented by ammunition to fire from them..... Supplies gradually trickled in; Tommy-guns, Browning automatic rifles, Browning heavy machine-guns, Type 36 hand-grenades and plentiful, better-fitting uniforms.
The L.D.V, then, consisted of about 1200 volunteers grouped thus: Workington Iron and Steel Works; Workington town; Cockermouth, and Maryport. 'E' - group was divided into two battalions in July 1940; the 4th Battalion based at Cockermouth and the 5th Battalion based at Workington. The L.D.V. was retitled the "Home-Guard at this time. Local battalions were then deemed to be affiliated to their county regiments and allowed to wear the county regiment insignia. The 5th battalion was thus affiliated to the Border Regiment. In 1941 the Home-Guard began to be organised in the same manner as the regular army.
The Workington battalion was now organised into six companies, a coast-battery detachment and Signals and Intelligence sections :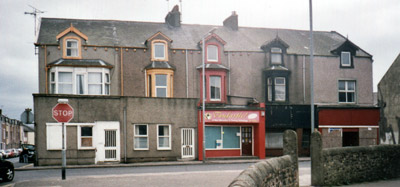 Battalion Headquarters were initially located in Workington's Drill-Hall, then moved to No:5, Senhouse Terrace on Station Road when the 8th Battalion of the Border Regiment took over the Drill-Hall. BHQ was moved to more suitable premises in March 1942, taking up residence in the Wesleyan School behind the Methodist Church in South William St and staying there until stand-down in 1944. 'C'-Company continued to use No:5 Senhouse Terrace as a company office and Quartermaster's Stores.
ABOVE LEFT: The unassuming corner property where the 5th Battalion HG planned to defend Workington from the ravages of Nazism - after being ignominiously turned out of the town's Drill-Hall in August 1940! - It is the boarded-up end shop to the RHS of the block. The extreme LH building was where George Goss, HG Battery Sergeant Major of the 406th Coast-Battery, 561st Coast-Regiment R.A. had his grocer's shop. This particular block of shops was pulled down in August 2005..
'B' - Company was split into two, with the Harrington division becoming known as 'F' - Company. Rifle-ranges were constructed at Oldside shore and elsewhere, to ease the strain on the Winscales rifle-range. A grenade-range was also constructed on Oldside shore.
Equipment now began to flow in. Spigot-mortars, Sten-guns, Bayonets, various sorts of grenades, Smith-guns, cloth battledress, gas-masks, gas-capes and tin-hats. Ultimately, the battalion was kitted out with radio-telephones, two vans, two cars and several motor-cycles. Training and function developed from 'Para-shots' scouring the countryside for enemy parachutists and armed ad-hoc, to a highly-trained body of men putting up road-blocks, and eventually strong nodal points guarding lines of communication and important installations.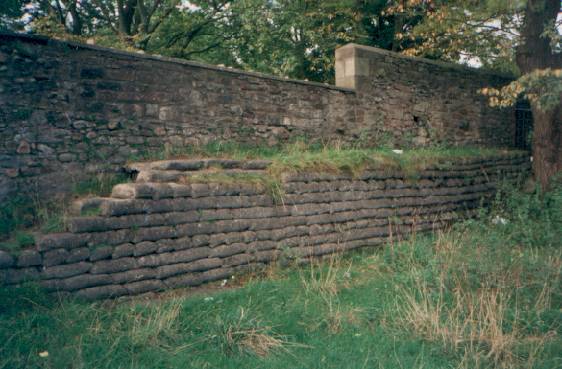 Pictured right is the Home-Guard firing platform, constructed from concrete- filled sand-bags. Situated in the Mill-Field, the loop-holes in the stone wall faced Workington Bridge. This was - and still is - one of the main routes into Workington.
In October 1942, a Local Defence Committee was set up in Workington to Bring together the Army, Navy, Home-Guard, Police and Civil Defence into regular consultation, thus co-ordinating all defence practicalities for the area.
It was decided by a higher committee that the town of Workington be held as a 'Nodal-Point' and be surrounded by a series of defended localities. A platoon would be in charge of each locality and the Marsh would be designated a 'Keep' where all platoons (Except the coastal gunners) would withdraw to to fight - if necessary - to the last....
There were three areas of high importance which were to be strongly defended. The Moss-Bay Iron and Steelworks, which produced munitions and ball-bearings; The High-Duty Alloys factory at Distington - a 'Shadow factory' - producing aircraft components; and the Magnesium works on Harrington shore. A similar scheme had been set up to defend the dock. Two mobile Home-Guard (henceforth referred to as HG) columns were specially trained to re-inforce any threatened installation or industrial area. 'B'-mobile column, based in Workington (4 battle platoons) and 'D'-mobile column, based at Clifton (3 battle platoons).
As outlined on a map of the town on the 3rd August 1941 by A. B. Cooper, A.M.I.C.S., Borough Engineer and Surveyor. Despite the details found as being on record, I have no evidence that any of these structures (other than the pill-box at Castle Gardens) were actually constructed!
The town of Workington was to be blocked off to the enemy at the following strategic points, by a combination of pill-boxes and road blocks manned by the Workington Home-Guard. The numbers used in the description reflect the numbers as marked on the original map. Because of the changes in road layout and building works post-1941, I have added, where necessary, contemporary means of identifying the location in brackets. Each road-block had a covering pill-box in the immediate vicinity
The table below outlines weapons distributed to the Workington Home- Guard battalions:
| | | | | | | | | |
| --- | --- | --- | --- | --- | --- | --- | --- | --- |
| | TOTAL | A | B | C | D | E | F | HQ. |
| 2-Pdr. Anti-Tank Guns | 4 | | 1 | | 1 | 2 | | |
| Smith Guns | 5 | | 2 | 1 | 2 | | | |
| Spigot Mortars | 22 | 4 | 6 | 4 | | 6 | 2 | |
| Browning Medium Machine-Guns | 19 | 4 | 4 | 2 | 2 | 7 | | |
| Browning Automatic Rifles | 48 | 12 | 9 | 6 | 6 | 9 | 6 | |
| Discharger Cup Rifles | 105 | 24 | 24 | 18 | 9 | 15 | 15 | |
| Rifles .300 | 832 | 161 | 196 | 125 | 105 | 118 | 93 | 34 |
| Rifles .22 | 16 | 3 | 3 | 2 | 3 | 3 | 2 | |
| Boys Anti-Tank Rifles | 19 | 3 | 6 | 3 | 4 | 3 | | |
| Sten Guns | 575 | 109 | 124 | 97 | 61 | 91 | 70 | 23 |
| Lewis Guns | 3 | | | 1 | 1 | | | 1 |
| Northover Projectors | 11 | 2 | 2 | 2 | 2 | | 3 | |
| Marlin Anti-Aircraft Machine-Guns | 8 | | | | | 8 | | |
| 20mm Hispano A.A Machine-Guns | 27 | 18 | | | | 9 | | |
Interestingly, although HG defence plans were meticulously laid out, few actual defence works were erected, apart from on the works of the three companies mentioned above and the dock. My Father (ex-'B'-Company) remembers a sort of barricade device in Murray Road, near the railway bridge. It consisted of oil-drum type blocks in a 'Vee' formation. He also remembers the road-block mentioned in my Inland anti-invasion defences list between Broughton cross and Bridgefoot, on the A597; a 'chicane' device built to slow traffic right down.
HG parades became compulsory in 1941 and men who had volunteered previously were given until February 1942 to accept the conditions or resign from the HG. Very few men resigned and more, in fact, were drafted into the HG by the Ministry of Labour.
Mobilisation of the Home-Guard in an emergency was effected by means of a 'Cascade' system; Certain Officers and men called upon others, who - in turn - called others out. This system was preferred over electrical alarms and air-raid sirens; a means of rapid mobilisation which had previously been considered and rejected. Men employed by the companies described above were mobilised by a works local alarm system.
Change of Role:
In 1944 the threat of invasion had receeded. The threat of air-attack, however, remained as strong as ever. An instruction was received to the effect that all HG in Workington were to actively assist the Civil Defence Service in the event of an air-attack. Should an air-attack occur, all HG currently dispersed were to report to their Company HQ, to be called upon to assist the Civil Defence services. Lectures in Civil Defence were given to all ranks of HG.
In early 1944, it was decided to convert 'A' (Workington Iron and Steel Company) and 'E' (High-Duty-Alloys) companies into light Anti-Aircraft units, armed with 20mm AA Hispano guns. They were still part of the HG battalion, but received training from the 14th AA area 'M' Regiment Royal Artillery at Liverpool. Both companies were placed under tactical command of the 14th (AA) RA.
Most of the many excercises undertaken were in testing the defences of the High-Duty Alloy plant at Distington; this being regarded by higher military authority as the most important installation in the area (gas for which was, however, provided by the Workington Iron and Steel Company!).
In 1943, numerous Women Auxiliaries enrolled with the battalion. Uniforms for Women were difficult to obtain and so they were issued with HG badges. They were largely employed on administrative duties and answering telephones on tactical excercises. Many proved to be crack .22 rifle shots and were trained as First-Aiders, Signallers and Drivers. A company of Army Cadets was also attached to the battalion, consisting of three platoons:
A platoon attached to Workington Town Boys' Club;
A platoon attached to the Roman Catholic Boys' Club; and -
A Town platoon.
Air-Raid Precautions.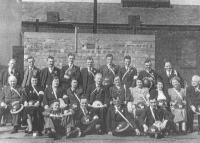 In addition to the Home-Guard, the town was patrolled at night by Air-Raid Wardens, seeking out those dodgy black-out curtains and urging errant householders to 'Put that bl**dy light out!'.
Shown here is a picture of Workington's 'Marsh and Quay' Air-Raid Precautions wardens, posing for a group photo outside their warden's post. By clicking on the image, a larger (88kb) image will appear with all their names underneath (all except three, whose names I haven't found out yet).
There was a similar Wardens' post to this at Moss Bay, behind the Moss Bay Hotel (now demolished).
Like every other town, city and conurbation during WWII, Workington had a supply of Static Water Tanks as an emergency water supply - or EWS - which were used for fighting fires. Tanks in Workington were located at the following places: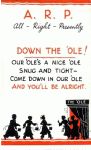 Behind Lawson Street on the Quay
Hagg Hill
Gordon Street
Queen Street - next to the 'Tin Mission'.
St. John's Church
St. Michael's Road
Salterbeck Road (alongside AFS Fire-Station)
A Civil-Defence exercise in 1942 saw tranches of hoses stretched all the way along Washington Street, extending further along Bridge Street and into the mill stream by the soapery from where the water was extracted. During the course of the war, pipes from the Gordon Street EWS ran down station road, providing a suitable hazard for tripping up over during the blackout, despite occasional white markings!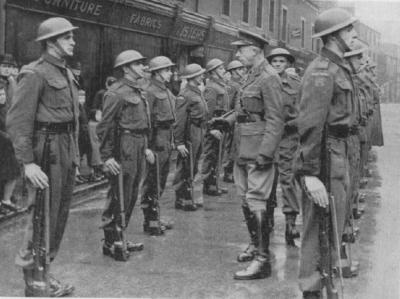 ABOVE: Stand-down parade, Finkle St. Workington. Guard of Honour formed by 'A' -Company and inspected by Col. T. Dix-Perkin, Sub-District Commander.
In September 1944, the Secretary of State for War announced that all compusory HG parades were to cease immediately. This lowered morale somewhat within the ranks and a planned battalion demonstration in Hall Park was cancelled, as it was considered - following the Secretary of State's announcement - that the men would fail to turn out. Battalion HQ was transferred to the Drill-Hall in Edkin Street following the announcement and all weaponry and equipment was called in.
Certificates - and in some instances medals - were presented to members of the HG as a mark of appreciation for services rendered and the unconditional willingness to lay down their lives - if necessary - for King and Country. Further honours and awards, however, were not so forthcoming, as this letter to Pte. W. Coyle, 'A' Company, Workington Battalion shows. In instances such as this, only a local certificate was presented.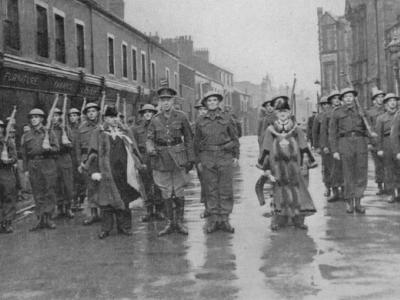 ABOVE: Stand-down parade, Finkle St. Workington. Col. T. Dix-Perkin with the Mayors of Workington (Councillor Lancaster) and Whitehaven (Councillor Harrison).
This 5th Workington HG battalion, which by the middle of 1944 had a strength of 104 Officers and 1679 Other Ranks, was stood down on the 3rd December 1944 with a 450 - strong parade down Oxford Street, alongside the 4th (Cockermouth) and 6th (Whitehaven) HG battalions.
---
Home | Contents | Workington | Links | E-Mail | Home-Guard II
---