Rather than being the Workington Iron and Steel Company's "Private Army ", It was decided that this HG unit should be part of the bigger picture, and liaise with other local units. Weapons - or, rather, what looked like weapons - were manufactured from wood in the waggon shop and a drill and practice regime was set up by those who had enrolled. These four-hundred men were organised into four platoons of 100 men each and were led from the very beginning by the Works Manager, Mr (later Major) W. L. James
The HQ was set up in the old works ambulance station and consisted of an office, an armoury and a store-room. This HQ was moved to a newly-constructed oil-store when the arrival of new weaponry proved too much for the ambulance station HQ! These premises too were ditched shortly afterwards in favour of a purpose-built HQ, constructed by the works at a cost of about £3,500.
A signalling section consisting of 20 men was formed. These men were later transferred to Battalion HQ as battalion signallers. A new works signalling section was then founded. One of the men, Ned Hunter (later Corporal Hunter) started and operated a pigeon-post dispatch service.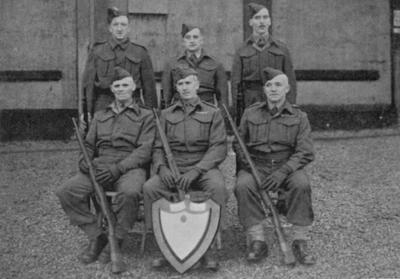 ABOVE: "A"-Company shooting team:. L to R (standing):
Pte. R. Park; Lt. W. Edgar; Lt. R. W. Harrison.
SEATED: Capt. W. G. Elliot; Major L. R. G. Jenkins, M.C; Capt. J. Moffatt.
"A"-Company mounted a night-watch consisting of 30 men, but this was discontinued after 1943. Duties included training in guerilla tactics. (The duties of these men appear extraordinarily similar to those of the "Auxiliaries", who evolved from - and used the uniform and cover of - the HG. This underground body developed into a highly-secret resistance movement whose activities are only really coming to light. As far as I can ascertain, there is no official record of any Auxiliary operations in West-Cumberland, though.)
Officers and men who worked in the same department were put in the same platoon, thus engendering a good team spirit. The company was organised into four "Blocks": Blast-Furnace men; Dock workers; Day-workers and Steel-workers. Many officers and men attended training courses run by the regular army.
Once the battalion had been issued with weapons (see table on other HG page), it settled down to a tactical plan of blocking all the roads leading to the works and the docks. A series of strong-points were held and are tabulated on my Inland anti-invasion defences page. Anecdotal evidence points to strong-points under the railway bridge adjacent to the reservoir at Moss-Bay and a spigot- mortar on the Burmah road at the "Combine" end.
As the threat of invasion receded, priorities changed and in January 1944 the company re-organised as Anti-Aircraft gunners. In March 1944 the WISCO HG platoons were split into two groups armed with 20mm Hispano AA guns. These guns were in groups of twos or threes and dotted around the works. Practice consisted of aircraft flying over the works once a week for eye-shooting practice. The guns were dismantled in September, 1944.
In 1942 a Women's Auxiliary Unit (Not to be confused with the " Auxiliaries" described earlier!) was set up. Many Women on the works joined, becoming proficient in First-Aid, Telephony, Signalling, Cooking and Clerical Work. This was, strictly speaking, an unofficial unit, but was absorbed into the Home-Guard Women's Auxiliary Unit in 1943.
Private W. Coyle's HG Certificate is typical of those received by Workington's Home-Guard.
---
The embryonic "B"-Company started out in the Edkin Street drill-hall, when about 400 volunteers turned up for the first parade on 24th May 1940. Two volunteers were minus a leg each! - veterans of WWI. The headquarters of this company was established in the Officers' mess of the 204th Artillery Regiment within the drill-hall.
Parades henceforth took place in Hall Park (weather good) or the drill-hall (weather not good). Eight patrols of four men each were sent out nightly, the leader of each patrol being an ex-serviceman. He was armed with a .303 rifle and five rounds of ammunition. The entire weaponry of "B"-Company consisted - at this time - of 36 shotguns, rifles and assorted muskets. The arrival later of a consignment of .300 American rifles all wrapped in grease and jelly caused considerable excitement!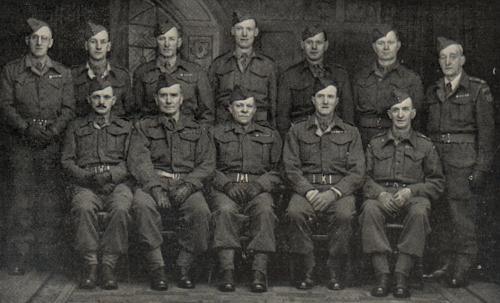 ABOVE: Group of "B"-Company Officers. Back row, L to R:
Lt. H. Smith; 2/Lt. J. E. Little; Lt. H. Harper; Lt. N. Hambler; Lt. J. Doggart; Lt. W. L. Laurie; Lt. G. Heyworth.
Seated, L to R:
Lt. L. L. Cunningham; Lt. R. Stevenson; Major C. A. Donnithorne, DCM; Capt. S. Ogilvie; Lt. J. S. Ferguson.
The luxurious and appropriate HQ located in the drill-hall did not last, however. In July 1940, the drill-hall was taken over by the 8th battalion of the Border Regiment and the HG were moved to more modest premises on Station Road; 5 Senhouse Terrace. The Hippodrome Ballroom was taken over as well. The "Slipped Disc" for younger readers. An interesting, but rather sad incident occured in the Hippodrome, though I am unable to detrmine who was responsible at the time: A woman watching a film in the cinema upstairs (the "Hippodrome" had no balcony) was shot in the leg by a stray bullet coming up through the floor from the rifle-range below in the ballroom.
In 1943 a mobile unit was formed within "B"-Company, which increased the number of men required. Conscripts and men supplied by the Ministry of Labour were provided, who were compulsorarily enrolled. The company, which had ended up with a strength of 18 Officers and 358 other ranks met an abrupt end when stood down in 1944, as parades were then reduced to voluntary status only.
---
"C"-Company was effectively the Railway company's branch of the HG. As soon as the government appealed for volunteers, all railwaymen were invited to a meeting and unanimously agreed to form a Company of L.D.V. Nearly 200 men enrolled, though parades - which were held either in Hall Park, the drill-hall, or the Workington Main Station goods-yard - fell short due to working patterns. With the introduction of the ubiquitous American .300 rifle, the railway control office became an armoury, a feature un-necessary when broom-handles were being used to guard railway premises....
The railway HG Company HQ was eventually moved to more suitable premises at Workington Central station, in the old Cleator and Workington railway company store-houses. Initially, "C"-Company consisted of not only railwaymen, but Cumberland Motor-Services, GPO and Electricity board employees. The company eventually attained a strength of 11 Officers, and 218 Other ranks.
The GPO staff later left to form their own company.
It was decided by higher railway authority that vulnerable parts of the railway infrastructure should be guarded: Workington Bridge station pump-house (which provided water to the goods yard from the River Derwent); Calva junction signal-box (controlling the Buckhill Colliery - or R.N.A.D - line); and "Navvies" Bridge, carrying the Cleator and Workington railway line over the River Derwent. A perilous incident occurred in 1944, when a munitions train consisting of a loco and twenty wagons (described in the running schedule as a 'mineral train' in a bid to fool the enemy) ran away on the Buckhill Colliery (Broughton Moor RNAD) line, on the incline down from Seaton. The signalman at Calva Junction - who was alerted by the continuous whistling of the runaway - had the presence of mind to throw the oncoming train away from the buffer-stopped siding and onto the main line, where it ran towards Workington Central Station, eventually grinding to a halt on the unoccupied rails at "Navvies" Bridge. A huge and inevitable explosion, which would have destroyed half of Workington, was thus prevented.
Ironically, Harold Goodall, the driver on this loco was the same driver who was on the ill-fated train carrying land-mines which blew up in Bootle station on 24th March 1945, killing him in the process. His fireman, Norman Stubbs, was awarded the George Medal. A twist of fate indeed, for Harold should not have been there! - he had done a shift-swap with Herbert White of Workington, the scheduled driver.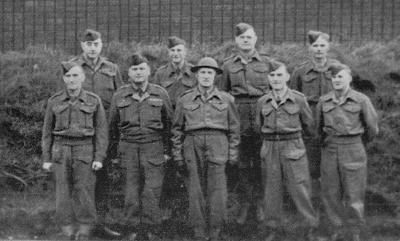 ABOVE: Group of "C"-Company Officers. Back row, L to R:
Capt. A. E. Church; 2/Lt. W. R. G. Carter; Lt. J. Houghton; Lt. T. Bell.
Front L to R:
Lt. T. Ousby; Lt. E. W. Usher, DCM, MM; Major M. S. Hodgson; 2/Lt. S. Caux; Lt. J. Ferguson.
On 27th October 1940, the first bombs fell on Workington, between the Merchant's Quay and the disused Oldside iron-works. The HG men on duty at the time - being railwaymen - fixed fog-detonators to the line to safeguard passing traffic. One of these HG men, Private H. G. Neill, later arrested a man found wandering on the line at Calva junction. He turned out to be a Jehova's Witness and was heavily fined for trespassing on the railway.
As mentioned in the first HG page, when the role of the HG changed to that of forming a series of "Defended Localities", the railway HG company were made responsible for areas confined by the following boundries:

To the north: The River Derwent from "Navvies" Bridge to the new bridge (next to Borough Park), along Fisher Street, Hagg Hill and Station Road.

To the south: Annie Pit Lane.

To the east: The Cleator and Workington railway line from Annie Pit Lane ( now Honister Drive next to the electricity sub-station) to "Navvies" bridge.

To the west: The Workington Iron and Steel Company to the railway viaduct at Workington Main station, along Berry Street and Havelock Terrace.

The area described above was split into four defended localities, each held by a platoon. A fifth (reserve) platoon was based in the Princess Hall, in Princess Street.
---
The management at the Allerdale Colliery, Clifton and St. Helen's colliery, Siddick had come to a similar conclusion to that of the management at the Workington Iron and Steel Works, the Railway and High-Duty Alloys; some sort of "Works Defence Unit" needed to be set up. This took the form of "D"-Company; workers at both mines who enrolled in the Local defence Volunteers. Headquarters were thus set up in a Foreman's office at St. Helen's and at Clifton Lodge, which later became "D"-Company headquarters. By the end of 1940 a further platoon was added to the three existing platoons and was drawn from the employees of the Thermal Syndicate Company at Northside. This factory used to produce wireless valve components. It was situated in the premises opposite what is now Dunmail Park. The Thermal Syndicate company transferred to "B"-Company in April 1943.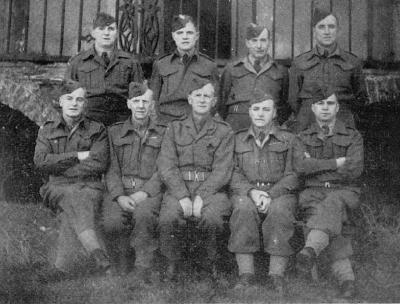 RIGHT: Group of "D"-Company Officers. Back row, L to R: Lt. F. Dempster; Lt. W. McKeating; Lt. E. Small; Lt. G. Kirkbride. Seated, L to R: Lt. Dixon; Capt. T. G. McKeating; Major J. G. Chicken; Capt. Irving; Lt. Crellin.
The terrain around Clifton and Siddick proved admirably suited to fieldcraft and such skills were held in high regard by "D"-Company. Training involved night-river crossing, and "attacks", suitably blacked-up, on Siddick by the Clifton men. Two platoons were even given semi-commando training. The formation of a mobile column in July 1943 enhanced this training, much of it given over to guard the High-Duty Alloys factory at Distington. Buses, motor-cycles and private cars made for an interesting unit, defended to its hilt by the ubiquitous "Smith" gun.
Stand-Down parade may have meant more to those Clifton men. The band leading the march down Oxford street that wet Sunday in 1944 was the battalion's own band; formed from the ranks of "D"-Company and known better in peacetime as the Great Clifton Prize Band.
---
"E"-Company first paraded at High-Duty Alloys (or V.P. 477 in military parlance) when the factory was under construction; a factory of vital importance to the war effort and one of the most important in the North of England. Huge iron presses arrived by rail to Workington, being transported to the works up High Street by two steam-traction engines! During the war it made aviation components and at the end of hostilities, surplus aircraft from Silloth aerodrome were brought here in sections to have their aluminium reclaimed.
This was such an important installation that a permanent night-guard was required - of platoon strength! Given that "E"- Company were solely employees of High- Duty Alloys (and were working typically 65 to 75 hours per week at the time), this seemed an impossible request. It was therefore decreed that all Workington HG battalions were to provide guards to make up the numbers. Whitehaven 6th Battalion also helped out by providing HG from Pica and Distington. This state of affairs persisted until shortly after "D"-Day.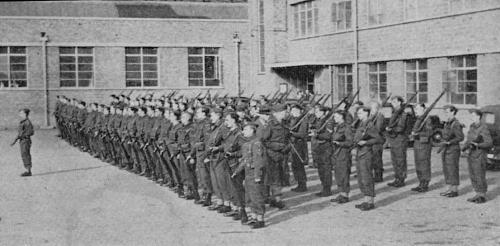 ABOVE: "E"-Company on parade outside High-Duty Alloys. The parade was inspected by Lt. Col. G. T. Weir and Mr D. H. Woodward (Gen. Manager, HDA). The occasion was the presentation of the Battalion Shield for the best turned-out Company on the " Salute the Soldier" parade at Workington, in 1944.
"E"-Company were quartered at Lilyhall farm, next door to the site. Relatively luxurious, it provided lecture rooms, an armoury, offices, a guard room, ablutions and equipment stores. A canteen with hot meals for off-duty HG was also provided. The usual excercises were undertaken and were assisted on occasions by the 18th I.T.C unit stationed at Greystoke Castle.
As with the Workington Iron and Steel Company, when HG priorities changed in January 1944, a works Anti-Aircraft unit was set up. This was formed from men of "E"-Company and designated "C" L.A.A troop. Guns were mounted in fours within the factory perimeter and assistance was given in training by officers from HQ A.A. Command, Liverpool. Training took place at Cark gunnery school.
As well as the setting up of an A.A unit within the works, a Bomb Disposal squad was set up as well! I have it on good authority that the houses provided by the company - the ones with the flat roofs behind the dairy - had a "hardened" room, which doubled as an air-raid shelter.
---
As mentioned in my first HG page, "B"-Company was split into two, with the other part being known as "F"-Company. This consisted of men from Harrington and Salterbeck and one of the platoons was raised from workers at the "Magnesite" plant on harrington Shore (now the marina).
Training was specifically patrol and harrassment tactics. Like the other HG batallions though, the role of the HG evolved into that of guarding "Defended Localities. The "Magnesite" plant, Victoria Square, Rose Hill, Archer Street and Harrington Parks Farm were all considered to fit this profile.
The formation of "F"-Company might explain the unusual siting of a pillbox on Copperas Hill. It gives a panoramic view of the whole of the coastal strip and the main railway line which divided the "Magnesite" plant from the rest of harrington.
---
The Headquarter Company consisted of specialists in Intelligence, Medical, Transport, Signal, Liaison and Pioneer disciplines. It also included a Royal Artillery detatchment.
The aims and objectives of this HQ Company were to maintain Battalion communications in an emergency and to collate - using Intelligence Section - all information of military value. Excercises were successful, including thwarting an attempt by Officer Cadets organised by Western Command to attack and destroy the electricity sub-station at Stainburn. This was part of an overall excersise to sabotage important installations in the Battalion area.
The "attackers" admitted not seeing the sentries posted, who were duly congratulated. The strength of the Headquarter Company ultimately amounted to 19 Officers and 105 Other Ranks, including five women. One of these ladies, Miss M. Gordon, was the first woman to become a member of the HG, joining the Transport Section when formed in 1941.
---
Signalling Section: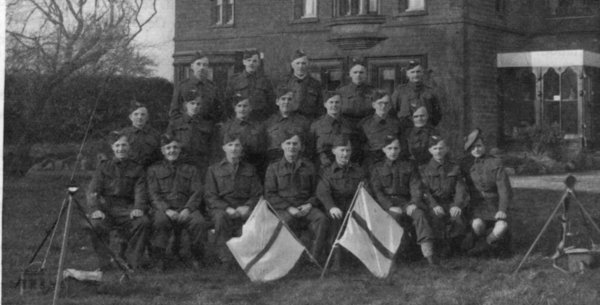 ABOVE: Group of Signalling Section. Back row, L to R:
Pte. A. McMullen; Pte. R. Fishwick; Pte. J. Edwards; Pte. J. Hunter; Cpl. W. Cockton.
Middle Row, L to R:
Pte. H. Boswell; Pte. T. H. Cowan; Pte.R. Simpson; Pte. S. Ray; Pte. R. McNarry; Pte. A. Byers; Pte. J. Watchorne.
Front Row, L to R:
Pte. B. Needham; Cpl. S. Price; Lt. J. Mounsey; Capt. F. Gregory; Lt. T. Fletcher; Sgt. A. Banks; L/Cpl. J. Bacon; T. Mitchell (Black Watch).
Signalling in the HG was no easy thing and was regarded as quite a challenge. Starting out in 1940 with a motley collection of flags and two old "D3" field - telephones (See image, right: note the morse signalling key as well as the speech handset), the Signalling section progressed throughout the war with better flags, signalling torches, aldis lamps, homing pigeons and - ultimately - a type C58 Wireless let (long-range).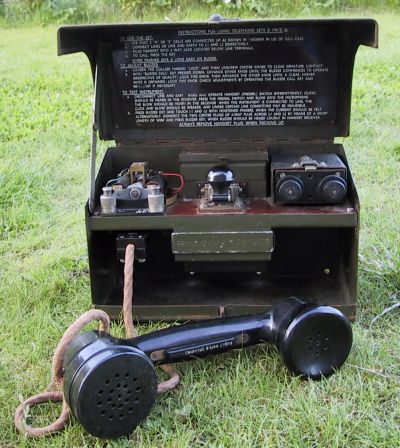 Shortly after receiving this high-tech piece of equipment, all compulsory HG parades were cancelled, with "stand-down" following shortly afterwards. Tuition in all things signalling was left to WWI signalling veterans. To complicate matters further, several changes over the course of hostilities took place in both the phonetic alphabet and recognised signal procedure.
By August 1940, all the Signalling Section had passed a test in semaphore communication. They were then attached to "B-"Company, with further Signals sections being formed in "A" and "C" Companies. HG signallers attended three parades per week, learning the intricacies of flag-waving, lamp-flashing and morse code. Motorcycle dispatch-riders and a pigeon section ensured satisfactory communication between flanking battalions and "A", "D" and "E" Companies.
It was discovered in 1942 that visual signalling communication using aldis lamps (Image, below:) was possible between Battalion HQ on Station Road and "E"-Company HQ at Lilyhall farm, Distington (a distance of approximately two and three-quarter miles). This breakthrough utilised four stations, only one of which was in open terrain. Training for signalling opportunities such as this was deemed tough work, though those HG members posted in remote farmhouses on hot days had access to cool milk and other refreshments!
More communication was available than those who sought to operate it and the burden was lifted by the Battalion Women Auxiliaries, who trained for and operated all telephones. In July 1942, forty-three short-range wireless sets were provided. These had their "cons", as well as the obvious "pro's"......! - A training excercise went drastically wrong when the "enemy" captured a wireless and began sending out misinformation, jamming up the proper channel. The defending force was then left without communication!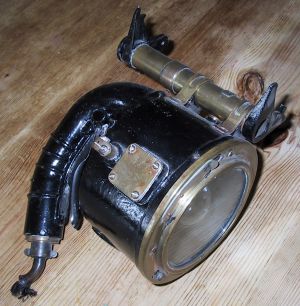 On the run-up to "D"-Day, not only had parade-disrupting periods of radio silence to be observed at short notice, but telephones had to be continually manned day-and-night and a whole new syllabus of signal training had to be learned. All signallers now had to pass a classification test and twenty out of twenty-five succeeded in doing so.
At stand-down, Battalion Signalling Section consisited of thirty-two Officers and Other Ranks, seven of which were dispatch riders attached from Battalion Transport section.
Intelligence Section:
In 1940, when Nazi invasion was iminent, a small intelligence section was added to the 5th Battalion HG. Its initial brief was to:

A) Report all incidents and breaches of security, both military and civilian.

B) Disrupt all petroleum and crude oil supplies to prevent enemy use.

All fuel containers, pumps and equipment were to be rendered inoperative by petrol disruption squads and 2nd. Lieut. W. Fletcher organised excercises whereby all hand, mechanical and electrical fuel pumps in the Flimby, Clifton, Harrington, Seaton and Workington areas were stripped of their vital parts. The disruption squads were largely volunteers from Battalion Transport Section.
Regular contact was established around spring 1941 between Intelligence section, the drill hall - based Border Regiment, the Police, the 406th Coast-Battery, the Royal Observer Corps (who had their Workington site on Hawk Hill, on the way to Seaton), the Civil Defence Corps and Intelligence groups from adjacent battalions. Meetings would be held either in Station Road HQ, or Whitehaven Police Station.
Intelligent "eyes and ears" were formed from farmers on outlying properties at High harrington, Winscales, Great Clifton, Seaton, Flimby, Stainburn and Ashfield Lane. Telephones and pigeons were used to convey information. In July 1942, a Women's Auxiliary Unit was formed to assist Battalion Intelligence Group.
Successful intelligence resulted in an actual police prosecution when, in October 1942, a consignment of goods was found which was labelled in such a manner as to pinpoint the name of the vessel, the port and the dock where the vessel was lying and the port of destination. Following this incident many such cases were reported nationwide, with no further action been taken regarding them. It was later learned that they were - in fact - decoys to confuse enemy agents residing in this country.
Intelligence personnel were successful in covert excercise activities, gaining admittance to St. helen's Colliery by bribing the guard with "poisoned" chocolate and posing as an electrician to gain access to the Coast Battery. On this occasion, the Battery Commander was "killed" with a No:36 grenade!
Anecdotal evidence suggests that this company was attached to a Lancashire regiment, as the GPO Headquarters for the area was based at Preston (1939), moving to Manchester a year later; such a move effectively putting all the telephone exchanges in the North-West under one command. Much of the telephone network was classified as secret, and by forming a unique battalion from GPO employees, sensitive parts of this vital telecommunications network would not have to be divulged to non-GPO Home-Guards.
From the BT Archive and 'Lightstraw': 'On the home front the Post Office had soon organised itself to meet the demands of the war. ARP services were set up in all departments, and a Home Guard Force of over 50,000 was raised to defend Post Office telegraph and telephone systems in the event of invasion. Other Post Office Defence Forces included medical staff, fire fighters and first aiders, all of whom were particularly called upon during the bombing raids of the early war years. During this time Post Office engineers battled to repair bomb damage to plant and cables, yet were still able to open the additional military channels of communication described above.'
The GPO also raised their own Territorial Army battalions and many Royal Signals Territorial Army units were/are manned by GPO/PO/BT staff.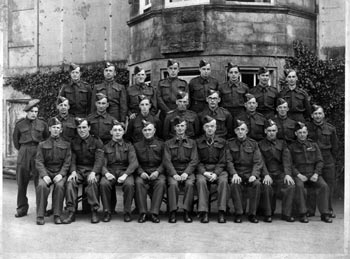 Clarence Postlethwaite was Workington's GPO night-telephonist, and lived in a flat above Workington's main Post-Office on the corner of Finkle Street and Murray Road from the 1920's until the early 1960's. Clarence joined the Home-Guard, and I am indebted to his son, also Clarence, for the photographs of his father shown here. There is a degree of mystery to these pictures, though this is dissolved somewhat by the explanation below regarding Lieutenant-Colonel Robert Alexander Weir:
Interestingly, Major Sarsfield-Hall's 'Record of the 5th (Cumberland) Battalion Home-Guard' lists every member of the 5th Battalion Workington Home-Guard, their rank, and the company to which they were attached. Clarence Postlethwaite's name does not appear on this list.
A further photograph of Clarence's father shows a group of five Home-Guards, only one of which is wearing a cap-badge. It looks like the badge of the Border Regiment.
Robert Weir - an ex-pat living in Australia - and his sister, Jean Slater told me that their father, lieutenant-Colonel Robert Alexander Weir, was a GPO Assistant Controller during WWII doing spot-checks on telegraphic traffic, and was in the Home-Guard, being the Commanding Officer of either the 53rd or 59th Battalion. Lt.-Col. Weir belonged Cheshire, but covered a 'patch' from Warrington to Carlisle and Alston to the Isle of Man. He carried with him a bag containing seven badges including those of the Border Regiment and the King's Lancashire Regiment, to be worn as required. It was courtesy to wear the appropriate cap-badge when participating in a 'March-Past' in whichever area he was working at the time.
---
Home | Contents | Workington | Links | E-Mail | Home-Guard I
---