CALVA JUNCTION AND THE BUCKHILL LINE
BLACK & WHITE PHOTOS: Tim Harris, Ambleside.
This uninspiring vista of urban dereliction was once a key part of the West Cumberland rail network, as shown on this 1925 map. It was built for the Cleator and Workington Junction Railway, connecting Siddick Junction (track heading off to the left) to Workington Central Station and beyond, with the so-called 'northern extension' linking Calva Junction to Bulgill on the Maryport and Carlisle railway via Seaton, Linefoot and Dearham (track heading off up-banks to the right, at a gradient of about 1 in 70 to Seaton: It was not unknown for trains to run away on this section!). In 1938 a new role was found for the line, as a means of ordnance transportation in and out of the newly built Admiralty munitions depot near Broughton Moor, on the site of - and surrounding - the old Buckhill Colliery.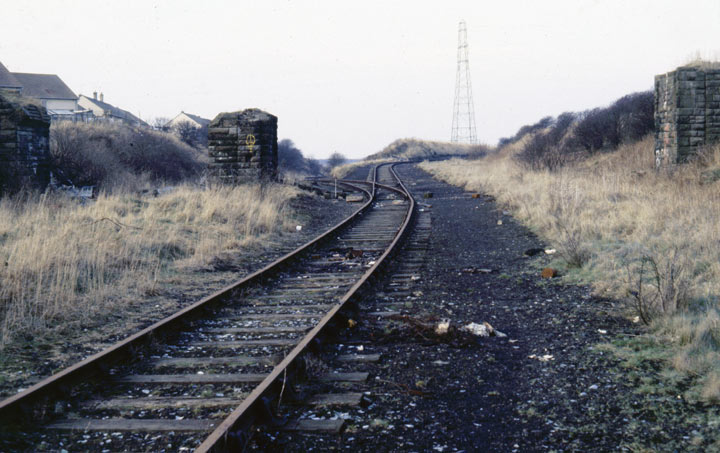 ABOVE: By 1985 this once-important node in industrial West Cumberland's labyrinthine mineral railway system had been reduced to a single-track section, where munitions trains were driven up from Siddick (on increasingly rare occasions) brake-van first, allowing the loco to head the train up to RNAD. A glance at the map will show where the bridge stood in relation to the rest of the tracks, the stump-like pillars being all that remain on this photograph. I recall a trackside hut, of brick and concrete construction, standing where the bifurcation for Siddick and Seaton is. It fell down between 1975 - 1985.
The single-track line through Seaton and Camerton continued to provide this explosive transport facility throughout WWII, right up until the early 1990's. 'The dump' - as it was known to all - closed down in 1992, and the last day of rail operation was 03 June of that year. As the picture of the bridge west of Camerton (below) clearly shows, a section of track has been lifted. It is likely that it was in the process of being stolen!
In the years since these pictures were taken, the entire route has been converted to a pleasing cycle-track and footpath.
ONWARDS TO BUCKHILL
Or, rather, backwards from Buckhill... The following five pictures are of the other end of the track. The upper two pictures (left, centre) and lower left picture are at the first bridge west out of Camerton, near to where the track to St. Peter's Church joins the road. This bridge allowed access from the Seaton-Camerton road to farm-land.
The first two photos and lower-left photo were taken in 1985, when - as can be seen - the track has been partly dismantled (due to thieving, it is suspected). The photograph of the Camerton - Seaton Moor road-bridge is extreme right of the group of three vertical pics, and was taken in 1981. The lower-right B&W photo was taken by Tim Harris on 22 July 1990.
---
Home | Contents | Defence Architecture | Links | E-Mail
---