OXFORD STREET CONSERVATIVE CLUB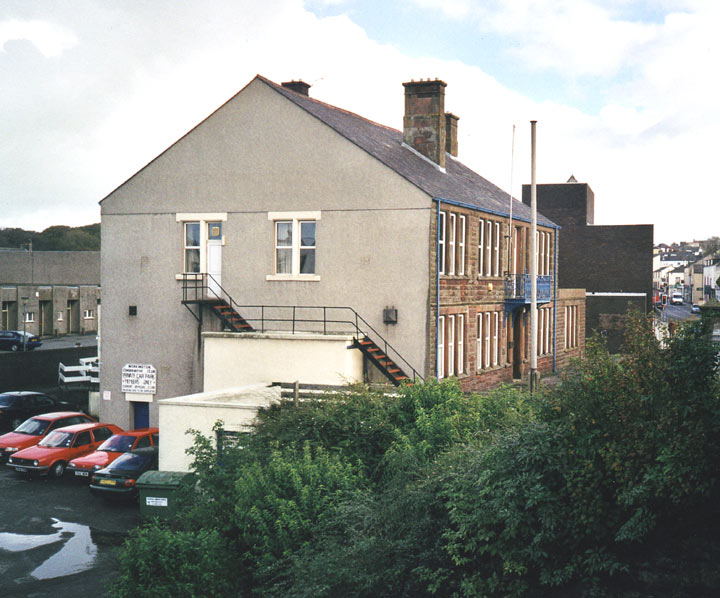 In 2006, time was finally called on the old Conservative Club, New Oxford Street, Workington. Built one-hundred-and-four years previously to replace their premises in Pow Street, this building stood resolute against continuing change and upheaval all around.
When it was built, the Artillery Riding-School stood to the north, then the Workington Swimming Baths on the same site. When the baths were demolished in 1968, the new St. John's Precinct was built shortly afterwards, the soul-less rear vista of which is visible in the top photograph.
To the east ran Railway View, a few terraced houses overlooking the Cleator and Workington Junction Railway, which ran parallel and on the western side of the Conservative Club. Railway View was seperated from New Oxford Street by the Central Hotel, demolished in 1968 to make way for the construction of the blockhouse-like 'Tesco' store; Workington's first.
On the other side of New Oxford Street from the Conservative Club stood Workington Central station, which finally closed in May 1964 (It closed to passenger traffic in April 1931). Arthur Hughes had a television shop on top of the station building, accessible from a wooden gangway through the wall running up Oxford Street.
The LH linkable image is taken from the end of the wall where New Oxford Street turns into Central Square. Behind this corner once stood a classic red telephone box of the 'K6' type, its presence advertised to all by a white-on-blue enamelled sign: 'Public Telephone', affixed by an ornate bracket above the brick circular pillar where the wall terminated.
The RH linkable image was taken from the bottom end of Upton Street. The dome of St. John's Parish Church can be seen in the background above the old 'Tesco' block-house, and to the RHS of the picture, across New Oxford Street, the skeletal girderwork of the new Workington Christian Fellowship Church rises steadily, being built to replace the old one in Thompson Street.
---
Home | Contents | Defence Architecture | Links | E-Mail
---