THOMPSON ST. PRESBYTERIAN CHURCH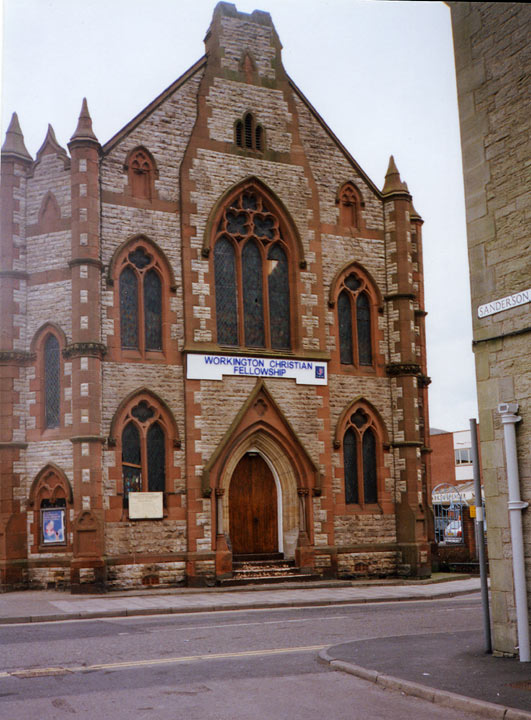 Built in 1888, this church - designed by Charles Eaglesfield of Maryport - replaced a nearby Presbyterian chapel. There have been several denominations based in this building since 1972, the last occupants being the Workington Christian Fellowship.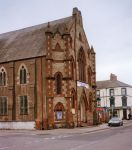 Older viewers may remember the stone balustrade at the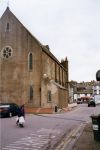 front door, and adjacent terraced housing. All was cleared in the 1970's to make way for a car-park, to allow shoppers access to the swish new precinct built just behind this church, on the site of the Drill-Hall and St. John's School. A glance through the gap to the RHS of the church reveals the building - formerly the 'Presto' supermarket - occupied by Marks and Spencer. It was built on the site of the National Bank, Dewhurst's Butcher's, a flower shop, and the Griffin Inn.
The immediate area was once a thriving mass of dwellings, with terraced houses along Edkin Street, Thompson Street, Bridge Street and Udale Street. Washington Street was narrower than it is now, with shops extending the length of the western side. There were also shops on Sanderson Street, behind the Midland Bank (now the HSBC Bank). The picture on the left looks along Thompson Street to the corner of Pow Street, Thompson Street and Udale Street. Just around the corner in Pow Street, and backing on to the church, were the 'Galleon' cafe, a Cobblers' shop, and the first branch of the Army and Navy stores, which later moved over the road. I remember a shoe shop on the corner of Thompson Street and Pow Street. The picture on the Right looks up Sanderson Street to the old Workington Laundry dry-cleaning premises, occupied at the time of the photograph by 'Save The Children'. It is taken from where the Pow Street entrance to the Drill-Hall once stood.
The site of the Presbyterian Church building has now been covered by the new 'Debenhams'.
---
Home | Contents | Defence Architecture | Links | E-Mail
---