SIDDICK INDUSTRY IN 1985.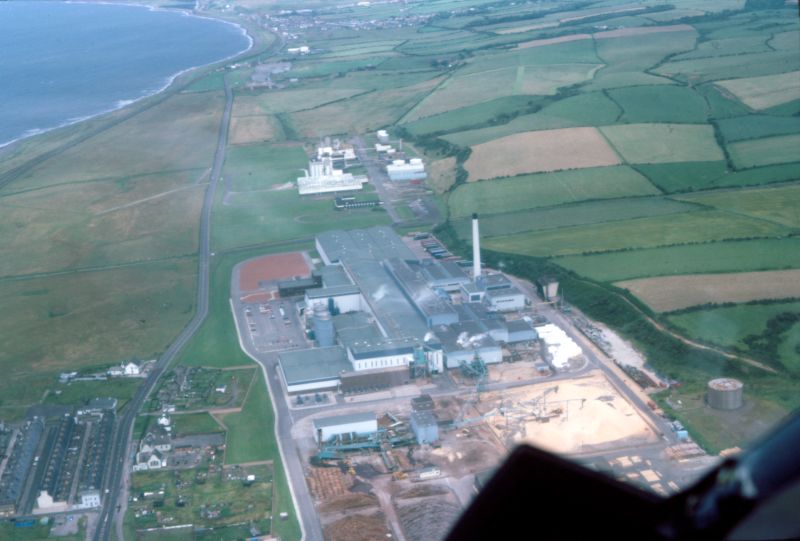 Like the photographs of the Technical College and the Grammar School, I took this picture in the summer of 1985 on a £10.00 pleasure flight around Workington in a helicopter. In the foreground is the Iggesund Paper Mill, formerly Thames Board Mills, and behind and to the north (other side of Lowca Lane) is the Kodak-Eastman chemical plant, formerly Ectona Fibres. The village of Siddick (Sea-Dyke) is in the bottom LH corner, school and allotment gardens visible. The A596 appears extraordinarily quiet for a Saturday, and the Cumbrian coast railway line can be seen just inland from the tide, as it merges with this normally busy road, the main transport corridor from Workington to Maryport.
This landscape has seen a vast uptake in industrialisation since the photograph was taken, with the construction of a huge chemical works - the "Bechtel" plant between the Eastman plant and St Helens (top of photograph). The picture is also devoid of the wind-turbines which now extend from Oldside shore to Flimby, providing energy from the sea wind blowing over this industrial sprawl - energy once provided by the coal won from beneath it.
Anyone interested in my Defence of Cumbria pages might like to know that one of the Workington Decoy Sites was located in the field above the Kodak-Eastman plant, where Bechtel is currently located. The control bunker is still extant.
---
Home | Contents | Defence Architecture | Links | E-Mail
---