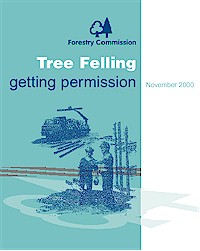 Tree Felling - Getting Permission
This Forestry Commission document provides advice and information relating to the carrying out of works within forests, plantations and woodlands. It explains which kinds of works are exempt from their control and the quantity of felling you can carry out without formal permission being required.
The Forestry Act contains legislation which gives the Forestry Commission powers to control the quantity of trees being felled at any one time. The basic rule is as follows:-
The felling or selling of larger amounts will require a license from the Forestry Commission. Certain types of felling do not need a license, some of the exemptions are listed below.
Felling trees with diameters less than 80mm (when measured at 1.3m from ground level).
Felling trees for thinning purposes with diameters less than 100mm (when measured at 1.3m from ground level).
Felling coppiced trees (for regrowth) with diameters less than 150mm (when measured at 1.3m from ground level).
Lopping & Topping (Tree surgery, pollarding, pruning).
Felling fruit trees.
Felling Trees as part of a development.
Felling necessary to prevent dangers or nuisance.
Felling necessary to maintain utility services (carried out by utility companies?).
The above list is a short summary, for a complete listing you need to read the Forestry Commission publication 'Tree Felling - Getting Permission'. This is available as a leaflet from the Forestry Commission or as a pdf file from either the FC site or from the AIE.
Click here to download 'Tree Felling - Getting Permission' as a PDF file. Please note this is 403kb in size so will take a few minutes to down load. You also need Adobe Acrobat File Reader to view/print the document. Once the file has loaded into your browser use the File-Save (floppy disc icon on the Adobe menu) to save it permanently to a folder within your hard drive.
---