During 2002 one of our biggest projects was fundraising for the Czech floods. To read an eye witness report from our Administrator who was in Prague when the floods hit click here
Have a look at our plans for 2003 by reading the latest minutes of our meeting click here
Officers for year 2002-2003
Administrator BRIAN SMEDLEY
Chair MARILYN WALLACE
Vice-Chair PAT PARKER
Treasurer MARTINA CHVOSTOVA
Czech secretary .DAVID PRIBYL
Slovak Secretary FERO KOZA
CZECH ASSISTANTS (UK) KATKA PIKNEROVA +JANA VASTATOVA
SDC REPRESENTATIVE;- Cllr Julian Taylor
At the AGM of the Bridgwater Czech Slovak Friendship
Society last November the above officers were elected.
For a summary of our plans for 2003 look here.
* Plans for the immediate future;-
Wed 29th January;- Our Annual GENERAL KNOWLEDGE QUIZ to be held at the Bridgwater Labour Club. Starts 8pm. All welcome to bring teams of up to 4 people.
18/19 February;- We will be holding a Czech Business & Culture Seminar at Bridgwater House with a view to taking both a Trade Mission and a Cultural Fact Find tour later this year to the Czech republic. The Czech Embassy will be supporting the event.
Feb/March;- We will be helping to organise the SEDGEMOOR TWINNING CONFERENCE in conjunction with other International Link societies and helping to produce the Magazine SEDGEMOOR INTERNATIONALIST
April 26/27 ;- Globetrotting Football losers 'Sedgemoor Unison FC' will be taking their brand of soccer anarchy to London to take on the Czech/Slovak Embassy XI and the next day play the Royal Household (well, the ground staff, furniture menders and corgi wormers)
June 27-July 7;- Latvian rockers 'Mitrokhins Master Band' will be visiting Bridgwater alongside Czech punks JAKSI TAKSI - both will take part in the Somerfest weekend of July 5/6/7. We're also looking for offers of gigs for them around the same time. e mail smedlo@globalnet.co.uk
CZECH-SLOVAK NEWS
* Well, right now its very cold. Temperatures range from -18 in Uherske Hradiste to -6 in Prague and several inches of snow covers the land. mind you its -30 in Poland , -57 in Russia and a tropical -0 in Bridgwater.
ELECTIONS
* Some of our Czech supporters have retained their seats in last Novembers elections and some have made sensational gains.
In Prague the Mayor of Sedgemoors Partner district Prague 6 Pavel Bem (ODS) has now been elected Mayor of All Prague.
In Olomouc Cllr Jarka Cardova kept her seat and her party (KSCM) increased their representation.
in Ceske Budejovice former Czech English High school head JAN ZAHRADNIK was elected Hejtman (Provincial Governor) of South Bohemia
in Uh.Hradiste Region Ondrej Benarsik (KDU-CSL) was elected to the Zlinsky kraj council
Unfortunately in the Smokovec region of Slovakia our friends Josef Kovalcik and Fero Koza (Soc Dem) failed to get in.
ROCK NEWS
NEW RELEASES BY BRIDGWATER BANDS
As the Sedgemoor music scene gets better and better with regular and well attended gigs at the 3 Crowns St.Mary street, (check out Matt Bartletts website: www.midnightmango.co.uk for latest news on Bridgwater bands ) a NEW 20 track CD by Bridgwater bands has recently been released. "SMELLS LIKE BRIDGWATER" IF YOU'D LIKE A COPY YOU CAN WRITE TO US AT smedlo@globalnet.co.uk cost is £5 (or equivalent in Kc/Sk-and you can pay through our Prague account.)
This years Czech Rock tour will cover Prague 11/12 April Olomouc 13/14 Uh.Hradiste 15 Moravske Budejovice 16 Ceske Budejovice 17. The bands featured will be CIVIAN, SHOOTERS, GUNSTAR HEROES + BIG IN BAGHDAD. Below are the travellers from the 2002 tour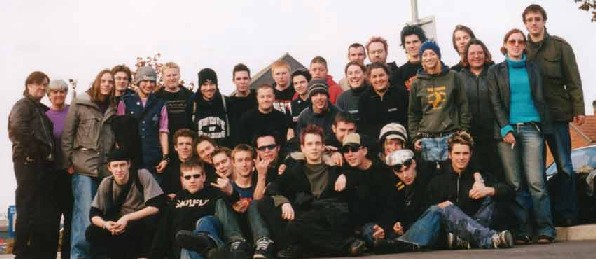 DO THE WASHING UP;- the new 14 track CD from Red Smed and the Hot Trot Smash the System Boogie Band -available for £5 (300sk or 250Kc). E.mail smedlo@globalnet.co.uk for a copy "DO THE WASHING UP" comprises 12 original songs about life in Bridgwater and the world plus 2 instrumentals of world revolution - 'The Internationale' and 'the Theme from the Magnificent seven' and features the musicianship of Kevin Freeman (drums) Matt Bartlett (bass) Captain Balderelli ( mandolin) and the vocals of Elaine di Campo, Heidi Powell and Cathy Smedley. However, not to put too fine a point on it, the star of the audio experience is Overview and Scrutiny ctte no 2 member cllr 'Fatty' Smedley (below) (the fat one) who plays guitar , harmonica and 6 string bass plus sings 'interestingly' throughout.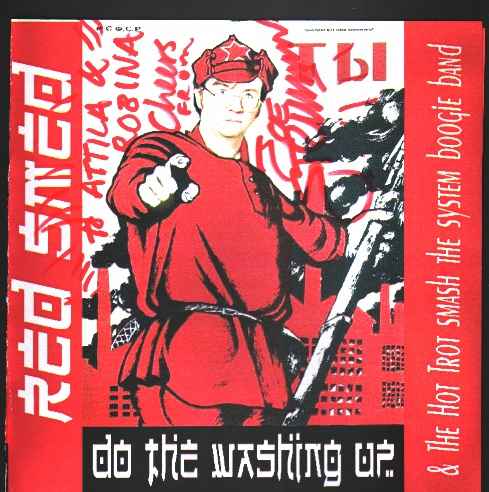 Above is a copy of the cover signed by the late 'Joe Strummer' and dedicated to punk poet Attila the Stockbroker.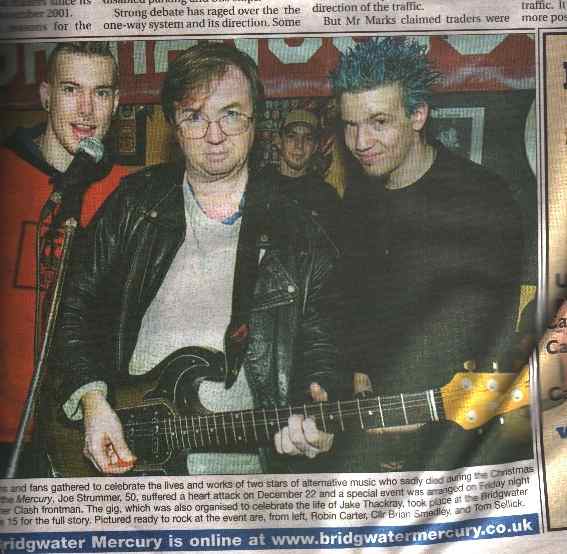 Members of the Bridgwater Czech Slovak Friendship Society recently held a memorial gig for Strummer at the Bridgwater Labour club (below). The gig was also dedicated to the memory of folksinger songwriter Jake Thackray. Both died over christmas.