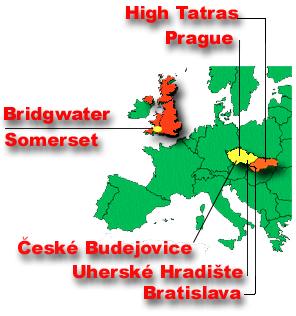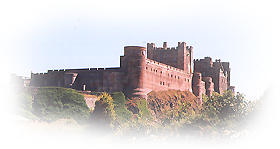 One of our latest ideas-first tried out in 1999 is a 'Round Britain trip'. Based on the Trans-America/ Up and down Africa/Journey to the Centre of the Earth type safaris loved by adventurous youths and never say die oldies, the treks can involve us hiring a minibus and taking you and your friends around the British isles on a route of your choice or you providing your own transport (minibus/ coach/car/space hopper) and we organise your tour, come with you and act as guides.
This offer- open to any nationality, but targeted as affordable as possible to help Czechs & Slovaks who suffer from the unfavourable exchange rates-is based around Britains network of Youth Hostels-which are all situated in spectacular locations and are cheap but comfortable.And of course full of people from all over the world.
Our planned trips for 2008 are
1 July;- Ceske Budejovice Round Scotland
2 August;- Kladno Round Scotland
We also organise SPECIFIC regional trips such as
3. IRELAND
4. CORNWALL
5. WESSEX
If you'd like to join us on one of these get in touch (smedlo@globalnet.co.uk) and we can talk about your specific needs.but better still why not get a group of friends, a school or some workmates together and ask us to organise one FOR YOU to your specific requirements

Sample from our very first trip
'Okolo Velke Britanie 1999'…in July 99 we took a coach full of Czech teachers and students around Britain in 10 days. We managed the whole thing for £198 each-including accommodation, food and entrance to several places of interest.
Staying at Eurotowers in London we toured the capital before taking the road north with breaks at University town Oxford, Shakespeares Stratford on Avon and the Viking capital of York-where we visited the Viking museum. Staying overnight on the North York's moors at Osmotherley we continued through Teeside and Tyneside to have a break first at Hadrians wall on the Scots border then Bamburgh castle (

) - home of the Northumbrian Kings by the holy island of Lindisfarne. In Scotland we stayed at Edinburgh right next to the royal mile and visited the castle .
Crossing the forth bridge we hit the Highlands with a short stop at Pitlochry, through the pass of Killicrankie and then a visit to the Dalwhinnie whisky distillery , the battlefield of Culloden and the town of Inverness.(

) Staying overnight on the banks of Loch Ness (

) we journeyed through the Great Glen to Ben Nevis and Fort William then down to Glencoe where (unarranged) we bumped into Prince Charles and Jimmy Saville.
Crossing Rannoch Moor we stayed the night at Killin next to the falls of Dochart and then the next day on by Loch Lomond and through Glasgow to have lunch in the English Lake District.
That night , after passing through the mediaeval town of Chester we stayed nearly at the top of the Snowdonian mountains of North Wales where the group went swimming in a mountain lake while others visited the Druid isle of Anglesey and the Castle of Caernarfon (

) where the Prince of Wales was crowned.
The next day we wandered down the Welsh/English borders stopping at Hereford city (home of the SAS) and Tintern Abbey on the river Wye. Crossing the Severn bridge back into England we ended up at Crowcombe near Bridgwater and had a party with local musicians.
Back to London via the Roman town of Bath and ancient Stonehenge the group had been to north , south ,east and west coast and the only complaint was that we wouldn't stop on a dangerous highland hairpin bend to take pictures of Prince Charles!!
**The same trip was organised in the August but involved 2 minibuses and a group of Czechs,Slovaks,English and American travellers and followed the same route but ended with home hosting in Bridgwater.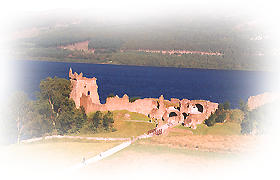 ***in the 2000 programme we had 2 themed trips 'Okolo Skotsko' — concentrating mainly on the Scottish end of the country and 'Okolo Stare Wessex' which involved a tour of the south and west of England and included London>Brighton>Portsmouth>Winchester>Dartmoor>Cornwall>Pendennis castle and Lands end before returning via Bridgwater to London.
!!!If you'd like to join us in 2009 get in touch…
!!!!!!!if you'd like us to organise a trip for you…(anywhere…just look at a map and tell us)..then get in touch
Origins

, Programme, Round Britain Trips, Business opportunities, English courses, Application form, News, Contacts, Home,
Bridgwater

, Somerset, Prague, High Tatras, Uherske Hradiste, Ceske Budejovice, Bratislava, Links
© Milos Salus 1999