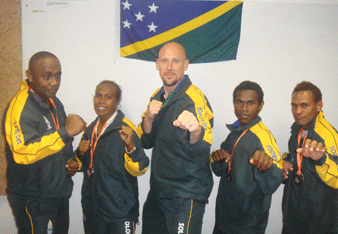 Dr Andy Roosen, 7th Dan, Kyoshi
In Brief:
Currently, Andy is based in the Auckland, New Zealand, where he represents the Jindokai Kokusai Budo Renmei, headed internationally by Prof. Stephen Chan hanshi, OBE. Andy is the regional representative and chief instructor for the Pacific Islands and the President of the Aotearoa branch, and the overseer of the Solomon Islands and the Kingdom of Tonga branches. He is the chief instructor and director of Ko Ken Ryu Karate Jutsu International, and the National Coaching Coordinator and Coaching Council Chair for Karate New Zealand.
Recent Background:
Andy holds significant dan grades in various arts: highest grades being shichidan (7th dan) and Kyoshi title in Karate Goshin Jutsu (2014) and rokudan (6th dan) and Kyoshi title in Shorin Ryu Karate-Do (2014) awarded by an international grading panel headed by Hanshi Stephen Chan (9th dan, Jindokai), Hanshi Ron Nix (9th dan, Ryukoku Seidokan), Hanshi Brian Rogers (9th dan, Jushinkai) and Hanshi Katherine Loukoulos (9th dan, Bubishi Karate Do). He was awarded Shihan accreditation ('Teacher of Teachers') by Hanshi Hobbs in 2002, and by Toma hanshi, All Okinawa Seidokan Karate Kobudo Association.
In 2016, Andy was invited to be part of a committee tasked with designing the Karate New Zealand High Performance Strategic and Operational Plans. These plans were a major contributor in Karate New Zealand becoming a full member of the New Zealand Olympic Committee.
In 2017, Andy was appointed by the Karate New Zealand Executive Board as their National Coaching Coordinator and Coaching Council Chair and is amongst other things charged with creating pathways for elite athletes and coaches. Karate New Zealand have homologated Andy's 6th dan whilst also acknowledging his 7th dan.
Academic Knowledge:
Andy decided early on that he wanted to be able to back up his karate scientifically and hence completed a BSc Sport Science and Administration (Hons.) degree (1998), gaining the highest mark of his year and being awarded a first class honours degree and the Gerald Leadbeater Prize for his academic achievement.
In 2004, Andy commenced his doctoral research at Loughborough University, for which he had succesfully attracted a full 3-year school scholarship for his own research topic. For his research analysing the Biomechanics of Elite Martial Athletes and the underlying motor control thereof, he liaised with the British Olympic Taekwondo team as well as the England Karate team. He successfully completed his PhD in 2007, in less than the allotted 3-year period.
Andy has written various works related to martial arts and karate.
Early Karate:
Andy was introduced to Shotokan Karate (JKA) in 1988 whilst living in Germany. Two years later Andy's family moved to the Netherlands, where he continued his shotokan based training at a club affiliated to IMAF. He was also introduced to knockdown karate and Muay Thai. From 1993, Andy was running several clubs.
This was shortly followed by a trip to Tokyo in the summer of 1994, to the SKI Honbu where he trained with Kanazawa-sensei, Murakami-sensei, Suzuki-sensei, Tanaka-sensei, Sugimoto-sensei and Sode-sensei and others. In September 1994, Andy first went to visit the Kissaki-Kai Karate-Do Association in the United Kingdom. He had trained with sensei Vince Morris on a few occasions and after some discussions with him, became a honbu student and instructor in Nottingham. He started up the Ko Ken Ryu Karate Jutsu Club at the University of Nottingham, and remained their chief instructor until departing for Solomon Islands in 2008. In his last two years there, Andy coached the team to be 3rd place Team in the overall medal tally in the British Universities Student Nationals in 2007 and 2008 for which the university awarded him a Silver Award. Andy remained in Solomon Islands until late 2016, thoroughly establishing both Jindokai Solomon Islands and the Solomon Island Karate Federation. Andy relocated to Auckland New Zealand December 2016 where he is working closely with Karate New Zealand and established Jindokai Aotearoa. In January 2017, Andy established Jindokai Kingdom of Tonga.
The Jindokai Connection:
In 1998, Chan hanshi and Andy's path's crossed for the first time (well at least on a personal level) at Nottingham Trent University. Andy became Chan hanshi's personal student and spent many hours training in his back yard, the Park and in whatever space they could find really. Under Chan hanshi's guidance, Andy managed to win bronze in the 1999 Copenhagen European Open Karate Cup, and a double gold in 2000 in the Copenhagen World Open Cup. Andy was amongst the most competitive heavy weights in England at the time often clashing with English internationals in national and regional tournaments.
He accompanied Chan hanshi on his two-weekly visits back to London for karate instruction and joined him when he decided to support Hobbs hanshi in promoting the Dentokan. When Chan hanshi set up the Jindokai, Andy was of course more than happy to be part of this. Andy has solid knowledge of Shorin Ryu, Goju-Ryu and other Okinawan Kata. He also teaches various weapons of the Kobudo system and studies Aiki-Jutsu and Iai-Jutsu to complement his training.
Successful Coach:
Many of Andy's students and former students have won or medalled in national and international championships, including the WSKA world championships (his student won the female heavyweight category), the Pacific Games, the British Student National Championships, the AMA Regional, National and International Open Championships and others. In 2011, Andy took a 6-man karate team from the Solomon Islands to the Pacific Games in Noumea, who all returned as heroes winning 4 bronze medals for the country and narrowly missing out on 2 more. The Team again went to the Pacific Games in Port Moresby in 2015 and again returned with 4 bronzes, narrowly missing a final event.
Andy recently at the age of 41 came out of retirement to represent Solomon Islands at the 2015 WGKF World Championships and won a bronze medal in the veterans kumite, and causing an upset by winning a silver in the Senior Heavyweight category competing against fighters half his age.
Successful Leader:
Andy has proven his leadership role in a number of multisport international events. in 2013, he was appointed General Team Manager & Assistant Chef de Mission for Team Solomon for the first time to the Wallis & Futuna 2013 Pacific Mini Games. With only 12 athletes, the team returned with, at that time, the most successful medal haul in the country's history: 4 gold, 11 silver and 4 bronze. He played a major part in organising the Queen's Baton Relay in November 2013 for the 2014 Commonwealth Games. He again fulfilled the role of General Team Manager & Assistant Chef de Mission for the Glasgow 2014 Commonwealth Games where a team of 10 athletes competed and managed to set PBs under highly competitive circumstances involving world and Olympic champions. In July 2015, he fulfilled both roles again at the Pacific Games in Port Moresby, and the contingent was 300+ strong and returned with 7 gold, 6 silver, and 15 bronze medals improving on the 2013 medal haul.
Most Prominent Accomplishments:
Karate Goshin Jutsu:
7th Dan, Jindokai Kokusai Budo Renmei, 2014
Kyoshi, Jindokai Kokusai Budo Renmei, 2014
5th Dan, Sekai Dentokan Bugei Renmei, 2006
5th Dan, Stephen Chan Kenkyukai & Kenkojuko, 2006
Renshi, Sekai Dentokan Bugei Renmei, 2006
Renshi, Stephen Chan Kenkojuko, 2006

Shorin Ryu Karate-Do:
6th Dan Shorin Ryu Karate-Do, Jindokai Kokusai Budo Renmei, 2014
Kyoshi, Jindokai Kokusai Budo Renmei, 2014
5th Dan Shorin Ryu Karate-Do, Sekai Dentokan Bugei Renmei, 2008
Renshi, Sekai Dentokan Bugei Renmei, 2008
Shihan Menkyo, Sekai Dentokan Bugei Renmei, 2002
4th Dan, Association All Okinawa Seidokan Karate Kobudo, 2002
Shihan Menkyo, All Okinawa Seidokan Karate Kobudo, 2002

Karate-Do (generic):
6th Dan, Karate New Zealand, UNZKO, 2018
4th Dan, Stephen Chan Kenkyukai, 2002
4th Dan, English Karate Governing Body, 2003
4th Dan, Amateur Martial Association, 2003

Ko Ken Ryu Karate Jutsu (Shotokan/Shorin):
4th Dan, Stephen Chan Kenkyukai & Kenkojuko, 2002

Shotokan Karate-Do:
4th Dan, Stephen Chan Kenkyukai & Kenkojuko, 2002
3rd Dan, English Karate Governing Body, 2001
3rd Dan, Kissaki-Kai Karate-Do, 2001
Goju Ryu Karate-Do:
2nd Dan, Sekai Dentokan Bugei Renmei, 2003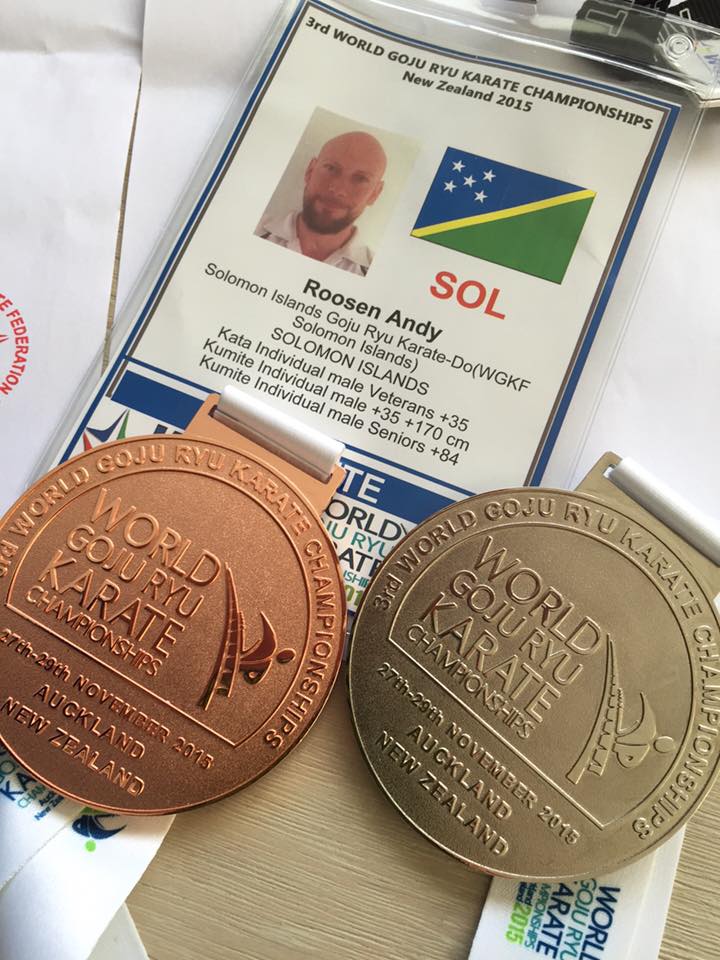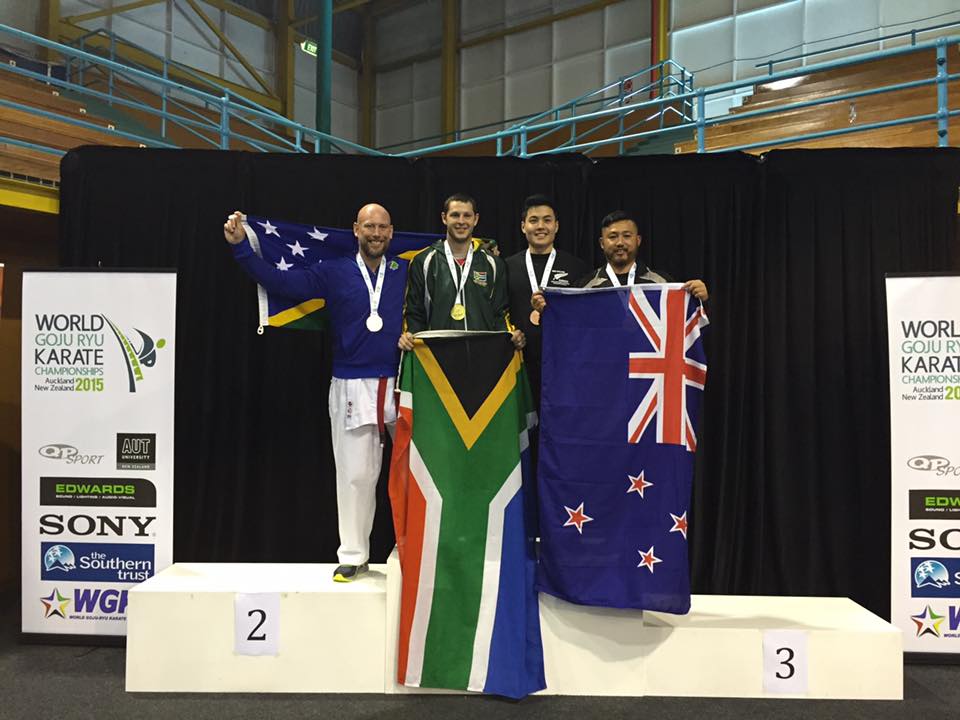 WGKF World Championship, Auckland, 2015
Silver Medal, Senior Heavyweight, WGKF World Championships, 2015, New Zealand
Bronze Medal, Veteran 170+ cm, WGKF World Championships, 2015, New Zealand
Silver Medal, Open Weight, Amateur Martial Arts (AMA) International Open, 2002, England
Bronze Medal, Heavy Weight, AMA International Open, 2001, England
Gold Medal, Heavy Weight, Open World Cup, 2000, Denmark
Gold Medal, Open Weight, Open World Cup, 2000, Denmark
Silver Medal, Open Weight, English Karate Federation Regionals (Midlands), 2000, England
Bronze Medal, Heavy Weight, Open European Cup, 2000, Denmark
Bronze Medal, Heavy Weight, Federation English Karate Organisations Nationals, 1999, England
Bronze Medal, team, Voluntary Services Overseas (VSO) British Open, 1998, England
Bronze Medal, Heavy Weight, VSO British Open, 1997, England
Bronze Medal, Heavy Weight, VSO British Open, 1996, England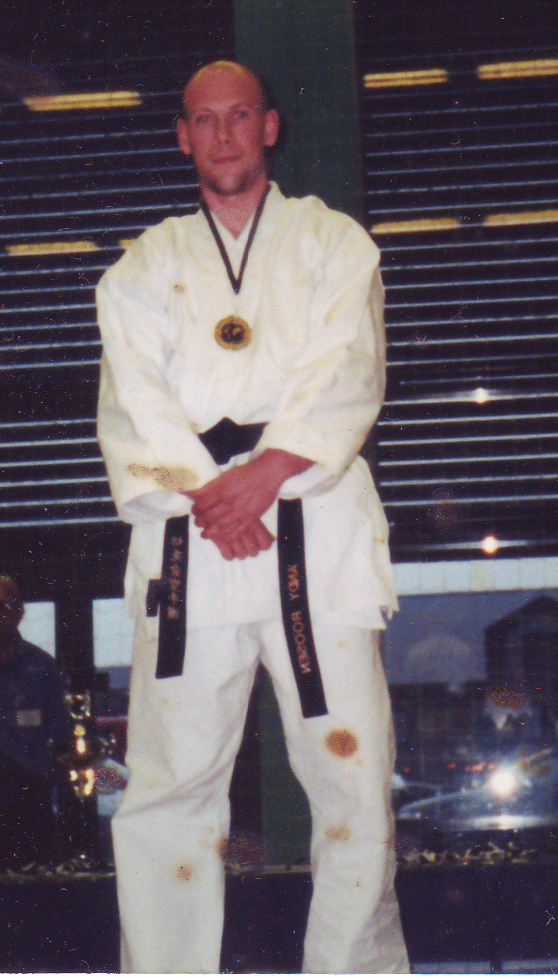 Open Karate World Cup, Copenhagen 2000