Products News Updates Intro Page and FAQHints, Tips and Support

News Updates
May 18 1999I've just finished a C program to generate Haemonculi for Dark Eldar armies in WH40K- if that means nothing to you, then don't even bother looking! If however you are interested then it's a mere 52Kb and is available from the products section now. In addition, Death Chase work is still progressing, with 7 levels in the waterzone now also complete.

May 4 1999 The problems with winzip....Winzip refuses to span massive files across multiple disks, as TGF .dat files can't be further compressed, with the result that winzip gets phased by the existance of a 0% compressed file that it wants to decompress... I have however found a solution in Dariolius, which will let me split files and provides a batch file to rebuild them at the other end. So if you want a Deadsoft game by floppy, just supply the required number of disks! On another note, work on DC is continuing at a reasonable pace. The waterzone is inspired quite a bit by Donkey Kong on the Atari 2600- yes, i've just found an emulator for my favourite classics that i haven't been able to play since the A2600 died on me!

April 26 1999 If you haven't checked on the products area recently, then do so, as there's a few little C items available. Work continues on DC, with another 3 levels (from another plane, so it took a bit of graphics work and extra scripting first), a few modifications (new midis in particular) and a couple of surprises...

April 6 1999 I've added a special preview version of Death Chase to the products area. 15 levels are now complete after hard graft in paintshop (I'm making all the graphics), CakeWalk (I'm remixing the games factory midi files to make them more background music in feel) and of course TGF where all the elements are fused together.

March 28 1999 Work has now begun on creating levels for Death Chase. Currently, the entire tutorial and two levels from the fire zone are complete. Once the Fire Zone is complete (10 to 15 levels) I'll release a demo. The full version will include 4 different zones, so the game should span 40 to 60 levels, plus tutorial and deathmatch options! On another note, I've decided that the KNP ring is truly dead as I haven't been added yet and many others are in the same situation, so I've tried the next TGF ring I could find.

March 20 1999 An updated version of South Park Deathmatch (Formerly SPSB'98) is now available. Check out the downloads area for new features, screenshots and the all-essential download!

March 5 1999 As it now says on the main Deadsoft Page (you mean you haven't already noticed the difference? See me after class!) I have obtained a C compiler off the Net, together with an IDE to make life a little easier on me. So, once I find a decent book look out for some Deadsoft C Utils!

February 20 1999 Well, the half term is drawing to a close and i'm afraid to say nothing much has been achieved, as I've been busy with GCSE coursework. I have created a few more items for Deathchase and knocked together a storyline, as well as a map of the element planes which is over 800Kb, and so unlikely to be included except for in a playing guide or similar. An animated menu system is in place as well as an intro sequence of which I am fairly proud. Once a few more locations have been done I may post a rolling demo for you all.

February 7 1999 The graphics work for Death Chase, a south park platformer in which you play as Death in pursuit of Kenny, has begun. I'm working on the platforms and backdrops at the moment for the various different environments- check out the screenshot of the sewers below- and will then move on to minor active objects such as spikes, wheels, monsters and so on before finishing with the main character. After that it's down to some serious coding to control the platform action and wrap it all up with menu systems, helpfiles and so on.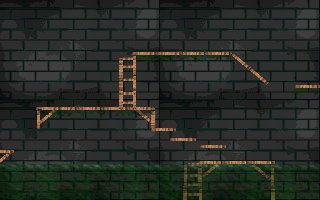 A shot of a sewers level- look closely and you'll notice that the water is actually semi-transparent and that the rest of the backdrop shows through!

January 11 1999 Sheraz has kindly given me a full review of what he would like to see included in SPSB. These range from the simple such as life meters, score systems and weapons powerups to the more complex, such as Innocent Bunny Rabbits being caught in the crossfire, mutant turkey invasions, deadly cow strikes and more gore. I've got several other planned improvements, so once the engine has been seriously tweaked I'll prolly have a version available.

January 8 1999 Happy new year! Well, the good news is that CHRIS has been uploaded, and is now effectively done and dusted. But that ain't the end of deadsoft, oh no...
The following are my planned projects for '99: A Southpark Platformer, bringing the basic SPSB engine into the single player arena; another SP game, KennyKart, a racing game featuring Kenny on his gocart, hopefully avoiding the trains this time ; Some AI experiments in navigation; finishing my Duke3D level (slow going, but I am working on it..); a sequel or V2 of CHRIS; and even more levels for SPSB99....keep visiting!

December 22 1998 I've now finally finished CHRIS and zipped it up ready for upload. It is a nasty 6.4Mb, but Globalnet are expanding our webspace to 50Mb (Cheers!), and on Christmas Day you can make a local call for as long as you want for just 50p, so I'll do it then hopefully. A complete walkthrough for the game is now available in the Support section.

December 22 1998 After having examined a few KNP games I found on the net, I've not worked out exactly how to do a platformer, and so have given Southpark Superbowl '98 a makeover. The characters can all now fall, jump and climb as well as fire their two weapons. I've also updated the arenas- there are now a total of 3, yet the download is under a Meg! Head to the Products section for screenshots and the download.

December 12 1998 New project announced! With CHRIS virtually wrapped up, Deadsoft is now moving on to another major project, this time a Duke3D level. It will be based on my school, and much has been done already. This project may possibly grow into a TC with multiple levels and new art, but at the moment the focus is on producing a huge and fairly accurate Multiplayer map. Wireplay and Direct Connect will be used to test the level, which should hopefully be completed in the Christmas hols.

December 12 1998 After several long weekends, CHRIS is now finished! All the levels, cutscenes, help files and so on are in place. However, it's a bit bare in terms of sound so it'll be a couple of weeks before it's truly ready, as most of the cutscenes and levels need both MIDIs and WAVs to be added.

October 27 1998 I've taken a weekend break from CHRIS to create Southpark superbowl '98. Version 1.0 is available in the products area for download now!

October 18 1998 With a bit of work I've found that i can halve the file size through a combination of protecting the game (removes a lot of stuff needed for editing but not running), saving it with installer (compacting util as well as providing necessary DLLs) and Winzip (only works on the .bin and .exe file, not the huge 2.9MB .Dat file) i've gone from 6.5 to 2.9- not bad. If I change it to 256 colours then it crashes. Sigh.

October 17 1998 Following the first level, the game splits into two narratives depending on which of two missions the player chooses. These missions have both been completed, one is an isometric shootout set in a military base, the other a helicopter rapid deployment mission. These basically are short action sequences to add a bit more to the game, and they were dead easy to make too, but they've pushed the file size up to 6MB, so I may have to change it from 16-Bit to 256 Colour to save a bit more space, though Winzip 7 which I d/loaded the other day should help considerably.

October 10 1998 The first level of CHRIS has been finished! It is based on the EVIL engine and allows the user to explore a warehouse complex where a key character is being held. I still need to add quite a bit of Audio but the actual mechanics is there, despite some technical hitchs and program glitches which have had me tearing my hair out! I have also produced the beginnings of a helpfile that covers these levels. On the downside the game is already 4Mb, but Winzip tends to drastically reduc this, as does GFs own compression/install app routine.

October 8 1998 Deadsoft goes online with this website! News on CHRIS will be released soon, once I've completed a level, that is!