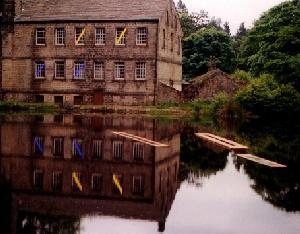 The Sculpture Trail at Hebden Bridge is an annual art event which has grown in stature and ambition since its inception 5 years ago. The trail takes place in Hardcastle Crags, an area of outstanding "natural" beauty and a place which played a pivotal role in the development of local and regional industrial development.
Owned by the National Trust the area covers over 400 acres of land which mainly comprises a steep sided densely wooded valley through which Hebden Water flows on its way to meet the River Calder. The Valley has seen many changes over the last 250 years and the area is littered with remnants of both industrial and rural pasts.
The Sculpture Trail itself is temporary, lasting only five weeks after which time the woodland is allowed to return to its natural state, this transitory nature provides a unique opportunity for artists to address the site in a way permenantly sited pieces could not. The National Trust are very generous in allowing the trail to use the crag site and they are generally tolerent of particular artmaking practices concerned in generating work. There are however some limitations when considering a work, no damage to trees or the environment in general is allowed and all earthworks and holes dug must be refilled and the area left as found.
The aim of the trail is to provide a forum in which artists can test notions of what contemporary landscape might mean for them and the production of their work.What is it about the tradition of landscape that interests artists and how can that interest be shared or communicated to an audience with a wide variety of expectations, it is expected that all the work pays regard to its context.
Due to the success of last year's trail this year's trail has been extended by one week which means the event will last for five weeks . The Sculpture Trail is open for proposals to any artist without discrimination.
Practicing artists exhibit alongside graduates and undergraduates. Projects are run with local community groups, infant and junior schools, the resulting work becoming essential to the trails dissemination and effect. Any comments on the trail or enquiries relating to images contained within this web page are welcomed and can be e-mailed here: Sculpturetrail@hebdenbridge.fsnet.co.uk