Welcome to my crappy page, have a look around, you might find some stuff interesting. If you don't, go away, there's plenty more *good* sites to look at.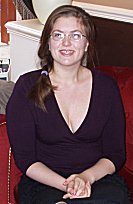 Anyway, this is me >. I'm 22, living in the south of England near Bournemouth, where I have lived all of those 22 years. Born Alisa Jayne, but everyone calls me Lucy, something about the beatrix Potter books, anyway the name stuck and I am Lucy ever more. Standard info bit here: 1 brother, 2 sisters, 3 cats, 5'11" tall, funny gap between the teeth, blue eyes but blind as a bat without the glasses.
I work for a local independant Newspaper called the Advertiser & Times (that is, The New Milton Advertiser and The Lymington Times) in the advertising department. I make the adverts for those who are not savvy enough on the computer themselves or the ones who are too tight to pay a proper advertising company to do it for them, not that I'm complaining, mind, keeps me employed and out of mischief.
Stuff I like: cats of course, all kinds of art, computery things, reading everything I can, pref. Terry Pratchett stuff, I like all the Star Treks, B5, Farscape, Star Wars....yes, total geek, I like growing things, plants, cacti, see how long I can keep them alive before they die, frequenting pubs, cinemas and galleries.
Well, that's my life overview, make of it what you will, but have a look at my artwork, I'm much more clever at the pictures than I am at the words!