The board should be connected to the computer with the power off, the power then being turned on by plugging-in the jack plug at the back of the computer. The plug should be immediately removed if the screen does not show the copyright message after clearing the screen. If this does happen then try connecting up a data line and an address line on the IC socket(it can do no harm). This should simulate a keypress and the screen should show the key pressed. If held on for more than a second it should repeat. Neither of the SHIFT keys will do this, so try another key.
If this did not happen, then check all the connections again - if you get coloured squares on the screen it could be that the data IC is permanently operated, so check the connections to pin 19 and the 74LS27. Also check that the address or data lines are not accidentally connected together. Complete failure of any picture would seem to suggest a power fault of some kind, so check the +5 volt and 0 volt lines.
If you get the Sinclair Research copyright sign, but none of the combinations work, try using the keyboard. If you have not put the resistors in, but used straps instead, then this should be inoperative, showing that the data buffer IC is being operated correctly. Then check the address lines. A temporary solution when checking address lines that do not work is to solder a piece of wire on to one of the data lines (to the IC socket) and touch that directly on to the edge connector (for that address line). This should operate the key.
Once the connections to the IC socket have been checked and operate as they should, the keyboard can be connected. If you are building your own it might be worth investing in a "16-pin DIL header" to make the connections to the IC socket (in which case the modifications to the IC socket are unnecessary).


Components

| | | |
| --- | --- | --- |
| 2 | 74LS245 | £2.20 |
| 1 | 74LS27 | £0.20 |
| 1 | Zetronic IC socket | £0.20 |
| 5 | Resistors 1.5K ohms (optional - see text) | £0.15 |
| 1 | piece veroboard - 4¾ by 3½ inches | |
| 1 | ZX Spectrum 0.1 [inch?] 28-way edge connector | £2.25 |
| 1 | Printed circuit board edge 28-way 0.1 inch spacing | £1.10 |
| | Insulated wire and bare wire for straps | |
HARDWARE SOURCES
Maplins Electronic Supplies Ltd, xx xxx n, xxxxxxxx, xxxxx xxn nxx. Tel: nnnn nnnnnn
Ambit International, nnn xxxxx xxxxxxx xxxx, xxxxxxxxx, xxxxx xxnn nxx. Tel: nnnn nnnnnn
Timedata, nn xxxxxxx, xxxxxxx, xxxxx xxnn nxx. Tel: nnnn nnnnnn
Stephen Adams, n xxxxxx xxxx, xxxxxx xnn nxx. Tel: nn-nnn nnnn
Haven Hardware, nn xxxxxx xxxxxx, xxxxxxxxxx, xxxxxxx. Tel: nnnn nnnnn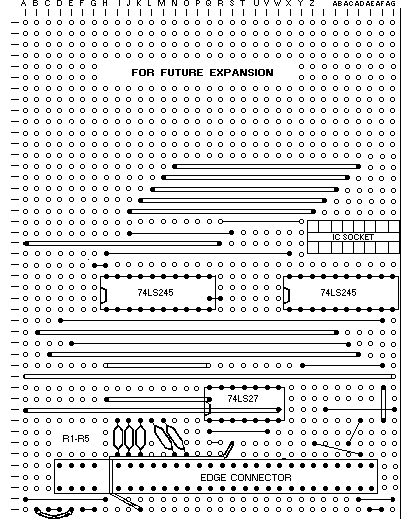 Figure 3. The top illustration shows the component side of the veroboard. The strip side of the keyboard buffer is shown below. The veroboard has been numbered and lettered to help you identify where the components go.