machine code step-by-step; this made it look so simple that I actually attempted to incorporate a similar routine into a program I was writing. Why don't you run a regular feature along this line? Learning by example beats hours of boring reading that seems to get you nowhere!
DB Snow, Oakham, Leicestershire

'Fraid no-one round here's very familiar with your make of printer - but that doesn't stop any of our intelligent, witty and co-operative readers coming to your aid ... does it? As far as machine code goes - our policy is to include small machine code routines that'll prove useful in your programs, give you a full explanation of how they work and how to customise them. Once you're familiar with its operation and usefulness then, and only then, will you find it easier to grab hold of a book/magazine tutor and learn to ... Zzzz.
Troubleshootin' Pete.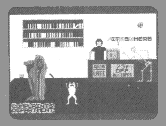 L Boorman from Chichester sent us a program called Cartoon that he wrote with his mate, Mav. As you can see, the graphics are very entertaining and there's no less than two story lines in the program. On the left, there's a customer in a Shop complaining that his tape won't load - he's then transformed into a frog and told to 'hop it'! On the other side of the shop, a man's waiting for his QL to arrive ... but when it does, his rotting skeleton has turned to dust.
Regarding your article Hacking Away (YS issue 10). Having played about a little with the program for 'filling in holes at the screen bottom' in Chuckie Egg, I discovered some rather interesting (yes, you've guessed it) ... BUGLETS!
Buglet number one is when you lose a life on screens thus 'hacked about' with, part of the duck's cage disappears, together with the tops of several ladders. This bug is extremely prominent on levels five and seven. And now for ...
Buglet number two. When on any level you fall off a lift near the bottom platform of the screen, the farmer performs a series of very unusual and very entertaining little hops until he reaches any side of the screen, and there he stays until the inevitable happens ... he gets pecked!
Buglet number three is a level five occurrence deriving from the previous hiccup. Our friend the farmer gets seized by an insatiable desire to get to the top of the screen, floating up buoyantly with outstretched arms until he meets the end of 'that particular life'.
Very unfortunate hiccups (hic!) in an otherwise excellent game. In my (and your) opinion, Chuckie Egg is the best release from poor old A'n'F (what a fate to be taken over by Ocean!!).
Paul Smith, Bourn, Cambridge
It's those Gremlins again ... I never should have fed them after midnight! I'm afraid we left out one number from the data statement in line 1000 - the omitted item was '87' and it fits in after the first '40713' in the line. Still, it sounds like you had some fun anyway! And what's that about A'n'F? Are you a professional rumour-monger - or are you just doing this in your spare time?
Troubleshootin' Pete.
We're always pleased to have our products featured in magazines of the calibre of Your Spectrum and we looked forward to reading your report. Sad to say, however, we were very disappointed by the observations and conclusions made about the Transform keyboard.
The keyboard was designed specifically to obviate the need to strip either the Spectrum or its power pack from their respective cases in order that the user may simply fit them both into the new case. Also, both the LED and the on/off switch are arranged to be connected without the need to solder at all; special clip-on connectors are provided for this purpose together with full instructions on how to make the connection. Contained in this instruction sheet is our recommendation that the completed set be earthed and again the procedure is described and we also supply the necessary connection aid.
The case itself is constructed in two main parts, the top of which is made of anodised aluminium 18 gauge (1.2mm) and the base of mild steel 20 gauge (1mm). It's hard to see how, with this specification, the case can be described as 'flimsy'.
We guess that you may not have had the time to set up and use the Transform keyboard personally and hope you will appreciate our disquiet at the inaccuracies which have perhaps resulted in this omission ...
Many potential buyers look to magazines like yours for accurate product information before making their purchase and of course they'll tend to take your printed words as 'gospel'.
To end, perhaps I can tell you that we have received a number of calls from existing customers urging us to write to you to set the record straight and one or two have actually written to you direct (Hmmm! Ed.).
We are proud to be able to tell you that we have among our many happy customers, professional journalists and writers - some, in fact, in the computer trade. These people currently use the Transform keyboard in preference to others on the market.
Michael Mackenzie, Transform Ltd

I'll take the points in the order that you've raised them.
1. You must take the top off the Spectrum 's case to remove the original keyboard and get at the keyboard connector. The review states quite clearly that the bottom of the case and the complete power supply are then fitted in, so I'm not quite sure what the problem is here.
2. Yes, that's correct - you don't need to solder anything. But, if memory serves, the user will need wire strippers and a
crimping tool to do a decent job, especially if it's going to be a permanent fixture. Also, I don't recall seeing any insulating sleeves so there'd still be live mains floating around. (This last comment also applies to the earthing of the case, although this would be rather difficult as I can only find a live and neutral in my Spectrum's power supply cable!)
3. My review case actually came in three parts, although what the third piece was for remains a mystery - perhaps I got an early prototype. I actually said that the "... Transform case was flimsy by comparison". This was a comparative review and as the only other metal case keyboard was built out of what appeared to be 22 gauge mild steel that seemed a fair comparison. The main complaint, though, was that the sample was very poorly finished with several sharp edges and insufficient support for the keyboard.
4. Every product I test is set up and used thoroughly. Assembly was carried out according to the supplied instructions and the keyboard used for between one and two hours for programming, data entry and game playing.
Henry Budgett
Being a glutton for trivia and glossy pretentiousness, I finger punched the Xmas Greeting program from YS issue 10 faithfully digit for digit into my aging Spectrum. Surprise, surprise! Instead of marching on in an endless loop, it ground to a halt after one circuit, displaying a 'subscript wrong' message in line 430.
This may easily be corrected by substituting line 440 with the following:
440 IF c>LEN m$ THEN GO TO 420
I hope this makes next Christmas a happier time for all your readers.
Andrew Lea, Hereford

Well that's Tony 'Slim' Samuels for you - ever since he programmed Ugh!, his mind's been permanently trapped somewhere in prehistoric times. Yes, Andrew, the above correction will certainly work, as will
440 IF c=f THEN GO TO 420
Hope it didn't spoil your Xmas too much.
Troubleshootin' Pete. Can you advise me on the following problem with my new Spectrum+?
When I entered the routine shown below I got all sorts of different results for zero according to the value in line 30:
10 LET S=1
20 PRINT S
30 LET S=S-0.1 (or 0.2 or 0.5, etc)
40 GO TO 20
For example, if line 30 reads 'LET S=S-0.2', I get 4.6566129E-10 and if I change 0.2 to 0.1, I get 6.9849193E-10, and so on.
G Baker, Chesterfield

Sorry Mr Baker, there's nothing we can do, it's just more proof that Sinclair Research could never handle arithmetic too well.
Troubleshootin' Pete.