HACKING
AWAY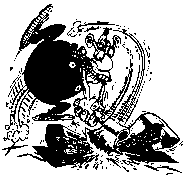 The column that POKEs more fun. Send your hacking hints to Andrew Pennell, Your Spectrum, 14 Rathbone Place, London W1P 1DE.
D'you remember back as far as issue 14? Well, Mark Gibson was pretty desperate for POKEs for Pinball Wizard. As usual a couple of YS readers have come to the rescue. So, here goes Mark, the magic POKEs that'll turn you into a wizard at Pinball. First, LOAD "" CODE 36384 to get it in, do POKE 51566,0 for endless lives, then SAVE "PINBALL" CODE 36384, 16128 to save the modified version. Next, change the LOAD "" CODE command in the loader to LOAD "" CODE 16384 and the pinball table is now yours. Rock on, Tommy!
Those same YS hackers, Tom Dalziel and Paul Macpherson, have also come up with the goods on Finders Keepers, that royal
rollick from Mastertronic. For infinite lives, POKE 34208,0 will [do] the trick or you could try POKE 30394 with the number of lives you want. Watch out though 'cos more than four may make a mighty mess of the screen so you'll need POKE 33969,0 to disable the printing of remaining lives. Thanks also to a hacker from Holland, Felix Gerrinckx from Antwerp whose help was also worth a king's ransom.
And now code-crackers, here's a record breaker. James Cockle is nine years old and easily qualifies as the youngest hacker who's ever written in. He's come up with a POKE for Atic Atac that'll stop you losing energy - POKE 35353,0. I dread to think what young James'll be getting up to by the time he's my age! (Drawing his pension I expect Ed.).
Now here's a funny thing. Kieron Matthews has found that a POKE we printed way back in Issue 9 for Sabre Wulf has a rather peculiar effect on Lunar Jetman. It prevents the missile from launching and ruining your chances. Then, to reach the next level you should wait for the time to run out and shoot at the base. Trouble is Kieron just can't get past level 10 even with the POKE, 'cos he can't find the trailer anywhere. Mind you, there's a good reason for that - the trailer just doesn't exist! It may be on the inlay card but it's certainly not in the game. To get any further you'll just have to do a Robert the Bruce - try and try again!
There now follows an intermission for a spot of complete lunacy. Hacker Hook has written to ask for the POKEs for Pud Pud from Ocean. Now I've never heard of it but I was willing
to give him the benefit of the doubt until he declared that he's also a fan of Pud Pud music. Yeah, yeah! We'll be sending the van around.
Another candidate for the men in white coats is Mark Sanderson - he's mad enough to send in yet another POKE for ... no I can't bring myself to say it ... oh, alright but only if I can jumble it up - Jilly T. Sweet! This is the last one EVER - or at least till the next time whichever is the soonest. Try: FOR f=44800 TO 44928 : POKE f,PEEK(f+512) : NEXT f. Now one of Matthew Smith's unused sprites is revealed - you'll see the penknife change into a moving top-hat. To see another one alter the 512 to 640, run it again and you'll get a rotating periscope.
Moving on to a rather newer game, George Baselen has sent in the code words that'll help you get from level to level in Wizard's Lair. They are LYONS, LIAYR, VAULT, DUNGN, CRPYT, HAWLO and CAIVE. I just hope the magic spells in the game are better than these ones!
Finally, a word about Microdrive conversions. A lot of you are asking about the programs that do the conversions for you. Well, the simplest is actually free, supplied with the Expansion System on the demo cartridge, written by yours truly. It's a 'dumb' converter (I was gonna say that figures, but I wouldn't dare!. Ed) just copying blindly, though it makes no attempt to change any code.
One secret I'm surprised no-one's sussed yet can be seen if you load the program 'copier' as usual, then enter as a command: *©. Since I was the one who hid it, I shan't give away the message here - so get cracking.