Enneagram Facilitators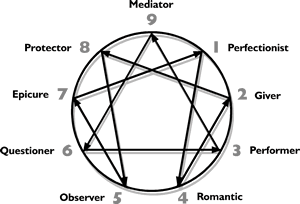 Welcome to Enneagram Facilitators!
We aim to bring the Enneagram to life through workshops and individual consultancy.
Here you will find information about the Enneagram, us, our workshops and services, with directions to other sources of information and resources.
The Enneagram is about people – how we are alike and how we are different, what drives us and how we relate to one another. The word itself means "model of nine". It is a profound psychological and spiritual system that reveals nine different points of view and ways of living in the world. These are mapped by the nine points of the symbol. The system is dynamic, showing us how and why our behaviour changes in stress and relaxation. For an overview of one of the nine points, click on one of the points on the image.
The Enneagram is ancient in origin yet uncannily accurate today. It is valuable for personal management, business interactions, professional communication and for private/intimate relationships.
One of the most potent ways of meeting this system is through the narrative tradition – hearing others telling their stories and being able to identify and share your own. That's why we have called ourselves Enneagram Facilitators. We see our role as making possible that sharing of stories and experience within the enlightening framework of the Enneagram.
Email ann@enneagramfacilitators.co.uk or josephine@enneagramfacilitators.co.uk