THE FEMALE POPE: THE MYSTERY OF POPE JOAN
The First Complete Documentation of the Facts behind the Legend
by ROSEMARY AND DARROLL PARDOE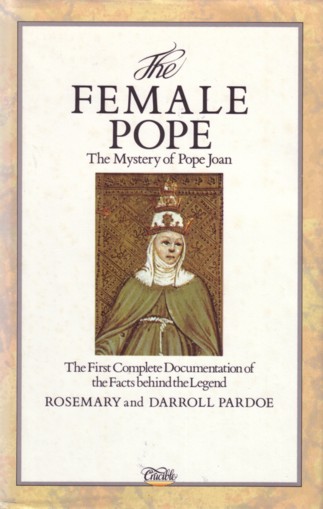 SOME NEW THOUGHTS
by Rosemary Pardoe
Our book on the legend of Pope Joan was published in hardback by Crucible (Thorsons) in 1988, and has been out of print for many years. It was very favourably reviewed on publication (if I remember rightly there were especially good and thoughtful reviews in The Times, Fortean Times and Vector). Since then at least a couple more non-fiction books (one accompanied by a TV documentary) and a new novel on the subject have appeared, but although they come to radically different conclusions to ours, they offer no fresh evidence to support their case. No fresh authentic evidence, that is! A quick Internet search reveals the encouraging fact that our book is still considered the definitive English text on the female pope among those readers and scholars who have an open-minded interest in religious history and myth, rather than a particular agenda to defend.
The rights to The Female Pope having reverted to us, we thought it would be a good idea to make the entire text available on the Net. In rereading it during the scanning and proof-reading process, I must admit that I found our prose style awkward and clichéd at times, and the presentation of our arguments occasionally both heavy-handed and not carefully enough reasoned. Were we to rewrite the book now, we would doubtless do something to fix that, as well as correcting a couple of small errors not specifically relating to Pope Joan's story (e.g. the account of Pope Sylvester II is not quite accurate). I also now know a little more about the use of demoniacs in the revelation of evil-doing, which might cause us to change (or rather, expand on) what we wrote about the Chronica Minor and the Flores Temporum.
Nevertheless the evidence itself and the conclusions we draw from it seem as solid to me now as ever. Nothing I have read or encountered since has caused me to change my mind on any of the details of our case. So now, see what you think...
Copyright © Rosemary Pardoe 2004
The Female Pope: The Mystery of Pope Joan is copyright © 1988 Rosemary and Darroll Pardoe, and is not to be reprinted in whole or in part without our permission. The translations are also ours and should not be reproduced without acknowledgment. e-mail us.
CONTENTS
"Introduction". Chapter 1: "The Earliest Appearances of Pope Joan".
Chapter 2: "Later Sources".
Chapter 3: "Did Joan exist?"
Chapter 4: "Facts and Theories".
Chapter 5: "Scepticism and Polemic".
Chapter 6: "Modern Times".
Chapter 7: "The Fictional Joan".
Chapter 8: "Pope Joan and the Tarot".
"Afterword". Appendix: "Sources for Saint Hildegund".
"Bibliography"
(The "Notes & References" have been incorporated into each chapter.)
Acknowledgements: In the book we acknowledged the help of "Jessica Amanda Salmonson, Jane Nicholls, Richard Dalby, David Rowlands, Ron Weighell and the staff of many libraries", singling out in particular the huge assistance which Jessica gave us. After the book's publication we passed on quite a lot of our research notes to her, particularly the material on female monks.